There's no industry that can do without promotional products. But in myriads of options how to find something that will suit your business, your partners or employees? We have created an ultimate selection of promotional gift ideas for banking industry, that will fit any budget, event, and person.
There's always a reason to buy giveaways. These items reflect your company values, show your attentiveness to your clients, appreciation to your employees and respect to your partners
Promotional Product Association International states that promotional products are built to leverage the greatest reach, drive recall and fiercely resonate to engage the best reaction among consumers, relative to any other advertising channel.
81% of people keep promotional products for more than a year, 82% of people have a more favorable impression of the brand after they received a promo product.
There are certain things to remember about the effectiveness of a promo product - top 3 reasons for keeping a promo product is that it should be fun, trendy, but most importantly - functional. What is a functional promotional product? The one that fulfills end customer's need, solves his problem in an effective way. Something that he would really use daily.
Related article: How to use promo products effectively
Don't think that cheap swag will do. And by 'cheap' here we mean 'low-quality'. A pen is cheaper than a power bank, but it doesn't mean that a pen is a bad giveaway - for certain events it is a good idea. But if the pen doesn't write normally, or the plastic is so cheap it cracks the same day - this is 'low-quality cheap'. Gifts of this kind are never a good idea because they only worsen impression of your brand and you still invest money in a lost-case promo campaign.
Starting Point: Whom and Why?
How should you begin choosing promo product?
What is the occasion and who is this present for? Promotional products can have different value depending on the event, the reason for presenting a giveaway. Is it a B2B meeting, a conference, launch of a new financial product, induction present for an employee or an appreciation gift for VIP clients? This is the first thing you should figure out: who is the target audience of your promotional product and what is the occasion.
Everyone wants to hit a bullseye, but very often the lack of information from the end user or the lack of interest to find out that information give false ideas of what they want and promo campaign doesn't reach its purpose. For instance, you won't give a pen or a tote bag to your VIP client, unless it's a luxury pen, but giving the same swag to the employees as a thank you giveaway sounds much better.
So who are you giving your swag to?
- employees
- clients
- VIP clients
- business partners
- prospects
Discounts and new personalized services
These non-material gifts have proven to work great. This could be a discount on your bank cards, new products or services. Discounts also work great for VIP clients, platinum card members, etc. - for example discounts for airlines, in expensive stores and luxurious restaurants.
Office gifts
Even though we live in a digital era, traditional stationery gifts are never out of trend. Usually, they are not expensive, they're handy and people use them on a daily basis.
These bank giveaways ideas are perfect for bankers, employees and any other office workers. Your branding on a good-stationery is a good idea for an inexpensive swag.
Calendar, wall planner - a 'must have' for the banking sector, bright or minimalistic, fun or smart-looking, with a proper branding it'll be your bank's ambassador at every desk in the office.
Pens/ highlighters - you don't have to be an office worker to use a pen - everyone owns one, and what a relief when, in the middle of a meeting, on the street or at home person's looking for a writing tool and finds good-quality pen with your branding. That makes only positive connections in an end user's brain.
Sticky notes - although this is a small giveaway, it has almost endless branding options, put your corporate colors, logo, or a motto - it'll stick in the memory of sticky notes' user.
Stapler - every employee will receive this swag with appreciation. Compact, cost-effective and branded it's always on the work desk.
Notebook - It can be personal, keeps you organized and helps collect all your thoughts, ideas and schedules in one place.
Stylus - be it a touch stylus, stylus with a ballpoint pen, with led or laser - options are numerous. These freebies are inexpensive and light, so your small brand ambassador will follow end user in a bag or a pocket.

Notebooks, pens and other branded stationery is never out of date. Photo by Volkan Olmez

Digital gifts
Digital gifts get more and more attention from promo product buyers. They are in trend and their usefulness grows every year. The reason for that is the need for a promotional product to be functional for a modern person. We surround ourselves with many digital items, we sleep with our phones by the side of our beds and we are moving towards smart homes. Although wireless items only start to get attention on a promo market, power banks and speakers are surely popular. Considering a gadget as a promo product, keep in mind that the items you buy should be certified, otherwise what planned to be a mindblowing swag can turn out to be damaging for environment or health of its user.
Here are digital gift ideas for banking sector you want to consider.
Related article: Top 10 Tech Promo Items that Work
Power bank - it's a top promo gadget. There are hundreds of options available. Great phone accessory always within the reach, so the phone is never out of juice.
Speaker - Fun, entertaining, plays favorite music. Depending on a model can be a stand-alone player, have extra features like USB drives, uplighting and much more.
USB flash drive - any shape, size, and capacity. You can make it 100% custom, pick a credit card shaped or a more standard form with your colors and a logo.
Earphones - if you want to impress clients with something refreshing - this gift will awake a sense of surprise. They can be wireless or usual earphones, colors are multiple and branded custom cases are available. Make sure that the quality of a product won't damage hearing.
Calculator - the usefulness of this product is obvious. It can also surprise its users with a combo with sticky notes, eco-case or unusual colors.
Car Charger - in a 21st-century car charger becomes one of the most popular gadgets on a promo market. Its quality can be as good as any retail charger, so the customer will gladly use it. Great functional and trendy bank industry promotional gift.
Key Finder - small and stylish gadget that will solve the eternal 'where are my keys?!' problem. Clipped to the keychain, the branded finder will quickly become your customer's best friend.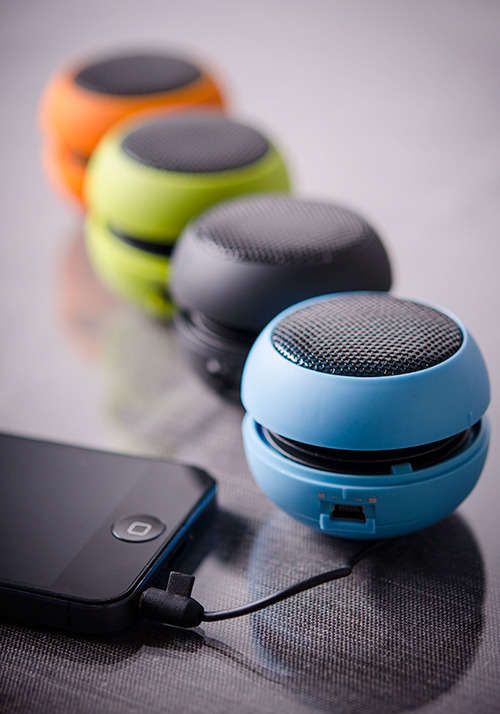 Compact bluetooth speaker is a refreshing and fun giveaway
Eco gifts
Like any other industry, banking sector follows trends. Everyone's trying to keep up with environmental issues and often position themselves as organizations that care about ecology. Choosing to buy a promotional eco product you have to remember that not all of the products that position themselves as eco are actually environmentally friendly.
Related article: Eco-friendly promotional products: things to know before buying
Eco Bags - opportunity to show your brand on the street - extra exposure is always a plus for promotional swag. Eco materials or recycled plastic, a big space for branding
Plantables - this is a category of environmentally friendly swag that is created to grow - seed paper business card, that can be planted, or an actual plant for your employee's workspace to make it greener.
Lifestyle gifts
Presents everyone likes to get - lifestyle presents. People feel when you are in tune with them, when you understand and know what they need. Nowadays active lifestyle is in trend, so water bottles, apparel, and travel bags will find their grateful users. Here are great bank industry promotional gifts ideas:
Apparel - T-shirts, hats, long sleeves and other wearable swag. Whether you're choosing a branded shirt for an employee or an outdoor T-shirt for a client - make it stylish, more or less retail-looking and definitely of a good quality.
Water bottle/Mug - for office and outdoors. Great printing area, where you can put your bank's core values and principles, motto or logo. These gift ideas for banking industry keep people hydrated and healthy.
ATM card holders - compact and useful, cardholders are directly associated with the banking sector. Even making such a simple thing promotional product suppliers came up with hundreds of designs to fit the most exquisite customer demands.
Umbrellas - very popular swag item that exposes your bank to everyone out there on a street and its user will be absolutely glad that you took care of his rainy days.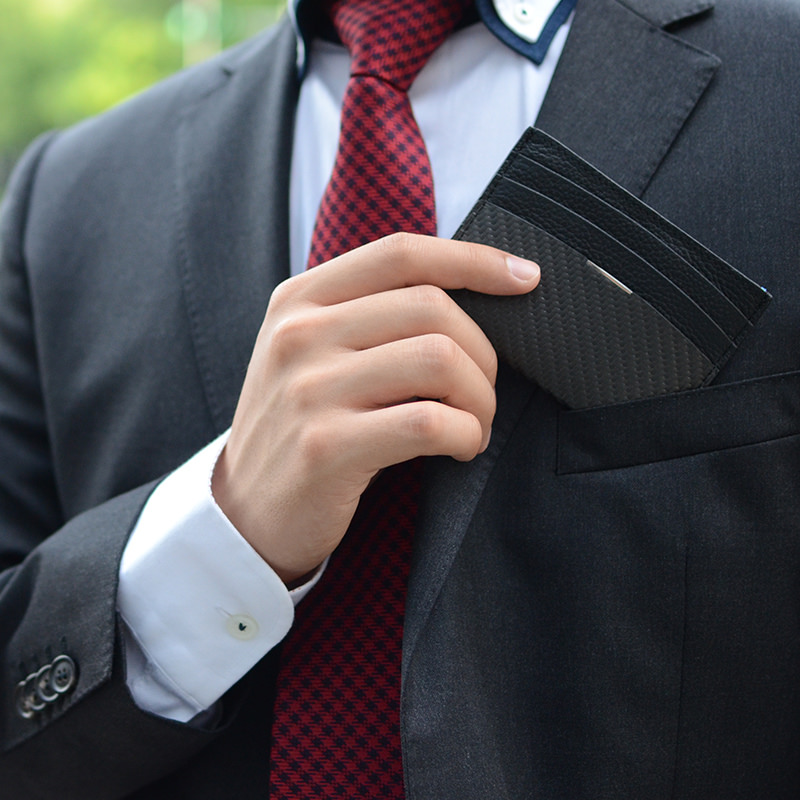 Card holder is a must have for any businessman. Photo by Devon Yu
Bonus: stress relievers
This category is hugely popular and it is no wonder. Lives of modern businesspeople are highly stressful, the speed of life is going up, and a simple stress reliever on your desk is a wonderful way to chill a bit during a busy day. This category includes stress balls, squishies, puzzles, and fidgets.
Not the best idea for a present
Anything that is not functional and not useful for your target audience or not functional at all is not worth giving. This day and age cheap knick-knacks and souvenirs are out of favor. Retail-oriented quality, , and usefulness are criteria you should keep in mind.
Adding a zing
The way you present your swag also makes a difference, so if you want to awaken positive emotions on the spot - package is also something to think about. Try beyond the cheap plastic bag. Custom-made carton box or a gift bag is always a great addition to your promo product.
Giveaways ideas for banking sector include a lot of options and everyone can find something suitable for his company. First of all nail down your target audience and an event, where you plan to present your swag because this will affect your choice. Whatever item you choose: a pen, a power bank or an antistress squishy, focus on efficiency of a product to your client, or your employee. Presently it is not such a good idea to buy yourself off with low-quality generic stuff as it will not provide a good impression about the brand. Office gifts, digital gifts, eco presents and lifestyle gifts are major categories you should consider when looking for promotional gifts for the banking sector.