If your business has been around for decades, you have tried everything. Probably top tens of the most popular promotional products sound like a nightmare to you. A pen, a notebook, a bag, a bottle…
Even though we live in the 21st century, these items still occupy a vast majority of a promo market. But there are always future-oriented minds that use available tech possibilities and breathe a new life into old cheesy promotional swag.
Why use this particular term? Swag?
Well, it's a new term for a good old promotional product. It stands for Something We All Get and it describes perfectly the most popular promotional products - we all get pens, and notebooks and other stuff of that sort. Some promotional products are always more popular than others. Why is that so?

Price
We all know that this is a sticking point for most of the companies. Everyone has budgets, everyone wants more exposure and better price, which is usually achieved with the strategy of buying low or mediocre quality goods, stamped in millions on Chinese factories. Most popular models are usually the most optimized, generic. Easy to see that they won't bring a promo campaign to a new level, but still, they've flooded the market and not going anywhere.

Trend
Some things are just trendy, and get a lot of attention. Even though they are not exactly functional - they have one feature that makes them the great promo product idea. They are fun. That's one of the reasons to buy them because companies want to be associated with something fun, joyful, positive. We all remember yo-yo's, fidget spinners.

Effectiveness
A rather complex term, that includes quality of a promo item and its usefulness to the target audience. In other words - how effectively would it be used by the customer. And this is important to achieve best results of a promotional campaign. The interesting thing is that popular swag on the promo market doesn't mean effective swag. A lot of items that are still traditional gifts have already lost their effectiveness due to the progress and changes in the customers' needs. Of course, there are people who innovate and push the industry forward. Here we'll look at products, which couldn't have been more simple, ordinary and trite. At the same time, these items are great for every modern person.

Pen
Since the beginning of the time, there was a pen in a promo industry. Even if you just say 'promotional product' to a random person, his first thought would probably be about a pen. It is still an incredibly popular gift, but not interesting to many end users, because usually it is cheap, low-quality, and, anyway, people don't write by hand as much as they used to. Everything is digitalized, we use laptops, smartphones, and everyone has a program to collect notes.
But here's a new generation of promo pens.
Analogue to digital pen
There is a variety of technologies for this is an incredible invention. Some pens record and remembers every single thing you write and uploads it to your computer, others work in 'live' mode, where you draw on paper and see in instantly copied on your tablet screen.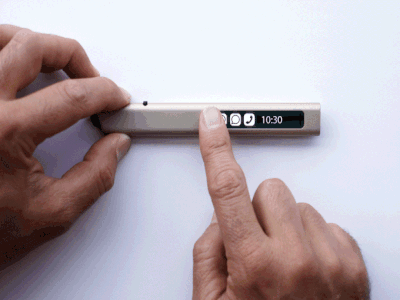 Notebook
Pen's best friend on any exhibition. Simple notebook with a logo or a motto. A notebook that will pile up with a bunch of other notebooks somewhere in the drawer. The next gen of notebooks looks like this.
Digital notebook
This is a great invention even for those who don't want to switch from paper to screen. Digital notebook even feels like paper. You can write in it with a stylus, make notes on documents, sent to you, draw and so much more. With a digital notebook, there's no need to pile stacks of paperwork, drawings and such.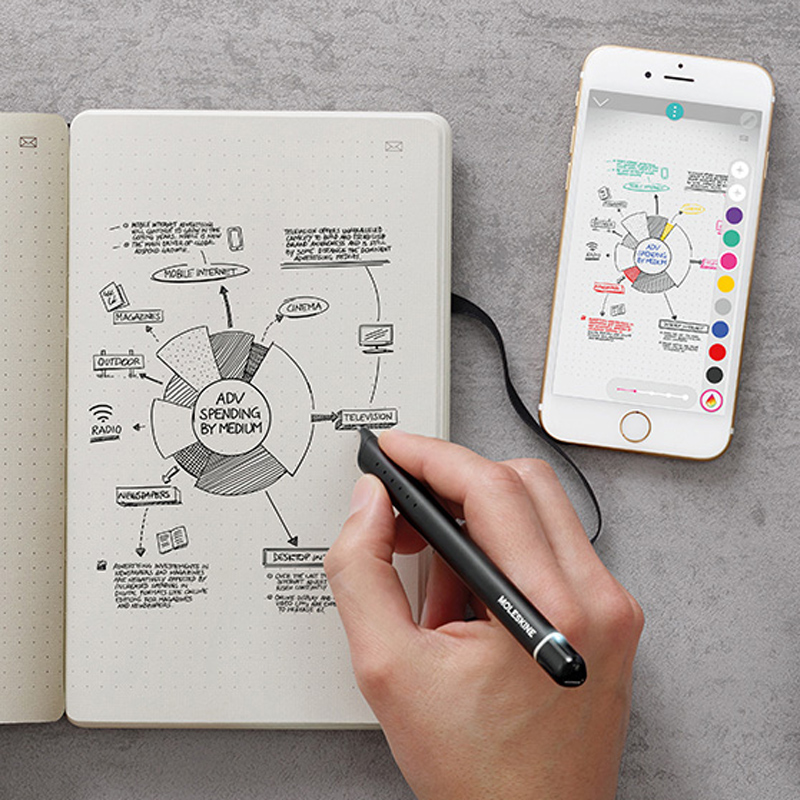 Wave notebook - innovative and reusable. Photo from top100under100.com

Reusable notebook
Wave notebook, created by Rocketbook, might sound funny but it is a great idea. Looks like a usual thing, right? Only it can be fully erased by microwaving. Voila, and you have a brand new notebook.
Wave notebook - innovative and reusable. Photo from top100under100.com

Water bottles
Also one of the most popular and nevertheless functional items is a reusable water bottle. People get it on trade shows or exhibitions, and if the bottle is of a good quality, of course, they'll keep it. Goes in different shapes and sizes, a bottle has a big branding area, and it sends a message from the company - 'We care about you. Stay hydrated. Stay healthy'.
Still, there are ways to enhance this piece of swag.
Water Bottle with Water Consumption Tracker
It is called a Cleverbottle, designed by Aiia. The point is that you don't have to upload apps or memorize how much water did have you drank today - the built-in calculator does it for you.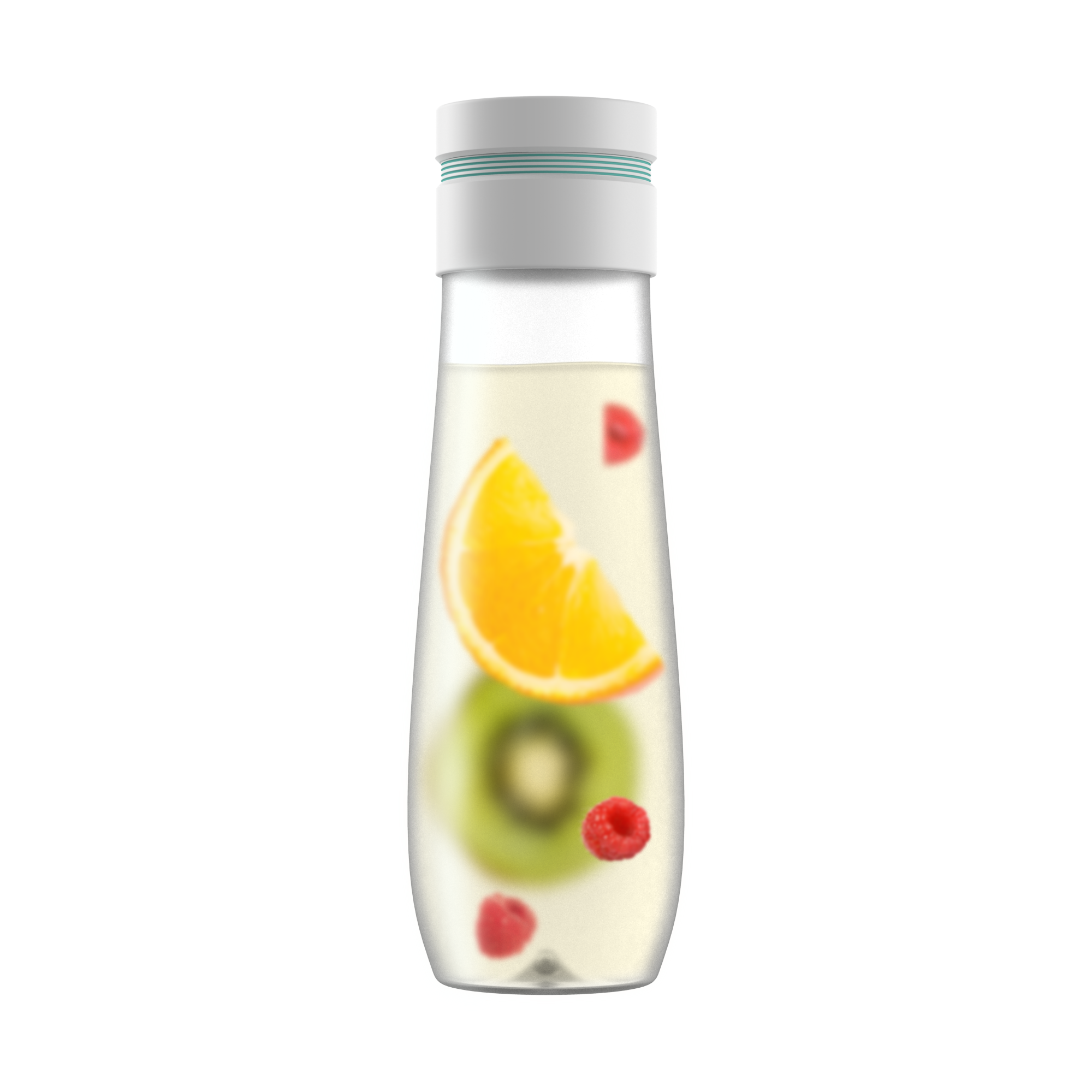 Useful bottle that counts for you. Photo from Aiia
2-in-1 Water bottle
At SDI gifts guys have come up with an idea, that allows you to carry two different liquids of a different temperature in one bottle. Golchi 2-in-1 Bottle is a great example of the improved promo product.


Carrying two different liquids in one bottle is now possible. Photo from psi-messe.com
Apparel with AR
AR stands for augmented reality and it is an embodiment of positive emotions and pure fun.
Any T-shirt and any promotional swag bag will turn into a viral boom with AR technology. All you need is the promotional item and an app on your phone. It is same old apparel with a new feature that will make a lot of noise for your next promo campaign.
VR out of the Box
Virtual reality is not a brand new stuff in 2018, yet it upgraded one very plain, very simple and usually unnoticed promo item. A cardboard package. Sometimes we don't think enough about a package. It seems to be something not worth mentioning or thinking about. Just a form of delivering goods. In reality, today people pay more attention to the cover, to the presentation. If your promo item is packed in a cheap plastic bag, that wouldn't look 'wow'. So companies like Coca-Cola have decided to turn plain cardboard boxes into a VR glasses. Check out how this works.
Wireless gadgets

Today we are moving towards smart homes and wireless gadgets. Some might say it is too early to talk about that in a promo industry, of course it is not very popular for now. But experts agree that future of a promo industry lies in categories of high-quality swag, personalized swag, and digital swag. Because for many people wired gadgets are already outdated.
Wireless charger, wireless power bank or a wireless headphones
are very easy and comfortable to use.
It's difficult not to get inspired by these innovative promotional products. Even though old-school pens and notebooks are out there in huge amounts, these upgraded options are the future of retail and promo industry.