Choosing tech gifts for IT professionals can be a stressful task. It seems harder to pick the right giveaway, since the target audience is generally more sophisticated, and classic options don't seem to fit. How to make your promotional product stand out in such an innovative industry?
We live in the era when technology-related promotional items are suitable not only for the highly specialized crowd but for any smartphone user. This is why the list of giveaways presented below will suit any company that wants to present itself as a progressive and forward-looking.
There are many reasons to promote your company with giveaways, and IT-related spheres are not an exception. Of course, the gift will depend on the reason why you want to use it, and a target audience.

Why use tech related giveaways
- Brand awareness and brand recognition
Studies show that 82% of people have a better impression of the brand if they receive a promo item. Now think how much better the impression will be if a gift is not a tote bag or a pen, but a gadget. It's a useful and modern reminder of your company.
- Customers become your brand ambassadors
We are surrounded by technology, and if your giveaway is a stylish and high-quality gadget, the customer will use it daily. It's like a billboard in a pocket or on a desk, that is seen not only by the user but by co-workers, friends and family, and others.
- Employees appreciation
Building your corporate culture is extremely important. Whether you have ten employees or a thousand, reminding them about your appreciation of their work is always a good idea. And of course, technology promotional products is a must for an IT company.
- Brand positioning
Using tech items, even if you are not a tech company, is a good idea if you want to show how modern and forward-looking your company is. Moreover, 83% of people are more likely to work with a brand after receiving a promotional product. So receiving, for example, a power bank, will make a good impression of your brand, even if the end user is not an IT specialist.
Before deciding on a giveaway, ask yourself two questions:
Who is my target audience? Employees, VIP clients, people at the exhibition, etc. How wide is the target audience and what are people's preferences? Knowing this will help you choose the best promotional product for all of them.
What are the specifics of the event? Will the chosen product be appropriate for the conference or exhibition, is it a thank you gift or induction gift?
The better you know your clients, the more successful your promo product campaign will be.
What if your company has nothing to do with an IT industry, should you consider tech gifts?
Absolutely. Tech-themed gifts are a great idea for any company that wants to show its modernity. After all, it is a century, driven by technology, and many would prefer a gadget to a T-shirt or a pen. But make sure that your target audience will understand and need your giveaway.
So, here's a compilation of the best promotional gift ideas for IT & technology industry.
Smartwatch
Gift for IT professionals that really brings value. Bluetooth, mp3 player, often with a pedometer and so much more. This is a stylish high-tech item, that's always in sight, so your company will get many extra impressions.


Smartwatch is a multifunctional giveaway. Photo by: Ed Gregory
Power bank
It is a classic promo gadget. Big branding area, useful for everyone, who has a smartphone, different sizes, and shapes. Want to make it a little bit more innovative - get a wireless power bank.
Wireless headphones
Headphones in a branded case would be a good accessory for music lovers. It is a giveaway that communicates 'fun'. A stylish and compact reminder of your brand that associates with user's favorite music. Also, headphones are often used to increase concentration while at work, since they minimize the environmental noise.


Wireless headphones remove all the distractions and help work better. Photo by Barrett Ward
Wireless mouse
No IT specialist will appreciate a mouse that has a wire, so remember - only wireless. And it's always good to have a brand reminder near a laptop, where most of us spend not only working hours but a lot of free time as well.
USB power meter
A very specific promotional product that will be useful mostly to an IT crowd. This gadget measures current and voltage of USB drives. For example, when the phone wouldn't charge or will charge too slowly, and you don't know why? USB power meter is for that.

Photo from bestproducts
Key finder
Very small but extremely useful gadget that will become a great giveaway. No more turning the apartment upside down to find the keys. Works great ans saves the day.
Сomputer glasses
Spending as much time looking at the computer screen as IT professionals do, can't be good for the eyesight. Show your care by giving special computer glasses to minimize the negative influence of long hours spent at work. You can go with bright and funky frames and lenses, experiment with shapes and rest assured, your gift will be appreciated.

Computer glasses will take care of the eyes, while writing a code, or fixing a bug. Photo by Kevin
Pro-tech toolkit
This is a great IT & technology industry promotional item because every tech specialist should have one. Pro-tech toolkit collects many needed items in one place, needed for work with hardware, and makes it possible to disassemble absolutely any gadget or device. Secure flash driveSecurity of the information is a top priority for many professionals, especially when developing a new program. Secure data storage device is a 'must have'. Looking good with your brand it will keep all the info safe and relieve the user's worries.
Tech backpack
Think of how many devices an average person has: laptop, tablet, charger, flash drive, power bank, mouse, etc. A tech pro has even more. A professional tech backpack is designed to transport all the devices with maximum comfort and safety. It also has great branding opportunities and will serve for a long time as a great reminder of your thoughtfulness and care.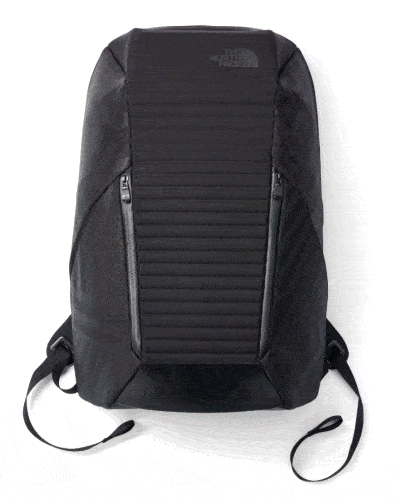 Modern tech backpacks are stylish and very convenient. Photo from thenorthface
Things you should avoid
When looking for promotional items for IT & technology industry, you should remember a couple of principles that will save your money and make your promotional campaign successful.
- Don't go with cheap
We all have budgets that limit our choices. In a promo industry, it is especially seen, and a myth has it that items should be cheap. Saving money on quality is not to say bad, but dangerous even, especially when it comes to electronics. Power banks can self-inflame, low-quality headphones damage hearing and nobody wants a flash drive, that will break with all the important info on it. What's the value for the end user in that? If there's no value, there's no use. Noone wants a cheap low-quality stuff to be associated with their brand.
- Don't go with wired
Wireless is a trend, and your giveaway should be trendy and useful. If a person uses wireless headphones and you give him or her wired headphones, don't be surprised if they'll give them away to a kid, or shove them in a closet.
- Bad branding
If you think that slapping your logo on an item is enough - think again. The quality and style of the branding will define its attractiveness to the user. Will the person want it on the desk, in a car, in a pocket? Will it look pleasant and interesting? Spend some more time on the design to maximize attractiveness to the end user.
Modern world requires promo industry to keep up with ever-changing tech trends. Smart devices and wireless gadgets are everywhere. Tech professionals are ahead of the game, so giving them a promo gift is not the easiest task. There are many reasons to choose a gadget as your promo item, even if you are not a tech company, or your end users are not IT guys. Every modern person owns a laptop, a smartphone, or a tablet. To meet their needs and make your swag useful for them, tech promo items are a good choice. When looking for gifts for technology sector ideas, first of all clearly define your target audience and kind of event. The better you know them the more effective your promo campaign will be. Depending on your budget there are different options: from computer glasses to pro tech toolkits and smartwatches. The key thing to remember is to give a high-quality promotional item, whatever it is. Bad electronics has never been a good idea and won't bring you the desired result or satisfaction to the end user. Promotional technology products have a great potential, so experiment with branding styles and customization and surprise people with great giveaways.