Do you ever try to tweak the design of your website to make it impressive? Maybe you've spent hours coding to create a custom website design. But do you know there's a better way to customize the design without even coding?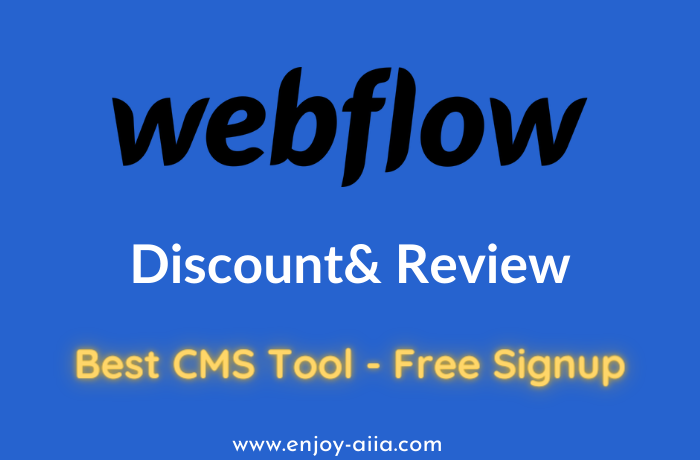 Rightly said! WebFlow is the most amazing tool that is easy to use and a versatile website creating a platform that helps create the most responsive website. This platform claims to offer stunning animation, 3D previews, and drag and drop functionality that help you design a website.
Let's read the detailed review about the WebFlow discount and why you should choose this platform for website designing.
Is There Any WebFlow Discount Available?
Currently, there is no such active discount available on WebFlow. But if you want to try this platform for website building, you can start for free and basic plans. However, some websites claim to offer promo codes, but they might be non-functional.
WebFlow timely provides the discount so you can wait for the deals. A few days back, WebFlow offered a 50% discount on Black Friday and Cyber Monday sales. But at the end of the sale, you don't have such active discounts.
WebFlow Deals & Discounts:
There are two different types of pricing plans offered by WebFlow, which are as follows:
Site Plans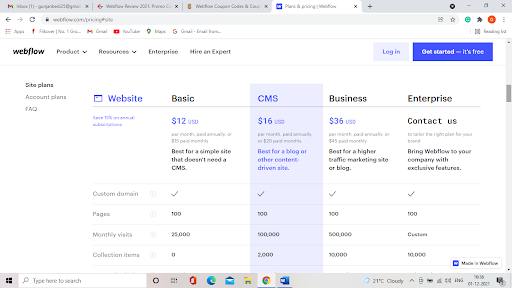 Basic Plan-Starting at $12 USD is ideal for a simple site and doesn't need any CMS.
CMS Plan-Starting at USD 16, ideal for creating a blogging website and another content-driven website.
Business Plan- Starting at USD 36 ideal for higher traffic marketing websites.
Enterprise Plan- Customize plans for companies with exclusive features.
Account Plans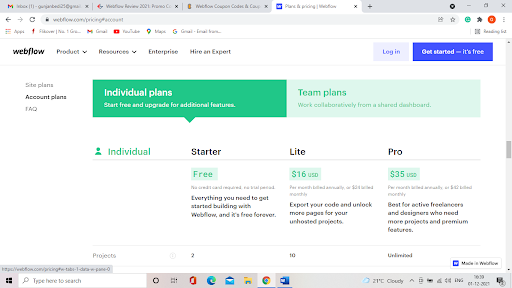 An account plan is great for un-hosted projects.
Starter Plan- free and has everything that you need to start your website with WebFlow.
Lite Plan– Starting at USD 16, let you export the code and pages for the un-hosted projects.
Pro Plan- Started at $35 and best for active freelancers and website designers.
About WebFlow: In A Nutshell
WebFlow is a powerful tool that helps to design, launch and build your website without coding. Users can create an amazing visual effect website by combining different animations, designs, marketing, content management, and eCommerce tools.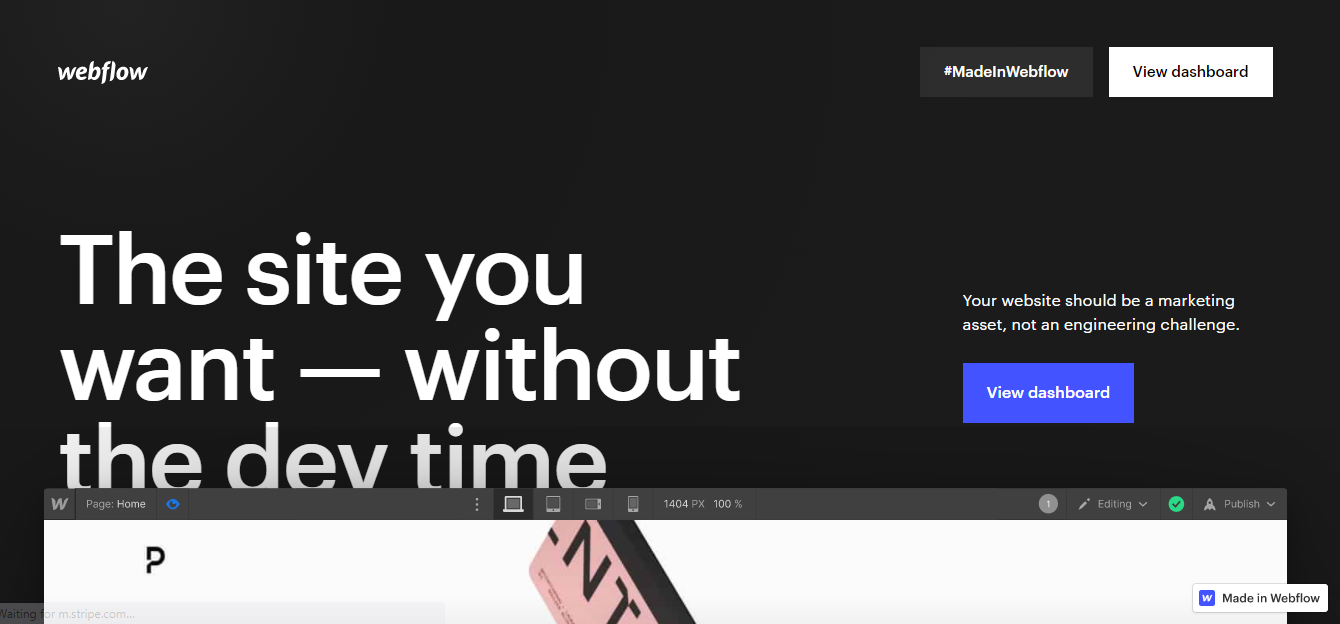 The platform is great for non-coders and coders who want to create the best website designs. WebFlow is quite responsive and allows instant website design. Moreover, it offers you several design tools and flexibility of the front-end coding, which allows you to design a website without coding.
What Are The Unique Things About WebFlow?
WebFlow offers the fundamental concept known as the box model that embraces the complexity of front-end code and helps you build your website. It allows you to create the visual interface without coding. Here are a few more unique things about the WebFlow, which are as follows:
The tool is more like the UI for the front-end code. This provides the learning curve to create a website similar to that you get from front-end coding.
This platform includes a complete content management system that helps create the custom collection made with different file types.
This editor tool is the easiest way to update the content.
WebFlow hosting gives access to users to scalable hosting technology for creating the website. This provides a lightning-fast managed host with one click.
The good news is that recently, WebFlow announced the eCommerce module that helps you build the online shopping platform. However, the beta version is still under development. But this eCommerce toolkit offers advanced features such as inventory management, products and custom cards.
More checkout payments options
Mobile Inventory and Order Management
Abandoned Cart and recovery emails
Multi-Currency and multi-language sites
For Whom WebFlow is Good?
WebFlow is good for the teams as it enables them to build specific areas within the account for instant collaboration on various website projects. However, the tools are also great for website developers and designers who have experience with the technology and want to build a quality website.
Frequently Asked Questions
1Q. How to start with the WebFlow?
Ans: It is easy to access, and all you have to do is create your account first.
Go to the official website and click on the create an account icon.
Fill in all the necessary details and choose the site plan or account plan
You can start for free to know whether the tool is worth having or not
After choosing the plan, make the payment and start accessing the tools.
2Q. Is it good for building a custom online shopping website?
Ans: Yes, WebFlow gives you access to enterprise plans to create your shopping website with custom features.
3Q. Which is better, WordPress or WebFlow?
Ans: Both website builders are great for building your website. However, WebFlow offers more flexibility and custom tools that allow you to create your custom website.
Bottom Line
WebFlow is an impressive tool that lets you design a website without any coding requirement. There are endless options for customization of the website available. However, there are no such discount deals available right now to avail of the benefits. But you can choose the basic plans to know if the tool is worth it for you.