SEO tools can come in handy if you want to rank your website on the first page of Google search results. These tools consist of various features that you can use to enhance the content quality of your website and track your competitors' progress.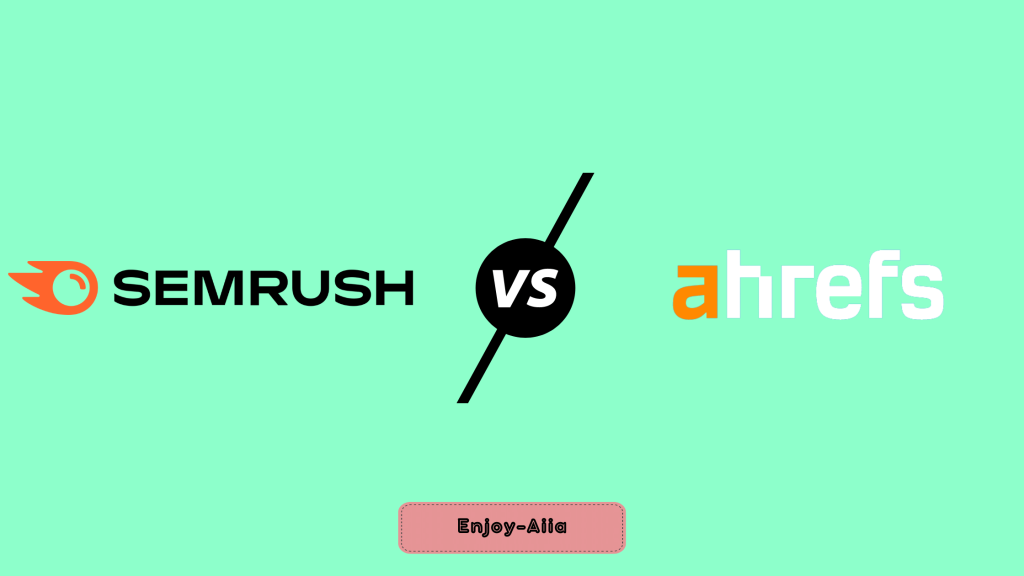 When it comes to digital marketing toolkits, Semrush and Ahrefs totally dominate the arena. Both platforms provide some great features and tools that can help you identify the SEO-related technicalities on your website and offer several strategies to improve your page's performance over the search engines.
Both platforms share the same principle of increasing organic traffic. However, the implementation is slightly different. If you are new to SEO and digital marketing, it might be confusing to choose between the two according to your business requirements.
If you are planning to go with ether but are unsure about the choice, I am here to help you. This article contains a detailed head-to-head comparison of both the tools, including their performance, price, and benefits. Hopefully, in the end, we will be able to determine the better option for you
Semrush Vs Ahrefs: The Overview
To assist you better, I will compare both platforms' top SEO features along with their affordability, ease of use, and overall value that they bring. So let's get going:
Semrush Overview:
Semrush is a competitive research platform that was launched in 2008 by a team of IT experts and SEO analysts. It's a one-stop solution for all your SEO needs related to your website. If your budget does not permit you to hire an SEO team for your website optimization and promotion, don't worry, Semrush has everything for you.
To get more details insight about Semrush, check out our in-depth Semrush Review here.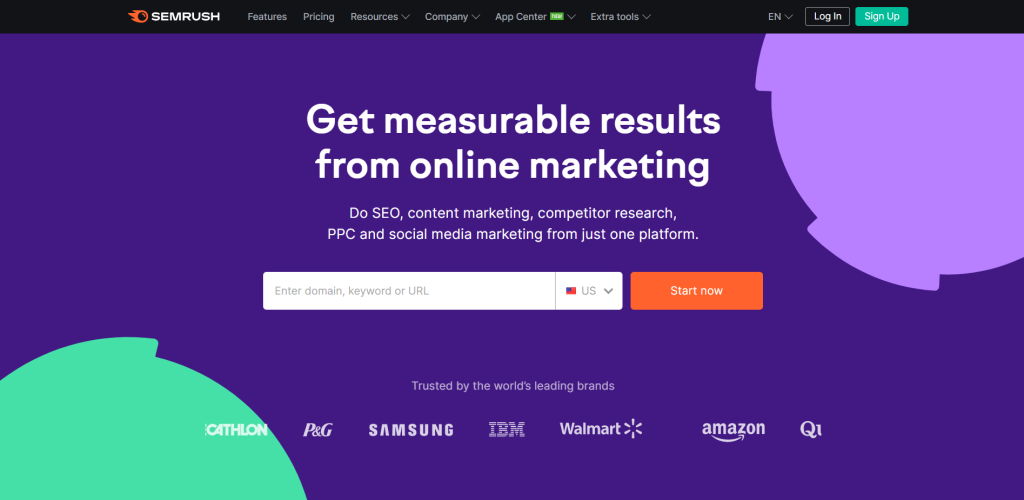 The company has more than 7 million users worldwide, including small entrepreneurs, bloggers, freelancers, and even well-established businesses. Due to its multidimensional features, Semrush has become the first choice of SEO experts and market analysts worldwide.
It provides a suite of web-based SEO tools that work on real-time data with very high accuracy. You can use these tools to monitor your competitors, extract their strategies and create your website campaign accordingly. Semrush offers many tools, including a powerful keyword research engine, backlink checker, competitor analysis, and much more.
Here are some key features of Semrush:
Competitor's analysis allows you to track the performance of the targeted website.
Various PPC and advertising tools and strategies
Content writing services to create high-quality material for your websites/blogs
A database of over 20 Billion keywords
Keyword ideas
Technical audit to find and rectify the errors on your page
Semrush is suitable for anyone who is involved in website promotion, marketing, SEO, and content writing.
Ahrefs Overview:
Launched in 2010, Ahrefs was initially a backlink study tool. Still, over the years, the company has introduced a number of services to transform itself into an all-purpose SEO research platform.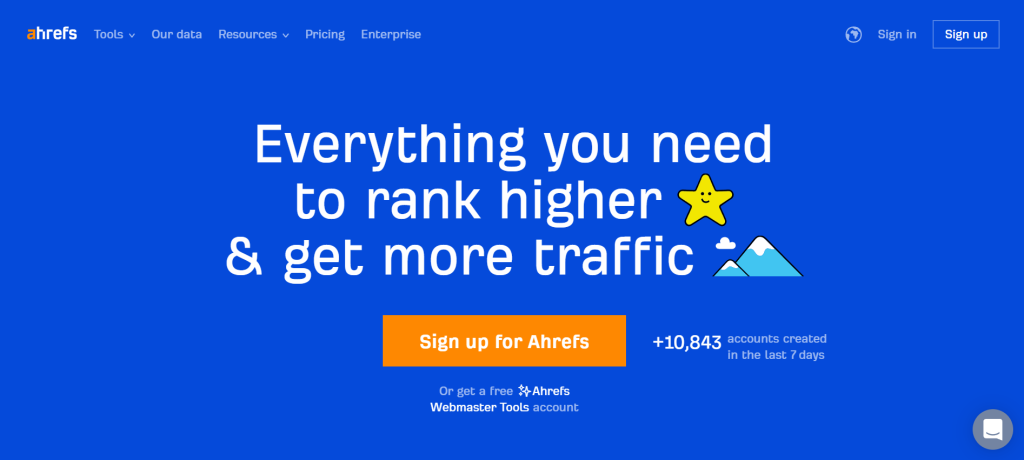 What sets Ahrefs apart from other similar companies is its intuitive interface and ease of use. You can obtain a huge amount of data within a few clicks. Obviously, the company has focused a lot on backlink analysis since the beginning, meaning its backlink data is far more accurate than any other SEO platform.
Let's have a look at some key features of Ahrefs
Deep and powerful backlink analytics 
Get keyword ideas, related keywords, etc 
Know the expected clicks for a particular keyword besides the search volume.
Affordable pricing
Technical site auditing
Ahrefs is a perfect SEO tool for students and freelancers since it provides free tools with limited functionality. It also has more affordable pricing compared to Semrush.
Which One Is better For Backlink Analysis
Backlink analysis is an important aspect of the SEO process and is crucial to a website's performance on search engine results.
Semrush For Backlink Analysis:
Semrush backlink analysis tool provides you with complete information regarding the backlink profile of your domain as well as your competitors'.
The platform has a database of over 6 trillion backlinks and can crawl up to 200k URLs in a second. If you are familiar with the SEO business, you know that those numbers are astounding.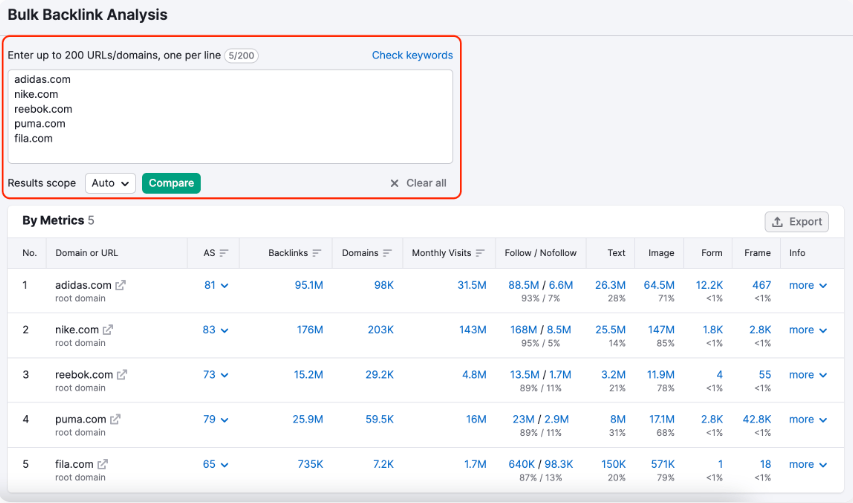 To launch the backlink checker, simply go to Backlink Analytics from the homepage and enter the domain name of the website you want to check for backlinks.
After hitting the Enter, you get a complete overview of the backlink profile, including the domain's authority score.
You can also see the total number of backlinks that refer to the analyzed domain and the number of domains containing at least one backlink to the page you have entered.
You can also see the number of visits to the domain in the past month and the total number of keywords that redirect to the domain through google's top search results.
The outbound domain shows you the total number of websites the domain refers to. You can also see the toxicity score to find out the weak and broken backlinks.
You can click on Backlink Gap to compare your backlink profile with up to 4 domains. This section lets you find the websites your competitors are using to generate backlinks, along with the number of links, link strength, and so on.
Finally, you have the Backlink Audit tool to manage your backlink profile's health. It checks for broken and toxic backlinks and notifies you on a regular basis. Moreover, you can repair the backlinks by contacting the website owners right from the Semrush dashboard.
Ahrefs For Backlink Analysis:
Ahrefs features backlink analysis for the domain. You can quickly obtain the entire list of backlinks referring to the domain name you've searched for. Currently, Ahrefs has around 2 trillion backlinks in the database.
The Ahrefs' backlink tool is similar to the one in Semrush with minor tweaks. For example, with Ahrefs, you can see why and how the backlink was created on a website directly from the link analytics page.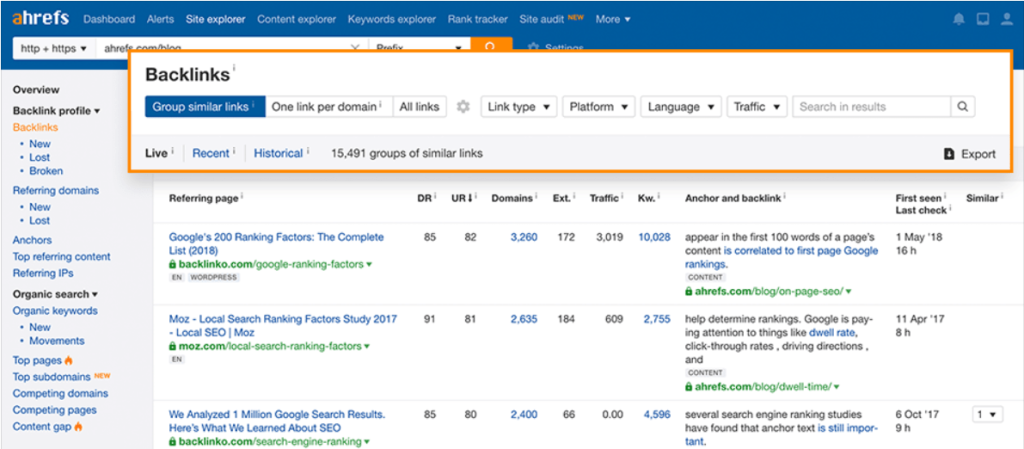 To go to backlink analytics, you need to click on Tools from the dashboard and then go to Site Explorer. Enter the domain name for which you want to search the backlink profile and click on the search icon.
From the explorer page, you can see the number of backlinks and the domains currently referring to the domain you have searched for.
By clicking on Referring Domain, you can find all the websites that are redirected to the Domain or page you've searched for. You can also see more information about these referring domains, such as domain rating, number of do-follow and Nofollow, and the number of organic traffic on each domain.
You can find an in-depth backlink analysis inside the Backlinks section. You can find the exact pages that contain a backlink referring to the domain, the number of keywords referring to the domain, and the exact anchor used to create the backlink.
This data is very effective in mapping out your competitors and locating the websites that are generating the most traffic for them. You can use the same domains and pages to create backlinks alongside your rival and stay in the competition.
Which Tool excels at Keyword Research
A keyword analysis is important to create an effective webpage that serves both purposes. Increase the traffic on your page and improve your page quality for Google.
Semrush Keyword Research:
Semrush has probably the most powerful keyword tools than any other SEO platform. It claims to have over 20 billion keywords in the database. The platform has an entire keyword research and analysis module that includes a keyword overview, keyword magic tool, keyword manager, etc.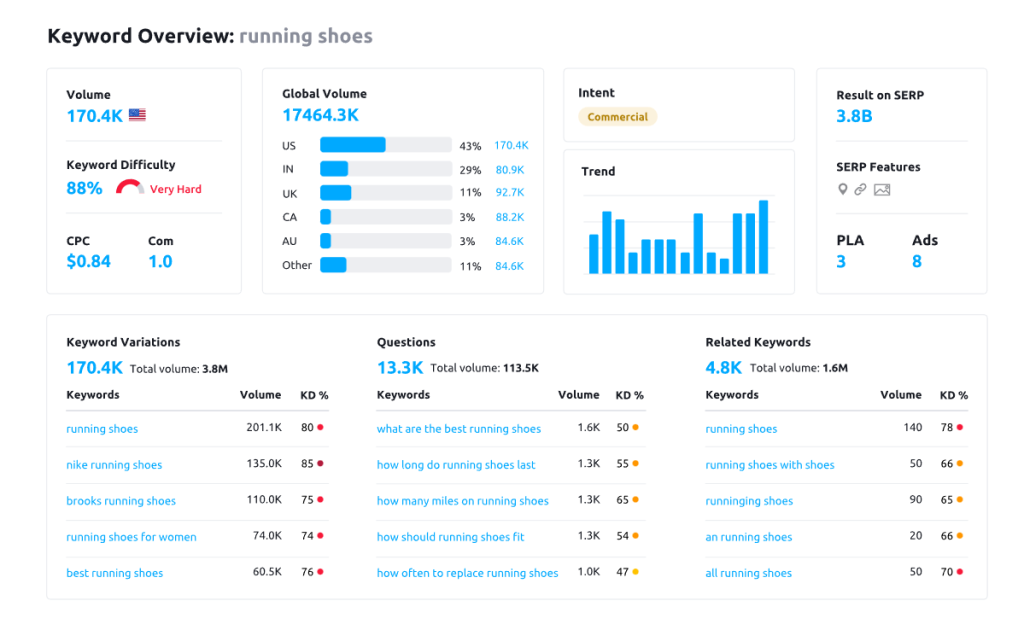 You can go to the keyword overview and search with your desired keyword. You can see keyword trends along with monthly and global search volume. Also, you can perform bulk research for up to 100 keywords at once.
Semrush also lets you know the keyword difficulty number based on trends, historical data, and Semrush's own algorithms. This number shows how easy or difficult it is to rank a keyword.
Not only that, you can get various alternatives and variations of any keyword along with their search volume, keyword difficulty, and cost per click to rank the keyword. This is good for generating new keyword ideas for your blog posts, articles, and so on.
The Keyword Magic tool helps you find the relevant keyword ideas. The higher the number of related keywords your website has, the higher the chances for it to appear on the first page of Google search results.
You can simply perform the search using a keyword or a phrase, and Semrush finds the more relevant keywords based on exact match, broad match, and phrase match. You can further fine-tune your search by applying various filters such as search volume, keyword difficulty, CPC, and so on.
Ahrefs Keyword Research:
Ahrefs' keyword database contains around 7 billion keywords, less than half of Semrush's. But this doesn't mean the tool is any less efficient.
Ahrefs' keyword explorer provides an in-depth analysis of any keyword within a few clicks and helps you generate great keyword ideas that can be very efficacious for your business.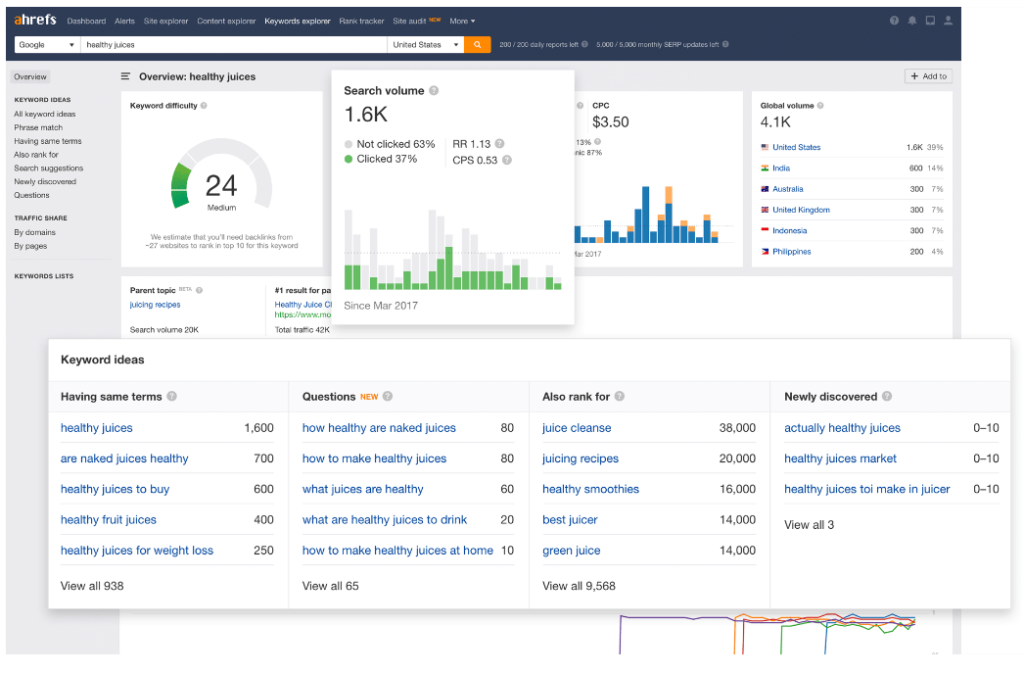 To search for a keyword, click on Keyword Explorer, choose the search engine you are targeting, enter a keyword, and hit the search button. You are presented with numerous data points related to the keyword, such as keyword difficulty, search volume, number of clicks, including paid/free clicks, and global search volume.
Ahrefs also lets you know the number of clicks a particular keyword has generated.
Below this, you see Parent Topic. It suggests a more general topic you can rank your keyword. This is a good way to find the best topic/phrase to target to attract a larger section of the audience.
Moreover, you can find the top pages which are ranking the keyword you have searched for, along with the number of backlinks on each page, their traffic volume, and so on.

Technical Site Audit
Technical site auditing is a significant step in SEO to create a flawless and error-free website. Now, both Semrush and Ahrefs provide rugged site auditing tools, but which one has more potential? Let's find out.
Semrush Site Audit:
With the Semrush auditing tool, you can find every possible technical and SEO-related error that might hinder your website's performance in the future. To rank higher, your website must be immaculate and technically flawless.

Semrush performs over 130 technical and SEO checks on your website and lists the possible errors in it. You can scroll down and see the entire list of errors.
Simply type your website URL, add a project and start auditing. You will see all the issues with your website divided into errors, warnings, notices, severity, and priority.
The auditing tool analysis:
The overall website/page performance, including the loading speed.
JS and CSS faults
Problems with internal linking
Meta tags issues
Content warnings
Ahrefs Site Audit:
Ahrefs site auditing tool is a bit more simplified. Similar to Semrush, you need to create a project and add your URL for automatic auditing. You can set the frequency of auditing along with the day and time of the auditing.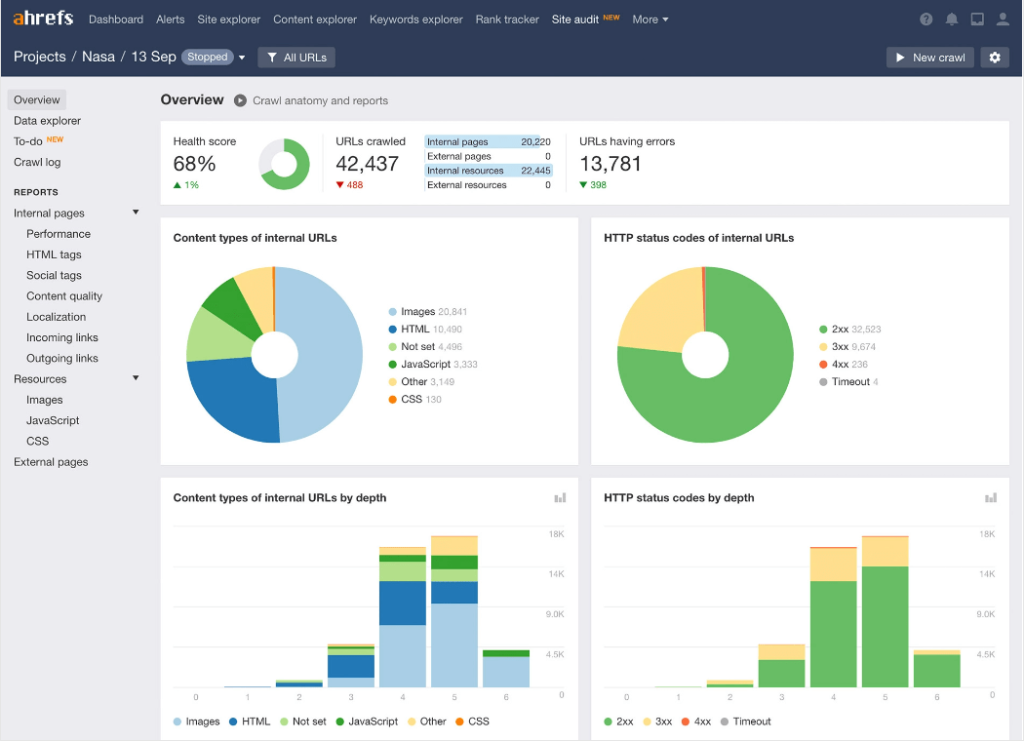 The tool checks your website for over 100 pre-defined SEO and technical issues with your website.
On the result page, you see the SEO health of your page. It also shows the number of URLs crawled along with the faulty URLs.
On scrolling down further, you will see a list of each error, the description, and the possible solution to fix the issue. You can apply the filter to see errors, warnings, and notices ranked according to their priority.
Rank tracking
It's always important to put your work under scrutiny to find out if you are getting desired results or not. The rank/position tracking is a great tool to keep a watch on your website's performance over time.
Semrush and Ahrefs are equipped with a powerful Rank tracking tool. Let's see which one comes out on top:
Semrush Rank Tracking:
Semrush position tracker allows you to track your website's visibility and performance on the search engine. You can also compare your website's ranking with competitors for the same keywords you are targeting.
You can set an automated daily position tracking and monitor your website every day. Simply input the competitor's domain name and targeted keyword, and you are good to go. Semrush shows your website's position change over time along with your competitor's.
Moreover, you can also find out the competitors who are targeting the same keywords as you are. You can perform detailed research on their domain using the competitive analysis section to find out their other keywords, backlinks, and so on.
Ahrefs Rank Tracking:
Ahrefs Rank Tracker tool allows you to observe your keyword rankings based on the results from 170 countries. You can also check where your website stands in the competition.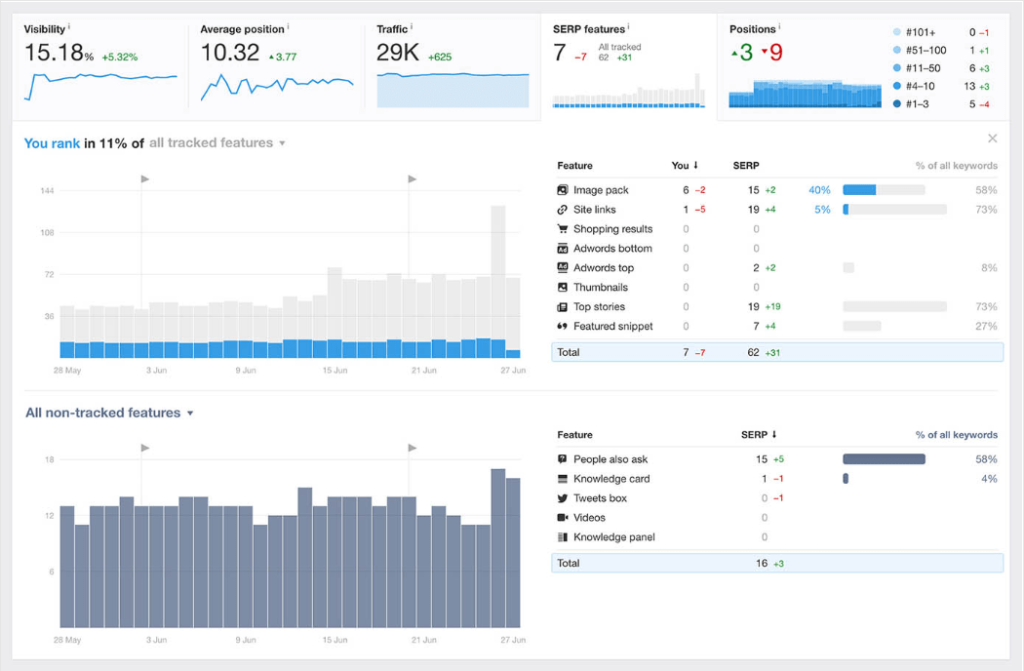 The overview page of the Rank Tracker tool consists of viral data regarding your keyword performance over time, such as visibility, position, search volume, SERP features, and most recent position change.
You can also choose different dates and time periods to bring out deeper historic results if you want to compare your performance from last year or earlier. All the reports are in the form of graphs which you can use to study or to show your clients if you are working on some project.
A SERP features index also shows how many SERP features you own for all the keywords you are ranking. You can click on each feature and find out how much of it you have to find out the SERP features you need to work on to progress higher on search engine results.
Spying on Competitors: Semrush or Ahrefs?
SEO is all about competition, and to reach the top spot on Google search, and you have to beat your competitors first who are putting in as much effort as you are. Both Semrush and Ahrefs feature a Competitor's analysis tool on their website. Let's find out which one is more effective.
Semrush Competitor Analysis:
To size up your competitor, Semrush has a Domain Overview tool. You must enter a domain name, choose the country/marketplace you are targeting and hit the search button.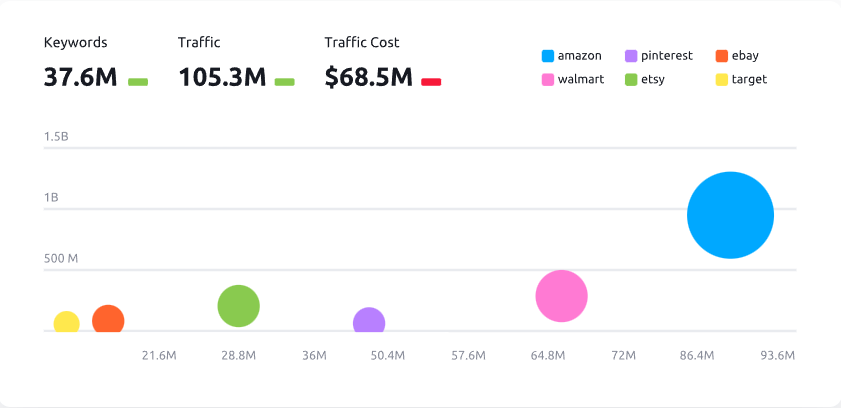 Domain overview shows you the complete analysis of the domain you have searched for. You can learn about its web visibility, growth over time, the keywords generating the highest organic traffic, and the niche where the domain has a strong outreach.
You can also compare up to 5 domains to find out about their search volume, paid traffic volume, backlink profiles, keyword performance, and much more.
Here are some of the key data points you can acquire from the Competitor's analysis:
Traffic volume on a domain
Authority score
Position change over time
Winning keywords with the search volume
The niche to target
Ahrefs Competitor Analysis:
To launch the competitor analysis, Ahrefs has a Site Explorer tool. You can use the tool to keep your competitor's performance under your watch. You can find their growth over time and what strategies they are using. And you can replicate their strategies to take the advantage and have the upper hand over them.
Ahrefs Site explorer database contains over 4.5 billion keywords and is one of the most active and fastest crawlers on the internet.
You can simply perform a search by entering your competitor's domain name in the search bar. You can see the overview page's domain rank, number of organic keywords, traffic volume, and total traffic volume cost.
Apart from this, you can also check backlink profiles and referring domains to find out more about the domains that are redirecting the traffic to your competitor's page. You can choose different countries to see their performance in different niches and decide whether you should target that market or not.
Ease of Use and Learning Curve
Visually, both Semrush and Ahrefs have a strikingly similar dashboard. However, there is a difference in the search mechanism and the results.
Semrush provides a very detailed analysis with a huge number of data points, graphs, and charts. While Ahrefs search results are not as vast and deep, by no means is it any weaker in terms of performance.
In fact, I personally found Ahrefs more user-friendly. The user interface is very instinctive, and you always know where to go for a particular piece of information.
Semrush, on the other hand, requires some learning and experience. As good and detailed as its analysis is, the search results are cluttered, and many times, you may find yourself scratching your head and wondering where to click and which data to assess.
Pricing Comparison
Here is the pricing comparison of Semrush and Ahrefs.
Semrush Price:
Semrush has 3 plans for its users – Pro, Guru, and Business. If you want to try Semrush for free, then check out our Semrush Free Trial here.

Pro: 119.95$/month
Suitable for small-medium businesses, marketing executives
Up to 5 projects
Up to 10000 domain search and keyword research
500 keyword tracking/day
$45 for additional user
100k pages crawl
500 SEO ideas
Guru: $229.95/month
Suitable for marketing agencies, small SEO companies, medium business
30000 domain and keyword search
Up to 15 projects
1500 keyword tracking/day
1000 keyword monthly metrics
Content marketing services
800 SEO content templates
300k pages to crawl
Historical data and integration
800 SEO ideas
Business: $449.95/month
Suitable for big marketing agencies and established businesses
Up to 10 projects
50000 keywords and domain search
5000 daily keyword tracking limit and monthly matric updates
Content marketing with 2000 content templates
Additional user $100/month
1 million pages to crawl
2000 SEO ideas
Product listing ads
Ahrefs Price:
Ahrefs comes in 4 plans – Light, Standard, Advanced, and Enterprise

Light: $99/month
Dashboard, Site Explorer, Keyword Explorer, Site Audit, and Rank Tracker
Suitable for small projects
5 keywords list
100k crawls/month
750 keyword tracking
Up to 5 projects
Export up to 500k rows of results from the Ahrefs report
1 power user
Standard: $199/month
6 months of history
SERP updates
Domain comparison and Batch analysis
Export up to 1.5 million rows of the report
Up to 20 projects
2000 keywords search
50 keyword ideas
Advanced: $399/month
2 years of history
Google Data studio
4 million rows of the report
50 projects
5000 keywords research
1.5 million crawls
100 keyword ideas
Enterprise: $999/month
Suitable for large size marketing agencies and businesses
Unlimited history and access management
Directory listing
10 million data exports
100 projects on the dashboard
10000 keyword tracking
5 million crawls
250 keyword ideas
The Final Word: Which Tool Is worth Investing In?
There you go, this is my comparison review between Semrush and Ahrefs. Which one is better? It all comes down to your personal preference and business requirements.
While Semrush has a top-notch keyword research tool, Ahrefs has no match for its backlink analytics. Also, Semrush provides better tools for marketing and PPC campaigns that Ahrefs lacks.
Here are some quick suggestions:
If you are looking for a complete SEO suite, Semrush is the best option for you. The platform provides you with services for everything from content creation to website promotion.
If you are more focused on link building and backlink analysis, pick Ahref. Also, it's pocket-friendly which can be a plus point for students, freelancers, and small businesses.
My personal preference is Semrush. After using both tools for over 1.5 years, I feel Semrush provides a good one-stop solution for all your SEO needs. The price is a little higher than Ahrefs, but it's totally worth what it brings to the table.