Every website owner has one goal in mind – To see his page on the first page of Google results. Sounds easy? Well, it's a bit trickier than it appears. There are hundreds of elements in a website that decide whether the site is performing well enough to be ranked higher or not.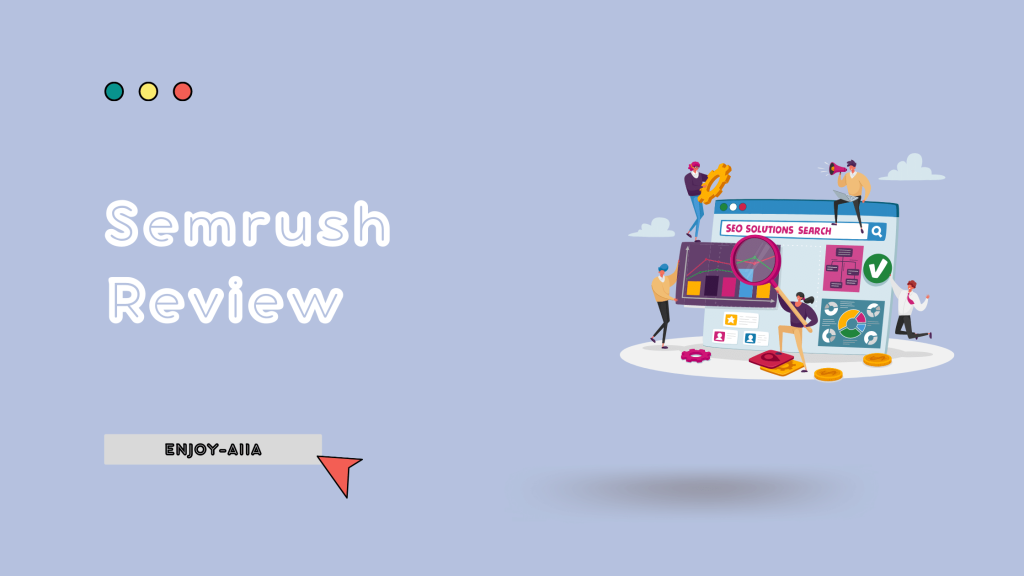 Semrush is a digital marketing suite that consists of a number of tools and features that can help you increase the overall performance of your website. But, with several metrics, filters, and data points, it's a bit problematic to comprehend all the tools.
If you are thinking about whether or not to invest in Semrush, and if yes, how to operate the tool, you've come to the right place. In this article, I will talk about Semrush in detail and will explain each module and its functionality. So without wasting any time, let's start.
Semrush Review: In A Nutshell
Starting in 2008, Semrush is a one-stop digital marketing platform for website optimization. If your budget is not allowing you to hire a full-fledged SEO company to improve your website ranking, you can use Semrush and start on your own.
It's probably one of the most used SEO tools by freelancers, small businesses, and bloggers. As of now, the platform has over 7 million active users.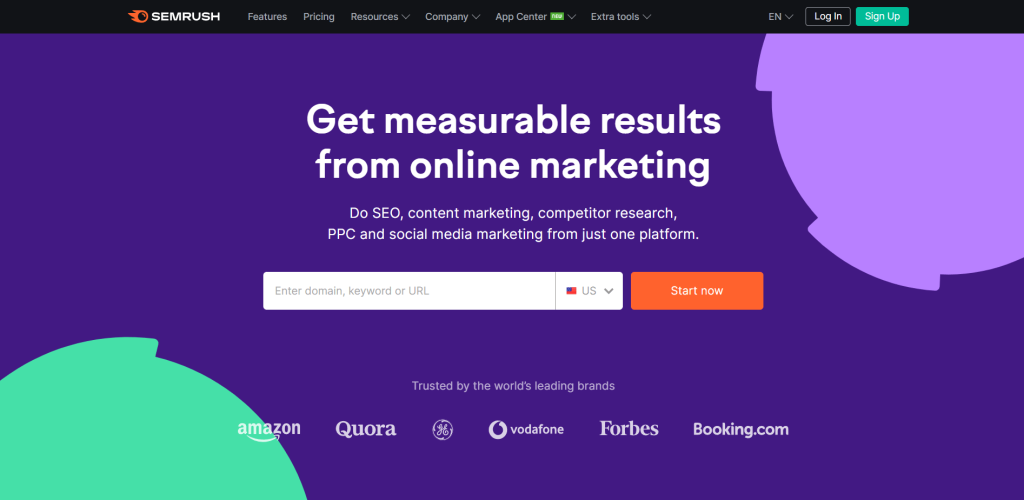 The platform consists of various tools to run SEO searches, plan ad campaigns, and find suitable targets for your products. Although the company provides tools for nearly everything which is required to create and manage a successful website, its superb SEO tools are what people use this platform the most for.
With Semrush you can find valuable information such as CPC advertising costs, winning keywords for your competitors, backlink analysis, and so on.
Here are some key features of Semrush:
A database of billions of keywords
On-page and technical SEO tool helps you create an error-free, high-efficiency website
Competitor analysis to monitor your performance against your rivals
Social media integration
Quality content writing facility
Advertising strategies and tools
Find the most relatable and profitable keywords to generating high organic traffic on your page.
Advanced link building module
Semrush: How To Use
Semrush toolkit provides you with all the necessary tools which you will need in your website building. The program consists of competition analysis, keyword research, and many other SEO-related tools.
Semrush is a one-stop solution for your business optimization in terms of online presence and helps you rank your website higher in Google search results.
Let's get into the details of each module and its tools:
1. Stay In Competition:
For any business, it's extremely important to size up the competitors, know their strategy, and then plan a counter-strategy. Semrush's competitor analysis provides you with everything you need to monitor your competitors. Let's have a look:
Analyze your Competitors: Domain Overview
With a Domain overview, you get a chance to dive into any domain's details and observe its performance. Here you can analyze every aspect of a domain name including its online visibility, markets where it has a strong foothold, progress over time, and the keywords generating the most traffic for it.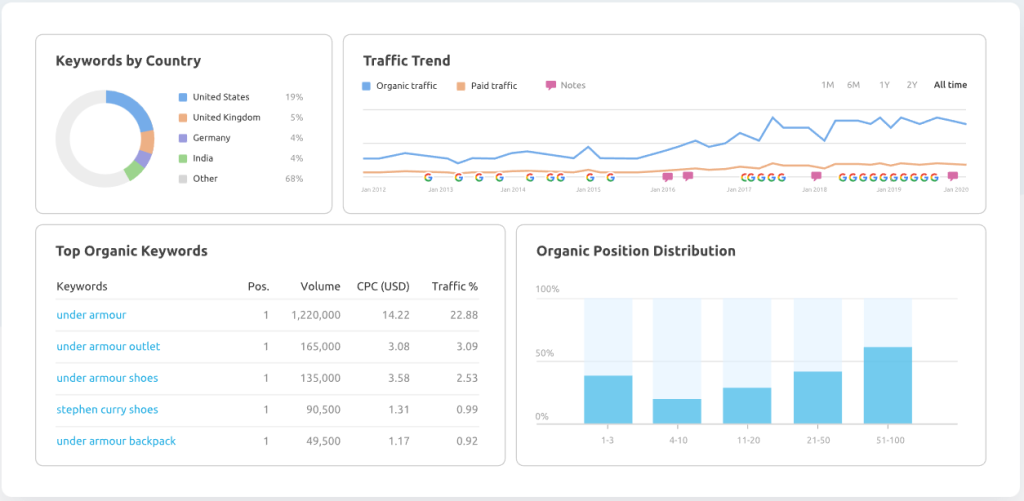 You can also compare up to 5 domains based on their search traffic, number of backlinks, and paid traffic, to narrow down your results, you can also perform the search for specific countries.
Simply type a domain name, select the country you want the results and analysis for, and search.
Monitor The Traffic: Traffic Analytics
Traffic analytics is a great way to find out the traffic activities on any domain. This includes traffic statistics, product and service information, and audience activities on websites. With traffic analytics, you can easily find what other websites users are visiting most, what is the source of the traffic on a particular domain, and where to put ads for your pages.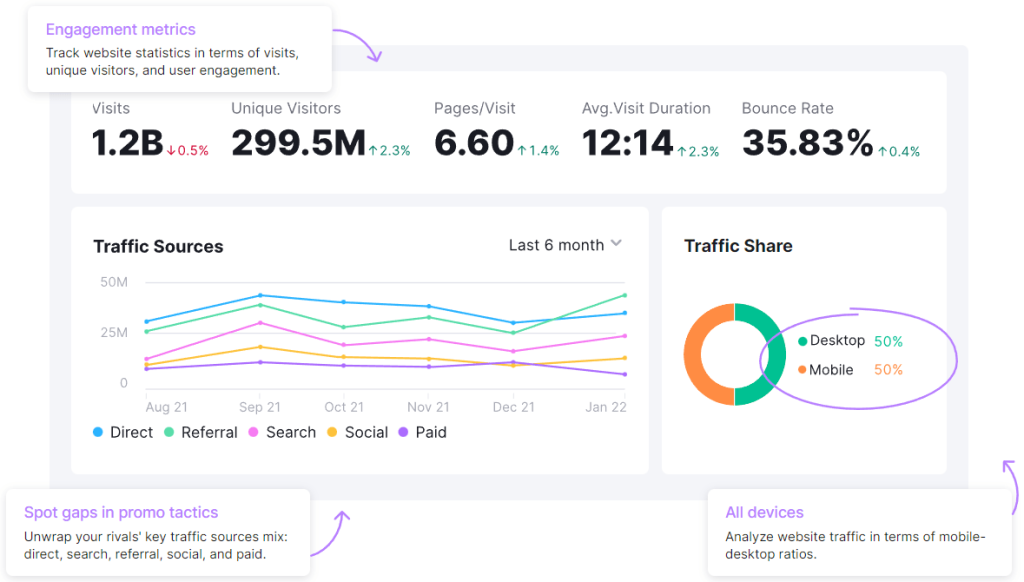 YOu can also find out the most beneficial pages to promote your website by putting an advertisement there. At traffic analytics, you can also find out about the product and services of your competitors which earn them the highest amount of traffic.
You can either search a single domain name to find out the traffic activities or compare up to 5 domain names to find similarities and differences in their traffic volume. You can also use a bulk analyzer to check up to 100 domain names at one go. Simply put the domain name in the box and search.
Know Your Competitor's Strategies: Organic Research
Organic research helps you find out the winning strategies based on the data from your competitors' websites. If you want to promote your website on the top page of google search, you must know what is working for your competitors.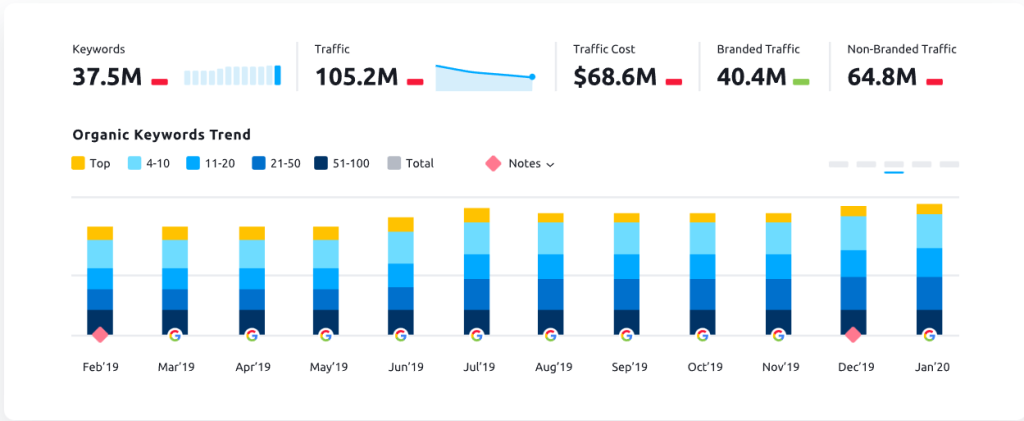 In organic research, you can find all the keywords which land a user on a particular domain and the number of expected visits on the domain in a month. You can also find out the keywords bringing more traffic. In other words, this gives you an idea of the trending keywords for a particular market.
You can also find your closest competitors and find out your relative performance in comparison to them. Simply put the domain name in the search bar, and hit the search bar, and you are presented with a domain overview including keyword ranking, average CPC, traffic volume, and much more.
Compare Your Keywords With Competitors: Keyword Gap
Keyword Gap allows you to compare your keywords to any 5 competitors. In this module, you can easily find out the common and unique keywords for your competitors whether it's paid, organic, or PLA.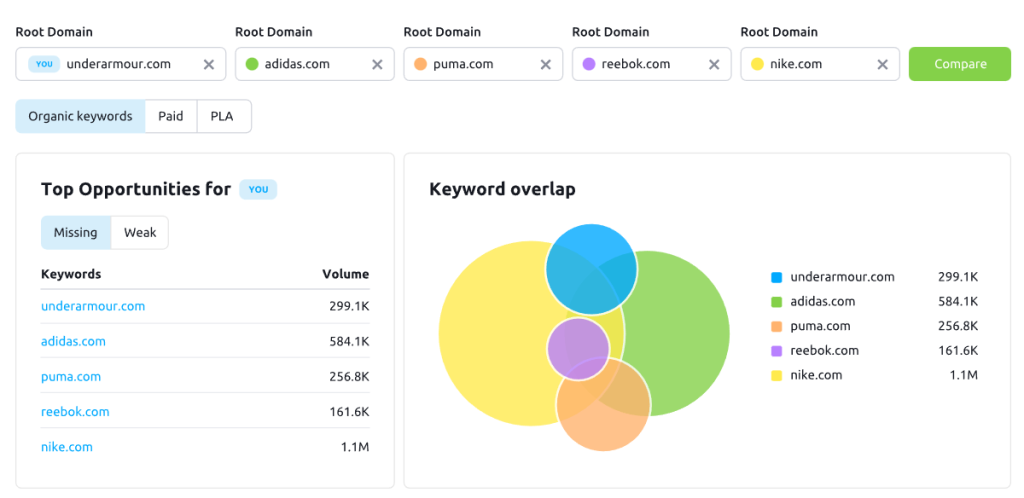 YOu can also find out the common best performing keyword for each of your competitors for different geo-locations. Simply type up to 5 domain names, choose the country and keyword type and click on the Search button.
2. Find Backlink opportunities: Backlink Gap
The backlink gap module helps you find out the websites that provide backlinks to your competitors but not you. This is a great way to place your links strategically on websites to gain maximum organic traffic.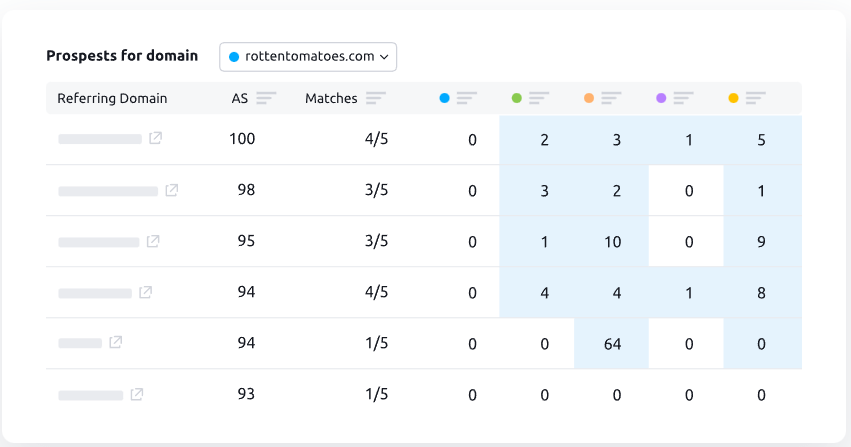 Backlink Gap is an important module for the Link building process. The higher the number of backlinks your website has, the more chances it has to appear higher on search results.
Simply enter your website address and up to 4 domain names and click on Find prospects. And you can find backlink details for each domain including the common domains which have backlinks to all your competitors but not to you and vice versa.
3. Know Your Keywords
With over 20 billion keywords, Semrush has one of the largest keyword collections. Your website's online presence depends on the quality of your keywords. And Semrush keyword module provides you with every tool you need to harvest the winning keyword for your page. Let's discuss each tool in detail:
Know Everything About Keywords: Keyword Overview
Keyword Overview gives you inside into any given keyword. You can analyze the average monthly search volume for any keyword, global search volume, and keyword trend.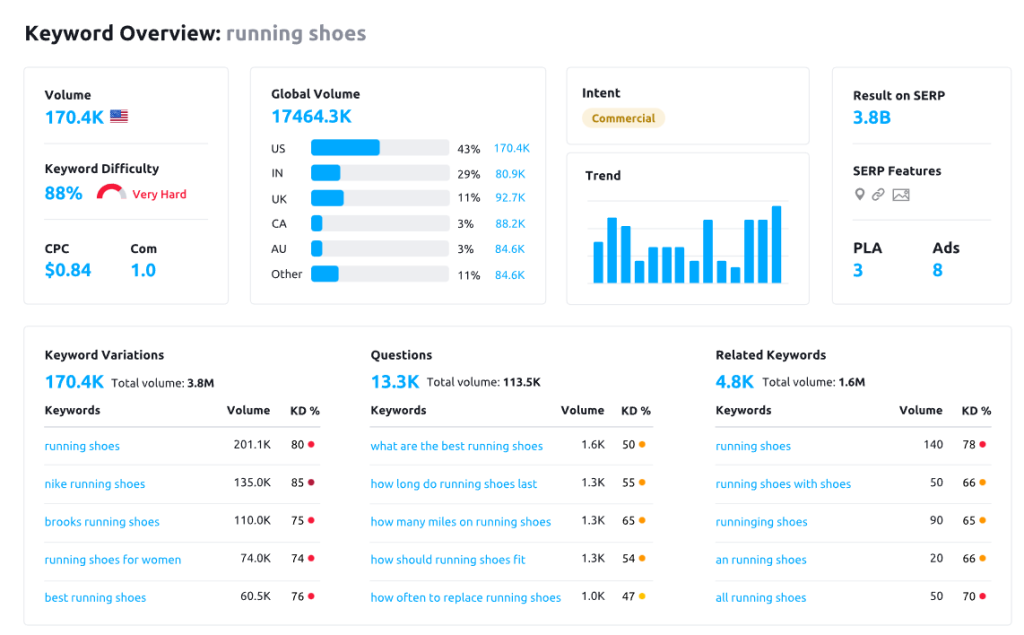 The most striking feature of the Keyword module is Keyword Difficulty. Based on internal algorithms and historic data, Semrush predicts how hard or easy it will be to rank a keyword.
Not only that, you get to know numerous keyword variations associated with the one you have performed the search for, along with the search volume and keyword difficulty. You get keyword questions and related keywords as well where you can also check their keyword difficulty and search volume.
To perform keyword research, enter a keyword, choose the location and click on Search.
Get The Winning Keyword Suggestions: Keyword Magic Tool
Semrush's Keyword magic tool is a great way to find the keyword ideas which are relevant to your website or business. A good keyword is a door to your website and the magic tool helps you find the most search keywords.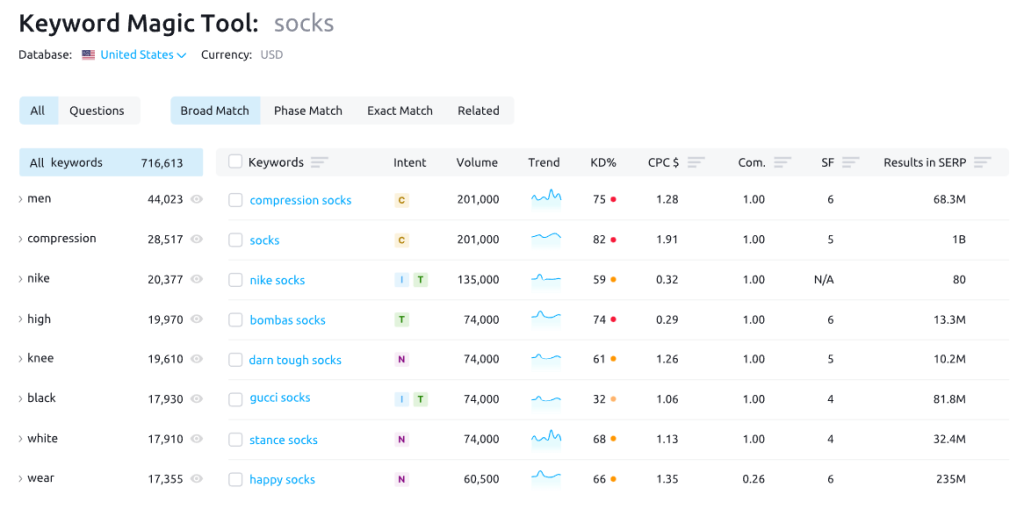 The tool, on the basis of your searched phrase, provides you with various related keyphrases, matching keywords( Exact match, phrase match, and broad match), and related keyword questions.
To perform the search, simply put the keyword and hit Enter. You can perform the search for different countries by choosing from the box below the search bar. Additionally, you can filter the keywords according to volume, keyword difficulty, CPC, and much more.
Organize Your favorite Keywords: Keyword Manager
The keyword manager tool helps you collect and organize your favorite keyword across the Semrush platform.
While going through various modules, you come across several keywords which you can directly add to your list or export to other Semrush tools for more analysis.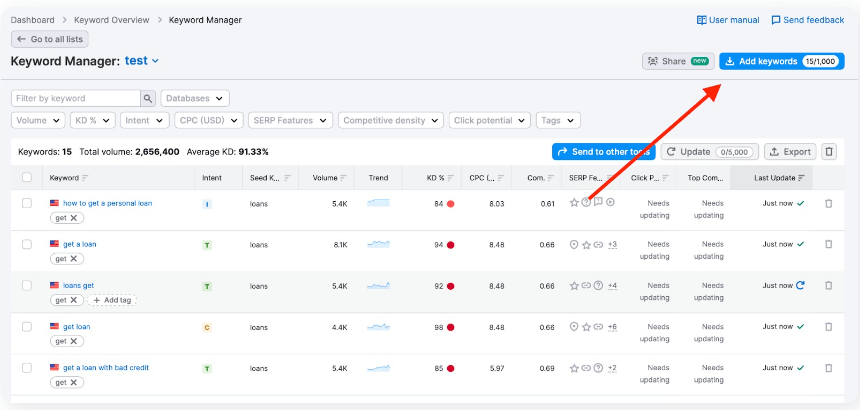 Additionally, you can download the keyword list on your computer in XLS or CSF file formats for future references.
All you need to do is create a new list with your preferred name and add your desired keywords that you think might be useful in the future.
Know Your Ranking: Position Tracking
With the position tracking tool, you can monitor your website ranking against your competitors for the same keywords you are targeting.
You can set up a daily-basis tracking by simply providing the competitor's domain name and the targeted keywords. The tool shows you a graph containing the daily position changes of your competitors if any.
Moreover, you can map out the competitors who are trying to rank the same keyword as you are. You can copy their domain name and run a domain analysis as I mention in the competitive analysis section and find out their keywords, strategies, and other valuable insight.
Put the domain name of the competitor you wanna monitor your ranking against, give the targeted keywords and click on set up tracking.
4. Link Building
A well-planned and implemented link building is crucial to your website performance across the search engines and eventually helps your website to move up the order in the search results. Semrush Link building module provides you with all the necessary tools to create a strategic approach towards link building for your page.
Everything You Need To Know About Backlinks: Backlink Analytics
Backlink analytics features a comprehensive backlink checker tool that extracts the accurate backlinks data for any given domain name. All you need to do is provide the domain name and click on Analyse and you can find out: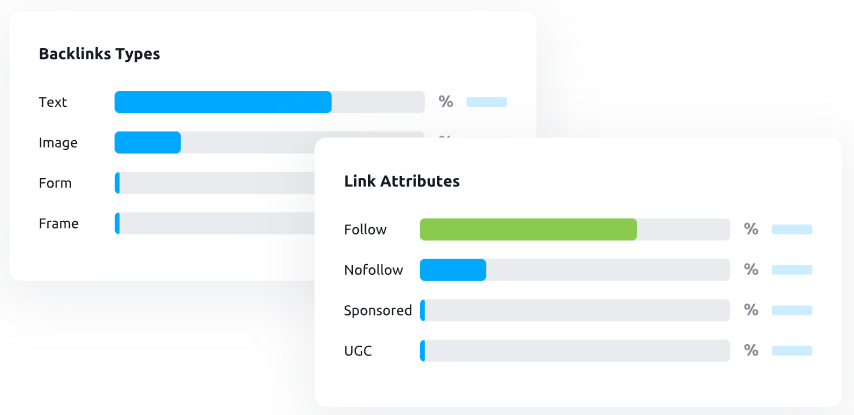 Authority score of the website which gives you an idea of the overall quality and performance of the page.

Referring domains containing links to the given page.

A total number of backlinks leading to the given domain name over the past few months.

A total number of unique visits to the page.

The number of keywords that lead the users to a given page.

The number of outbound links, meaning the links which redirect users from a given domain to another one.
You can visit each section from the tabs to find out more details regarding the backlink data points of the given domain including backlink details, type, link attributes (follow/nofollow), names of referring domains, and outbound domains, and the anchor texts of the backlinks.
Backlink analytics helps you find out the pages which refer to a domain name, meaning you can easily spot the places your competitor is generating traffic from, and plan your activities accordingly.
Track Your Backlinks: Backlink Audit
Backlink Auditing lets you monitor the backlinks of a domain based on their quality, reliability, and working status.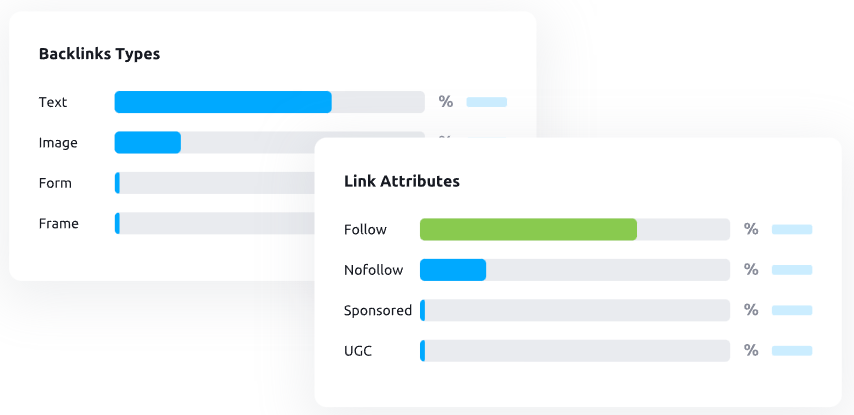 The audit tool smartly filters the toxic backlinks from the good ones by giving every backlink a toxicity score. It also features an automated cleanup process that warns you about broken links, which might hurt your website ranking. Not only that, but you can contact the domain owners right from Semrush and create a link removal request. The tool will provide you with the contact information of website owners (email).
You can create your backlink profile within the tool and manually add healthy links to it. To help you better, the tool gives you regular updates regarding new, broken, and lost backlinks that you can subsequently add/remove from your backlink profile.
Create Backlinks: Link Building Tool
Link Building tool is probably the easiest way to create quality backlinks for your page. The tool helps you organize a systematic plan to create backlinks, locate the sources for new backlinks, and find the best ones for your profile.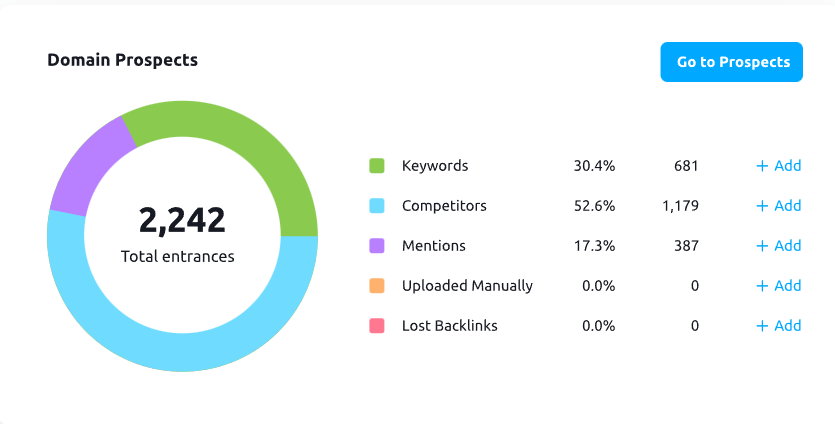 The tool automatically extracts the contact information of the domain names you want to create backlinks at. You can further use the Semrush Outreach tool to contact and send personalized business messages to the owners. You can also monitor the new backlinks and if it gets broken, the tool sends you a warning and you can contact the domain name owners right away.
Simply input your domain name and the keywords you want to rank your website for. Next, you need to provide your competitor's domain name to find out the prospects for your page.
5. Technical SEO
On-page and Technical SEO module helps you optimize your website, find and fix SEO-related errors, create quality content in order to compete with your rivals, and much more.
In the Site Audit tool, you can find various SEO and technical error on your page. When you enter the domain name, the tool provides you with a detailed list containing loading speed, content issues, meta tag errors, security lapses, and much more.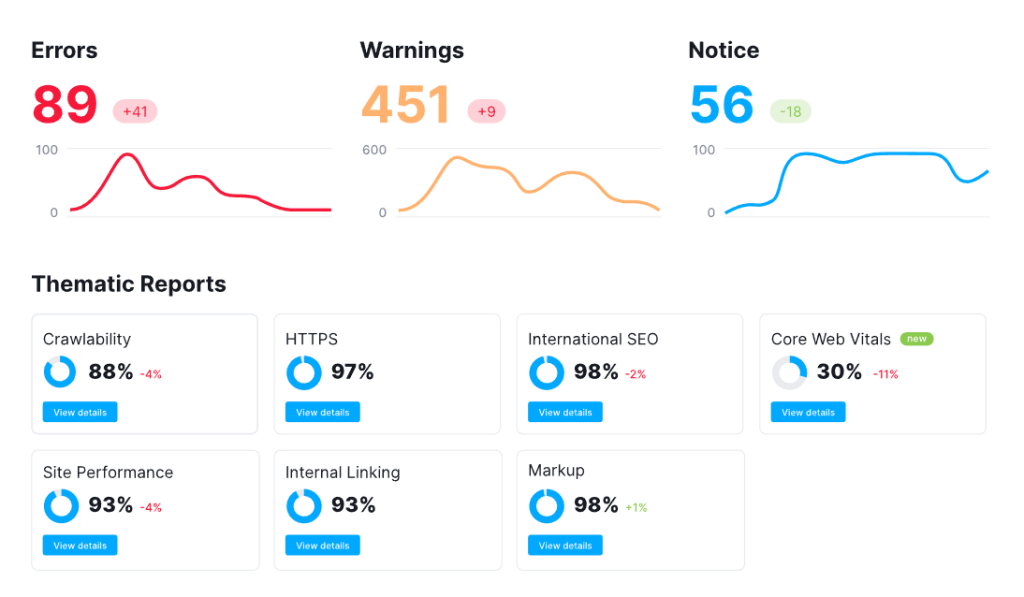 Enter your domain name, click on Start Audit, and you can analyze the following:
Crawlability: The chances of your website being indexed
Website performance: Loading speed and performance issues.
Internal link building issues
Your website's security measures
International SEO score, in case you are running a multilingual website.
Create SEO Friendly Content: SEO Content Template
With SEO Content Template, you can start the process of creating SEO-friendly content for your website. Here you can target up to 10 competitors, and find out their ways of using the given keywords in content, the readability score of their content, and the average length of the text they have put on their page.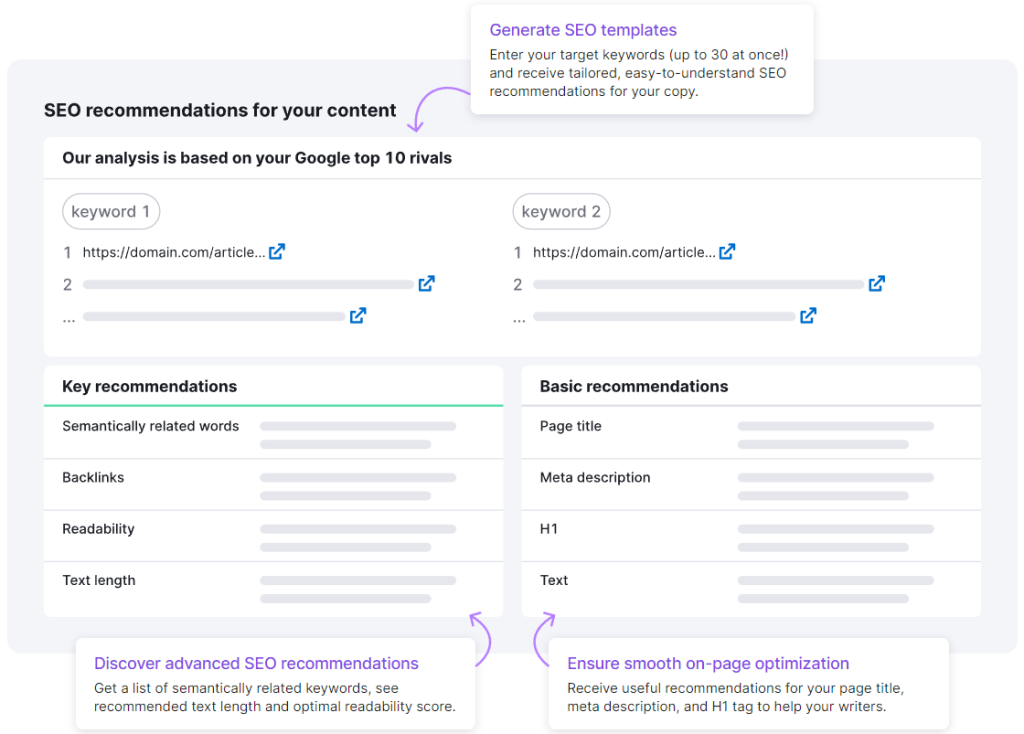 Additionally, the tool finds related words/phrases you can use to generate traffic as well as relevant websites where you can create backlinks. All this data is based on your top 10 competitors' data.
Data from the SEO Content tool is vital for your content creation. You can download the SEO template to a DOC file for further analysis. Moreover, you can directly order content writing based on the template data directly from the tool.
Improve Your Website performance: On-Page SEO Checker
On-page SEO checker is an optimization tool that analyzes your website thoroughly and gives you a number of improvement ideas based on your current website performance against Google's top 10 websites.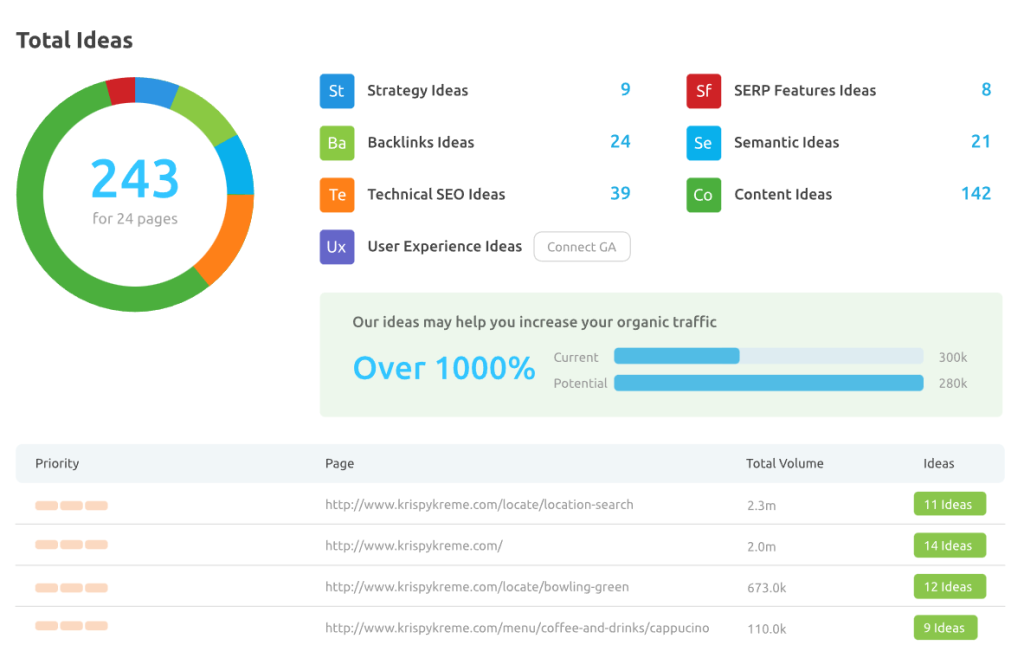 These ideas include:
Optimize your highest-ranking page to generate more traffic to your website.
Ideas to improve technical aspects of your website.
Words, and phrases used by top-ranking websites.
Content ideas from Google's top-performer websites.
Strategies that can advance your website into the SERP results.
The potential websites you should get inbound links from.
6. Advertising
In the Advertising module, you can find tools to plan your Google Ad campaigns, monitor your competitors' ads, and learn their strategies to improve your advertising game.
Plan & Manage Your Ad Campaigns: PPC Advertising Toolkit
Let's have a detailed look at Semrush's PPC toolkit and its features:
With the help of the PPC toolkit, you can find out your closest paid search competitors, their winning keywords along with the keyword details, and their live adverts. Furthermore, you can get an insight into their pricing strategy and the keywords which are helping their product to climb higher on the google search results.
PPC toolkit also helps you find the keywords which are being used by your closest competitors. Apart from that, you can perform keyword research on paid results, Google shopping, and organic results. You can use the Semrush keyword research tool to learn more about each keyword, your competitors for the same keyword, search volume, keyword difficulty, and so on. Based on this data, you can find out which keyword you want to use in your ads to compete with your rivals.
Simply provide a keyword, and the magic tool gives you all related keywords, key phrases based on the given keyword, keyword questions, and so on. You also get CPC data, search volume, and the top websites and their ads ranking for the keyword.
You can compare up to 5 of your competitors and have a benchmark for your website based on the results. You can compare traffic volumes, Keywords, and CPC costs for each of them. All this information can be downloaded if you want to share it with your SEO team.
With Ad tracking, you can monitor your visibility against the closest rivals in paid search, shopping ads, snippets, and so on. The ad tracker helps you track new adverts, meaning you can easily track down the new competitors and you can run their domain name through several Semrush tools to get further details about their keywords, search volume, best keywords, and so on.
7. Strengthen Your Social Media Presence
If you have a business associated with your website, Social media is a great place to start promoting your brand and products. With Semrush's Social media module, you can plan ad campaigns on various social media profiles including Facebook, Twitter, Instagram, and so on.
Semrush analyses your website products and suggests the most fitted social media to advertise your brand. Then you can look into your rival's social campaigns on those platforms and learn their techniques to engage people on your website. Moreover, it helps you create suitable social media content for your product niche.
Deliver the Most Alluring Content
Social media tool allows you to add up to 5 social accounts where you want your ads to be posted. You get customized social media post ideas for your product, best performing trends, and hashtags, and the best time for social media posting. You can also schedule your posts in advance if you want to create a bulk posting.
Semrush provides you with regular updates on your social media performance and proposes the necessary changes based on it. It's very easy to benchmark your performance against your rivals and create essential modifications to stay ahead in the competition.
As I mentioned above, you can connect your brand's social media page to Semrush and start posting directly from Semrush Social media dashboard. You can also track your posts, audience engagement, search volumes, and so on for your every special media page. As of now, you can connect Facebook, Instagram, Twitter, Pinterest, and LinkedIn to Semrush.
8. Create Quality Content: Content Marketing
Semrush's Content marketing is very useful if you are new to the SEO business and looking for a headstart. This is what you can do to produce quality content using Semrush:
Topic research is basically a tool to find the reference posts for a given keyword. Simply enter a keyword you want the content idea for and click on Search. In a few seconds, you get several pages with content related to your keyword along with their Facebook engagement details, a total number of shares, and a number of backlinks for the page.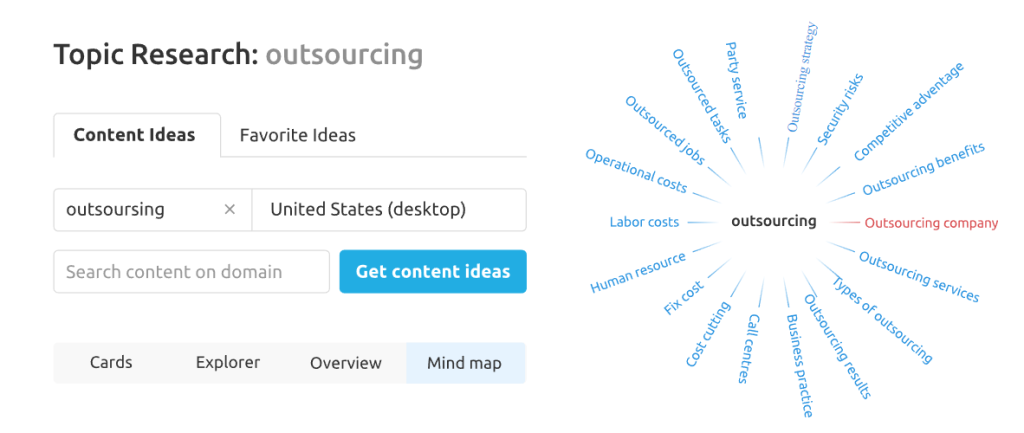 Additionally, you get top headings and question ideas for the keyword that you can smartly use in your website material and ads.
Semrush also offers a smart writing assistant that you can use to create SEO-friendly content. You get a number of suggestions about the readability, SEO, tone, and uniqueness of your content.
Semrush: Pricing and Offers
Semrush comes in 3 plans
Pro – $119.95/month
Guru – $229.95/month
Business – $449.95/month

Here is a detailed comparison of features and tools included in each plan:
| | | | |
| --- | --- | --- | --- |
| FEATURES | PRO | GURU | BUSINESS |
| Suitable For | Small business and marketing beginners | Marketing agencies, small and medium business | Established business and big agencies |
| Projects | 5 | 15 | 10 |
| Domain and Keyword results per report | 10000 | 30000 | 50000 |
| Product Listing Ads | ✖ | ✖ | ✔ |
| Daily Keyword tracking limit | 500 | 1500 | 5000 |
| Keyword metrics monthly updates | 250 | 1000 | 5000 |
| Content marketing platform | ✖ | ✔ | ✔ |
| SEO content templates | ✖ | 800 | 2000 |
| Scheduled PDF Reports | 5 | 20 | 50 |
| Targets per project | 5 | 15 | 40 |
| Additional user | $45/month | $80/month | $100/month |
| Pages to crawl | 100000 | 300000 | 1000000 |
| Historic data | ✖ | ✔ | ✔ |
| Good Data integration | ✖ | ✔ | ✔ |
| SEO Ideas | 500 | 800 | 2000 |
Pros & Cons Of Semrush:
Here in this post, we have given the pros & cons of Semrush. Let's have a look.
Pros:
The advanced keyword research tool is powerful enough to find the top-performing keywords.
Social media Tool is a great place to manage all the social media adverts from a single place.
Regular updates on data, backlinks, and so on.

Technical support via phone call, email, and chat.
Cons:
The platform is a bit tricky to understand.

Provides data only for Google, meaning the strategies will work mostly on the Google search engine and not others.

Integration between the tools is very complex. It requires some time to learn about all the modules and their tools.
There you go. Ultimately, it comes down to your business requirement and personal preference. If you are still not sure whether or not you should invest in this tool, you can have a 30-day free trial.
Final Words: Is Semrush Right For You?
This is all with the Semrush review. Now, the question is – Is this the right platform for you? As you saw, the platform features some robust research tools including advertisement and content creation. Thus, it is perfect for small business and advertisement agencies, students, bloggers, SEO executives, freelancers, and so on. If you run a big business and looking to scale up, better look elsewhere.
Also, with so many tools altogether, the platform appears to be a bit cluttered and for beginners, it might be quite hectic to get a hold of the tool initially. 
Frequently Asked Question:
Does Semrush offer any refund policy?
Semrush offers 7 days refund policy on all its plan. For any reason, if Semrush doesn't satisfy your need, you can claim your full refund within 7 days of subscribing to it.
Which type of payment method does Semrush accept?
You can make payment on Semrush via Check or money order (For the U.S only), Wire Transfer (on request), and all types of credit cards, including American Express, Discover, Visa, Union Pay, and Mastercard.
Can I be charged when I enter my credit card information?
You will be charged a very tiny amount to check the validity of your credit card, as it confirmed they would immediately refund it.
Does Semrush offer any free trial?
Absolutely, Semrush offers 7 days of free trial for all its subscribers.