Are you unsure which tool is better Jungle Scout vs Viral Launch? You've come to the right place if you're having trouble picking one!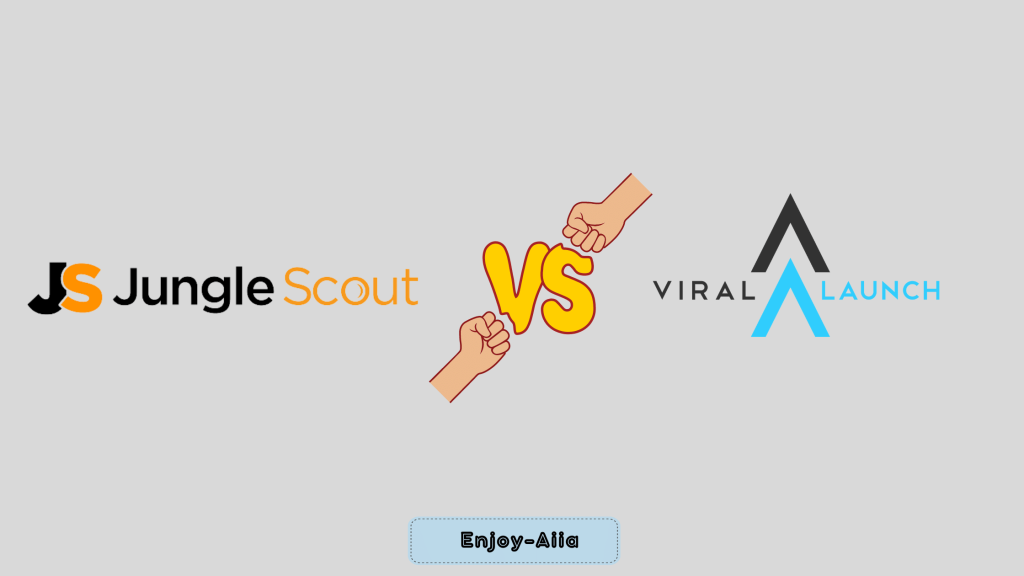 There are a few options when you are trying to find the best Amazon FBA tools. The most popular and widely utilized tools are Jungle Scout and Viral Launch and deciding which one should you choose to run your business can be challenging.
In this article, we have compared Viral Launch vs Jungle Scout based on our days of research and experience based on multiple factors. By the end of this comparison, you will have a clear idea about which tool works the best for you.
So, let the battle begin!
Jungle Scout vs Viral Launch: Overview
Let's look at the overview of Jungle Scout and Viral Launch before we get into further details.
Jungle Scout Overview: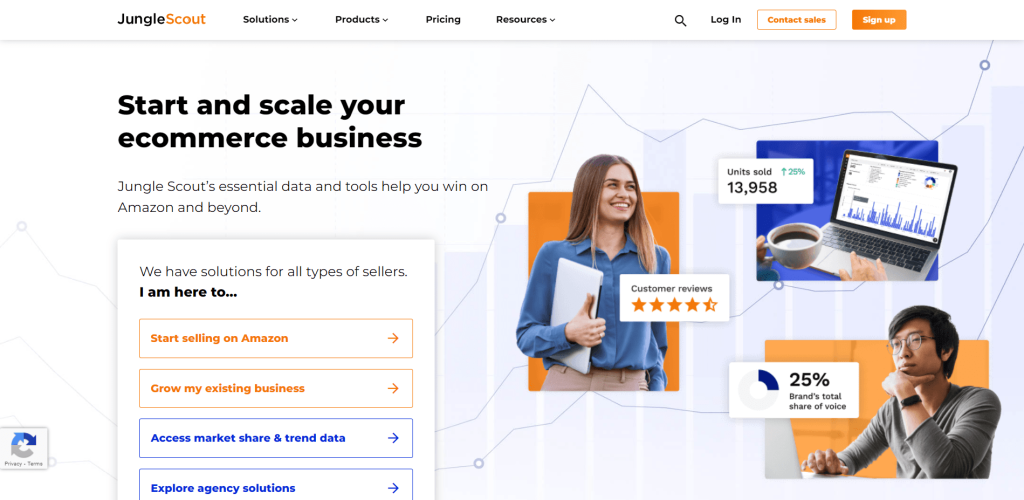 Jungle Scout is an Amazon research tool with thousands of users globally. As their tagline goes, 'Jungle Scout is by sellers, for sellers.' It allows you to uncover winning goods, estimate sales, analyze keywords, and monitor competitors from one simple dashboard. Essentially, it shows you which products will be the most profitable and most accessible to expand your business with right away. To get more detailed insight into it check out our in-depth Jungle Scout Review here.
Viral Launch Overview: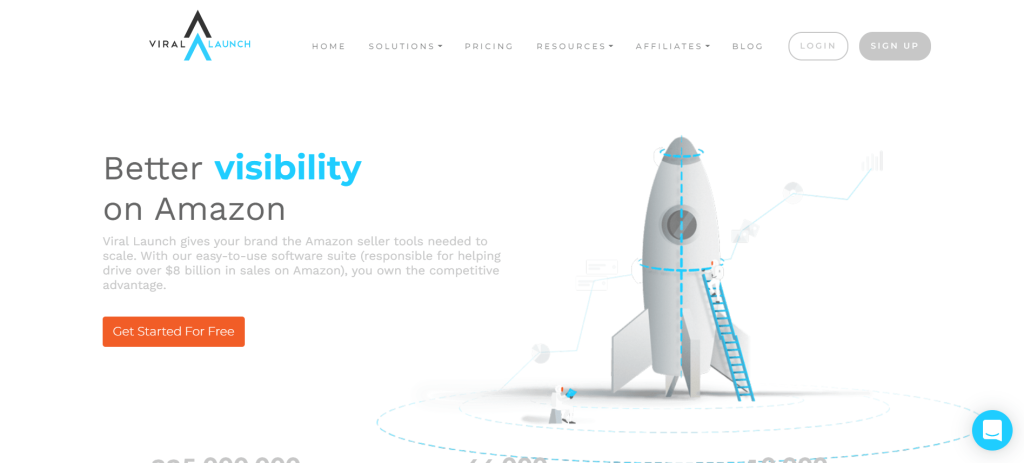 A Viral Launch is a terrific tool with a lot of functionality. Viral Launch provides you with better automation, results, and visibility on Amazon. It comes with a kinetic PPC tool, the only tool you'll need to be a successful Amazon seller. Additionally, it includes Amazon product research, competitor tracking, keyword research, advertising & PPC, keyword tracking, etc. If you want more detail about Viral Launch then check out our detailed Viral Launch Review here.
Jungle Scout vs Viral Launch: Key Features
Both of these tools have a lot to offer. Now let us glance at all of the services that Jungle Scout and Viral Launch offer.
Jungle Scout Key Features:
Keyword Research Tool- Keyword Scout
Product Tracker
Rank Tracker
Product Database
Review Automation
Viral Launch Key Features:
Product Discovery
Market Intelligence
Keyword Research and Manager
Listing Builder & Analyzer
PPC Automation (Kinetic PPC)
Jungle Scout vs Viral Launch: Understanding Data Accuracy
The entire Amazon industry is based on data, and if the data is inaccurate, sellers will be unable to select the best products for their company. Let's look at Jungle Scout and Viral Launch's data accuracy.
Jungle Scout Data Accuracy:
Industry professionals tested many Amazon seller tools to see which one was the most accurate. According to the findings, Jungle Scout is the most accurate tool, with an accuracy rate of 84.1 percent.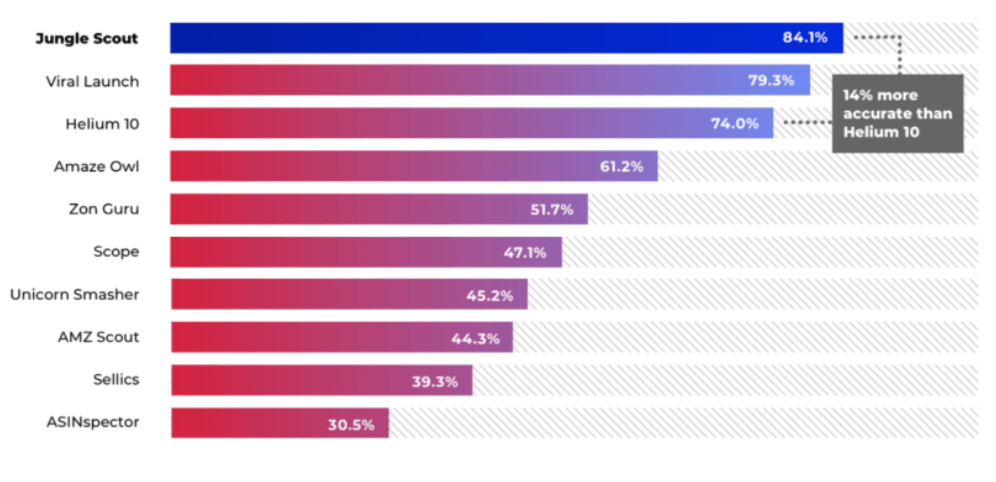 Furthermore, Jungle Scout's team is solely dedicated to providing users with valuable and reliable data metrics. They keep their resource database up to date so that you don't run into any problems. However, this tool's margin for error in data accuracy is 15.9%, and they need to work on that.
Viral Launch Data Accuracy:
Viral Launch, on the other hand, is the industry's second-most accurate tool. It has a data accuracy of 79.3%, which is significantly higher than the majority of the tools. You will receive all of the reliable data measures, but the data will not always be accurate due to the 20.7 percent margin of error.
Verdict: Because the difference in data accuracy between Viral Launch vs Jungle Scout is around 4.8 percent, Jungle Scout is a far more trustworthy tool than Viral Launch.
Jungle Scout vs Viral Launch: User experience
It will be difficult for sellers to locate and launch products if a tool is difficult to use. So let's see how Jungle Scout and Viral Launch compare in terms of usability and user interface.
Jungle Scout User Experience:
The user interface of Jungle Scout is simple to use. The dashboard has all of the features in one place and is very straightforward to use.
Additionally, it features some unique filters that help you find the things you're looking for. To find specific products, utilize the category, seller type, and county filters.
Overall, Jungle Scout provides a pleasant user experience and enables you to comprehend it more thoroughly than any other application.
Viral Launch User Experience:
Viral Launch is also a user-friendly interface that will provide you with the most satisfactory possible experience.
When you click on a product, you will be taken to a page with full metrics on that product. Monthly sales, BSR rankings, price, ratings, and sellers are among the data indicators. Like Jungle Scout, it does not display graphical data about the product's performance. You can examine product concept scores, market trends, and seasonality if you dig deeper into any product.
Verdict: Jungle Scout is the way to go if you're looking for a simple, streamlined dashboard to comprehend and use. However, Viral Launch gives you access to more complex tools you'll need as your organization grows.
Jungle Scout vs Viral Launch: Pricing
Let's look at the Jungle Scout and Viral Launch pricing plans.
Jungle Scout Pricing Plan:
Jungle Scout has three different pricing options. You can also save a few bucks with our Jungle Scout Discount Codes.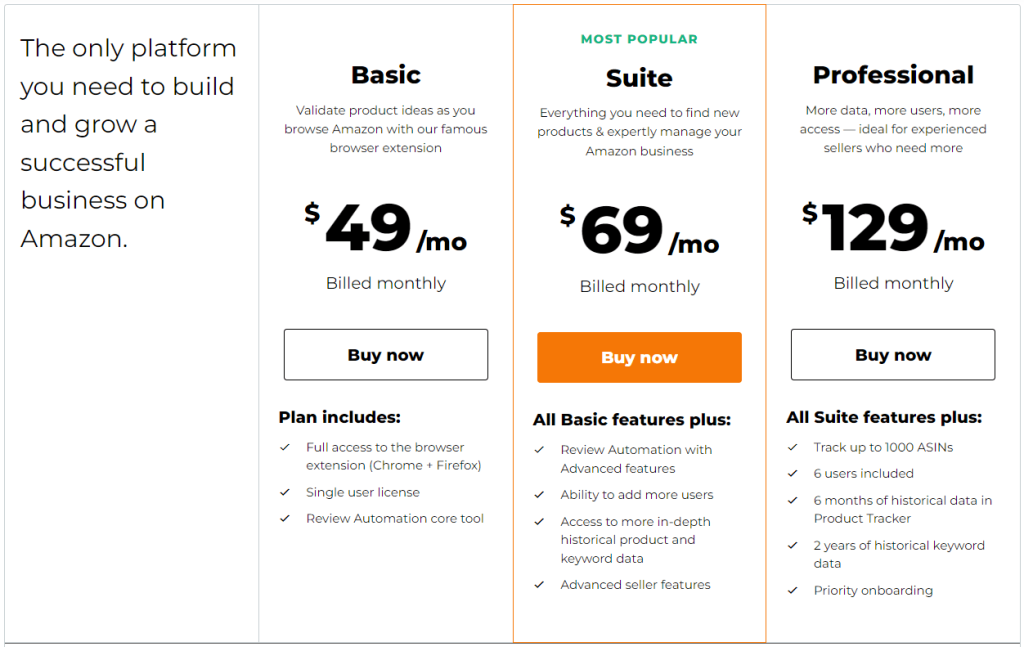 The most basic package is $49 per month or $349 if paid annually. It extends the capabilities of their Chrome addon to include product research.
The Suite plan, which is also their most popular, is the next option. It costs $69 per month or $589 if paid annually.
The Professional plan is the third option. It enables customers to access the best tools and services to acquire a competitive advantage. It costs $129 per month or $999 if paid annually.
Viral Launch Pricing Plan:
Viral Launch offers three different plans which are as follows:

Essentials -$69/month: the plan is ideal for beginners who need a perfect solution for Amazon product research.
Pro -$99/month: The pro plan is one of the most affordable plans that offer all the features for beginners as well as professionals.
Pro Plus Ads -$199/month: The plan is suitable for professionals and large business owners who need an all-in-one solution.
Note that the pricing mentioned above is for monthly subscriptions. You can get two months free if you opt for annual plans.
Jungle Scout vs Viral Launch: Pros and Cons
Since we've previously gone over the reach, pricing, and features of Jungle Scout and Viral Launch in-depth in the previous column, let's now evaluate their benefits and drawbacks.
Jungle Scout Pros & Cons:
Below we have listed the pros & cons of Jungle Scout. Let's have a look.
Pros:
Quick and easy product research with Jungle Scout.
It is pretty dependable and provides correct information on the product and the supplier database.
A fantastic tool for finding new opportunities.
An excellent tool for identifying products with high-profit margins.
A 14-day money-back guarantee is available.
It has a high level of discernment when it comes to sales data.
Cons:
Compared to other tools, their monthly fee is slightly higher.
The program is a little tricky navigation, and a new user can get lost.
There are no webinars available, and new users access a restricted number of videos.
Viral Launch Pros & Cons:
Below we have listed the pros & cons of Viral Launch. Let's have a look.
Pros:
Real-time data analysis makes the entire business more enjoyable and provides various business-improvement options.
Offers a variety of seminars and videos for novices, making it a handy tool.
Takes a more analytical approach to information about products and vendors.
Allows you to choose the characteristics you want and quickly contact any manufacturer.
Has user-friendly software that makes navigation simple.
Their plans come with free trials.
Cons:
The auto-renewal policy can be inconvenient because you can be charged even if not using the tool.
Packages cannot be tailored to your preferences.
There are no exceptions to this rule.
Jungle Scout vs Viral Launch: Which One Should You Pick?
Jungle Scout and Viral Launch are excellent tools for product research if you're serious about making strong sales and running a profitable Amazon business. Viral Launch surprises you with some fantastic features like total net profit, profit margin, the total number of sellers, and so on, even though Jungle Scout is a well-known and well-established program.
Additionally, Viral Launch provides a more extensive and organized product study, whereas Jungle Scout assists you with trend analysis and niche hunter provides more comprehensive research.
Both of these tools assist you in thoroughly inspecting all of the merchandise. While Viral Launch employs marketing intelligence, Jungle Scout employs a niche hunter. We believe that the market intelligence tool is a little better than the niche hunter because it provides a complete analysis. So Viral Launch can be considered superior to Jungle Scout in this regard.
We would recommend Jungle Scout for new users because it is easier to use and potential for new chances. It will also make finding your first Amazon FBA goods a breeze. Jungle Scout also has a far more extensive reach than Viral Launch, so you can quickly connect with other users via social media and find solutions to your difficulties.
Related Read:
Jungle Scout vs Viral Launch: Final Thoughts
We examined both of these programs' features, pricing, the convenience of use, and data accuracy, and the results reveal that it all boils down to your needs.
If you're just getting started in this business, you'll need a tool like Jungle Scout to help you carve your path. However, if you currently have a business and want to grow it, you'll need Viral Launch's tools. It has more sophisticated features than Jungle Scout.
We hope that this comparison has clarified your confusion and that you can now make an informed decision. Let us know which one are you choosing between Jungle Scout and Viral Launch in the comments section below!