Are you looking for the Best Amazon Product Research Tools to help you find your next product idea and grow your Amazon business?
Look no further! In this article, we will explore the top 8 Amazon FBA research tools for 2023 that can make it easier to launch a successful Amazon Marketplace business.
From free trials to comprehensive toolsets, these tools can help you source products, analyze trends, and maximize profits. They can also help you market it more efficiently.
These tools are frequently used to look at historical prices, sales volume, expected trends and sales, keyword optimization, competitor activity intelligence, data tracking, etc. Read on to learn more about the best Amazon product research tools and how they can help you reach your e-commerce goals.
7+ Best Amazon Product Research Tools – 2023 [Updated]
Here are the Best Amazon Product Research Tools that you should check once. Let's get inside it.
1. Helium 10 Overview:
Helium 10 is a bundle of beneficial tools for Amazon sellers that many users have praised. Helium 10's features are labeled with code names to make it easier to keep track of data. These data include inventory supply, sales, and keyword searches.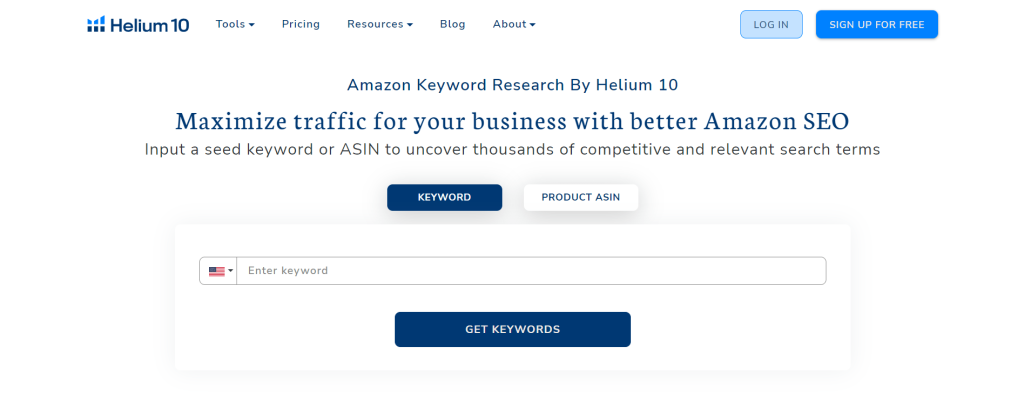 Helium 10 subscribers have access to a variety of helpful research tools, including:
Black Box is a product research and discovery tool. You can get vital information by searching using filters. These filters include sales volume, product weight, reviews and ratings, anticipated sales and trends, photos, and many more Amazon products.
Trendster is a tool for analyzing products. With Trendster, you can get statistics on seasonal demand. You can also get product sales volume, market trend estimation, and historical price swings in seconds.
Scribbles is a tool that helps you optimize your product listings. Scribbles works hard to give you high-ranking keywords. These keywords help you drive more traffic to your product pages. Cerebro is a tool for finding keywords. The tool supports you by informing you of the keyword search volumes. They also compare the ASIN number of products to find the most profitable.
You can zero in on a niche by seeing accurate data on products within the same category. You can then take advantage of different by viewing correct data of products within the same category.
Xray is a Google Chrome browser plugin for Helium 10. You can rapidly access product research tools with this plugin. It also helps you assess a product's potential promptly.
Pricing plans:
Free Plan: $0
Platinum Plan: $97/ month
Diamond Plan: $197/ month
Enterprise Plan: custom pricing
You can also save a few bucks on Helium 10 with our exclusive Helium 10 coupon codes.
2. Viral Launch Overview
High-level sellers use Viral Launch, an innovative market intelligence system, to keep a pulse on the industry. You can also use it to launch items and manage profitable ad campaigns. It has many of the same characteristics as Helium 10. However, it could be more precise and usable.
If this isn't your first time as an Amazon seller, Viral Launch is worth a look. You can also use Viral Launch if you want the best service for your product launches into the Amazon market.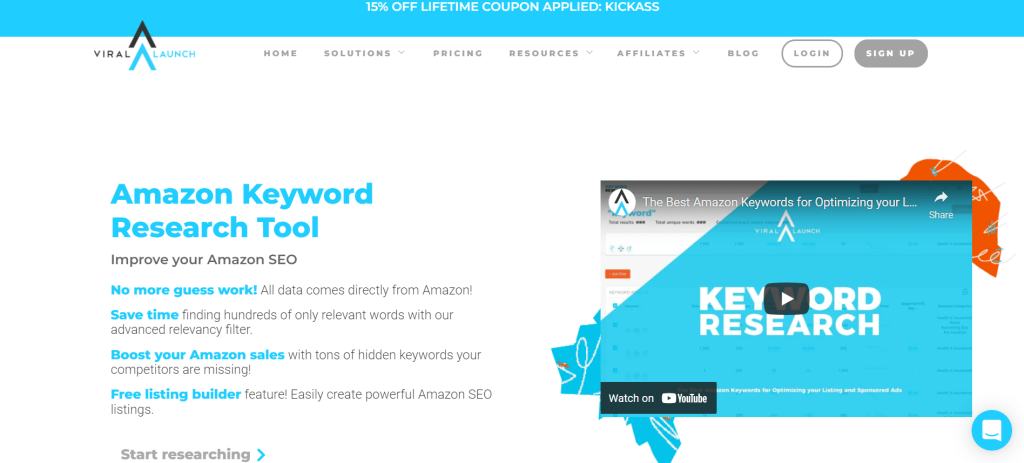 Viral Launch assists you with the following features:
Product discovery swiftly filters and narrows down over 200 million products, keywords, categories, and brands.
Keyword research looks into the top-earning keywords. It also checks search volume and priority score indicators to predict ad expenses and profitability.
Validate your product choice with in-depth data on market price trends, sales predictions, reviews, and ratings. It provides an overall product concept score from market intelligence.
Competitor intelligence learns about the top sellers' strengths and shortcomings. Also, collect information about their sales tactics, marketing strategy, and keyword utilization.
Pricing plans:
MI Extension Plan: $25/ month
Beginner Plan: $59/ month
Pro Plan: $99/ month
Brand Builder: $149/ month
Kinetic: $199/ month
Here, save a few bucks on purchasing a Viral Launch subscription with these Viral Launch Coupon codes.
3. Jungle Scout Overview:
According to numerous customers, Jungle Scout is the most excellent platform for Amazon product research. You'll find many tools and resources on its website that have helped online merchants increase their sales and presence for years.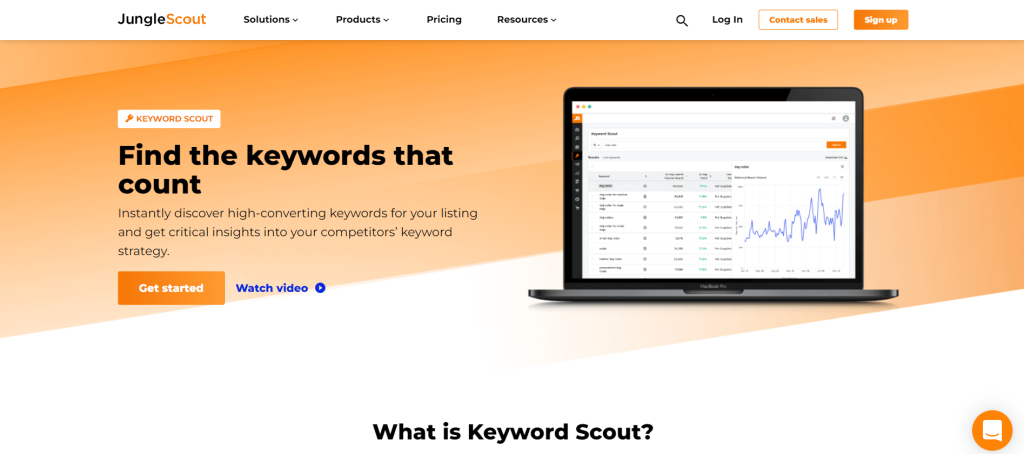 For a more detailed insight into Jungle Scout, check out our Jungle Scout Review.
Jungle Scout is an all-in-one solution for Amazon sellers. It offers three services right away. There is one for new sellers, another for established merchants, and a third for brands and agencies.
It has an Opportunity Finder feature for novice sellers that allows them to locate high-demand, low-competition keywords. The product tracker provides information on seasonal and year-round sales for each product.
It also has filters such as historical sales, best seller rank, reviews, ratings, opportunity scores, and more. You can also access a variety of tutorials and how-to guides through its Academy feature. It provides an Extension feature to existing sellers, which improves your product rankings by increasing the number of reviews for each item.
Pricing plans:
Basic Plan: $29/ month
Suite Plan: $49/ month
Professional Plan: $84/ month
Also, check out Jungle Scout discount codes to save a few bucks on your purchase of a subscription to Jungle Scout.
4. Sellerapp Overview
SellerApp provides a robust all-in-one tool that goes above and beyond basic product research. They offer three distinct membership packages. However, even the most basic Pro-Lite package includes a slew of standard services, including: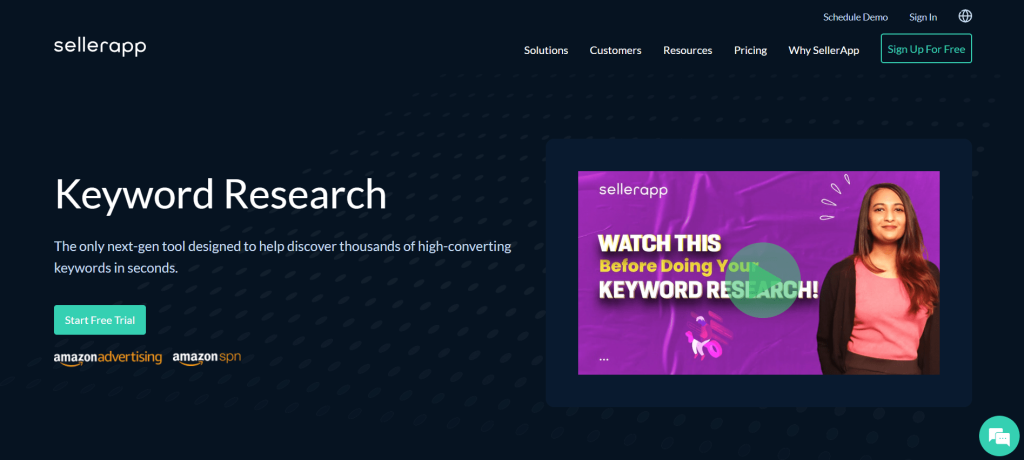 Product research and trends
Tracking and researching keywords
Listing
Search engine optimization Search engine optimization
Index Checker
Analyzer for PPC
These capabilities can be used to assess product data from various perspectives. This includes revenue and sales potential, competition data tracking, and intensity analysis. Test things out first with a free 7-day trial, regardless of which tier works best.
Pricing Plan:
ProLite Plan: $99/ month
Professional Plan: $199/ month
Enterprise Plan: custom pricing
5. AMZ Scout Overview
Building interest in what you've brought to market can be challenging if multiple significant brands and manufacturers already offer the goods you're attempting to sell. That's why many Amazon merchants choose to target niche markets. This is where AMZ Scout comes in. Popular companies like Dell and Disney use this tool.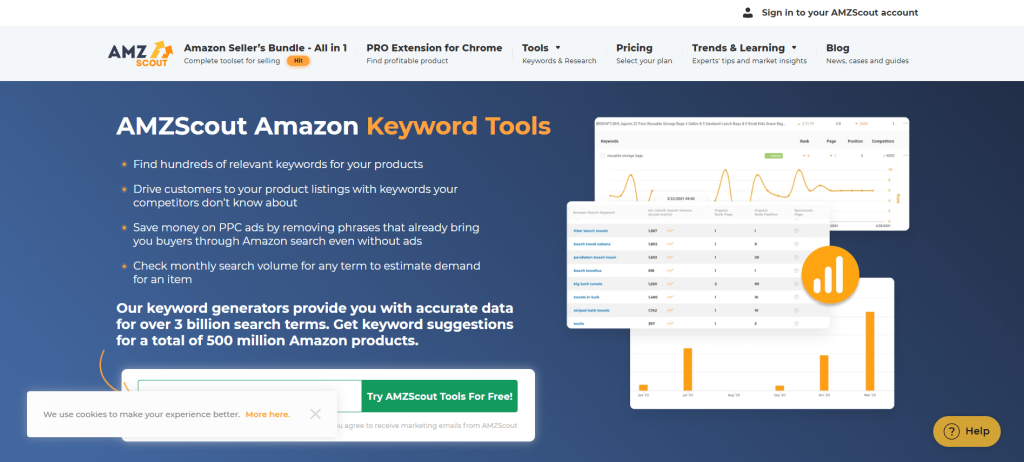 AMZScout specializes in assisting retailers in identifying significant trends. Once you've identified a niche gaining a lot of traction, you can utilize the platform's capabilities to determine if it's worth pursuing.
It also helps you by informing you of which other sellers are looking into a particular sector. You also get access to Google trend data analytics, information on FBA charges and costs, product sales estimates, the quality of listed products, and more with AMZScout.
Pricing plans:
PRO Extension: $44.99/ month
Amazon Seller's Bundle: $49.87/ month
6. Sonar Overview
Sonar is a free search engine developed by Sellics that allows users to search a database of over 74 million keywords. You can use Sonar to increase your organic rankings for specific keywords or optimize your PPC advertising efforts. You can use Sonar to do three keyword searches across five worldwide markets (US, UK, France, Spain, Italy, and Germany).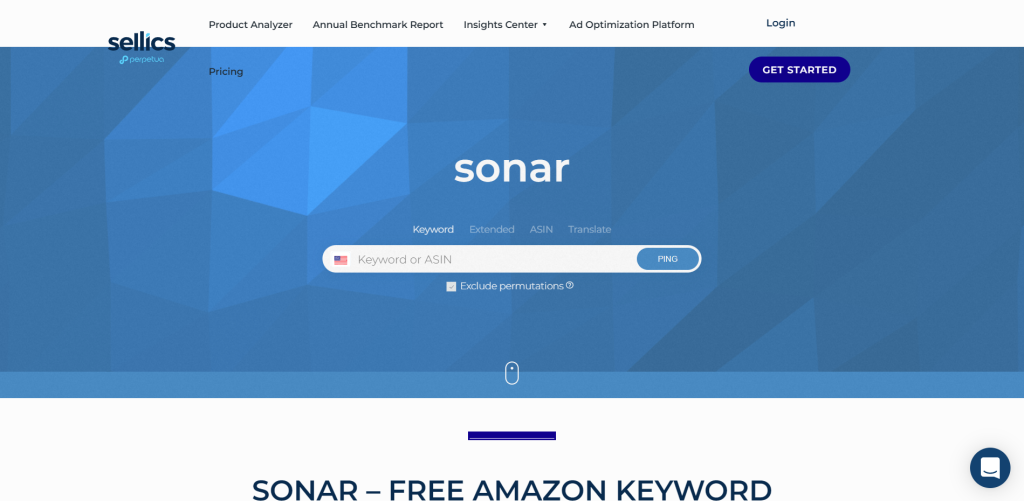 A standard keyword search allows you to obtain suggestions for a Keyword that includes other search phrases. There is also an extended search, which includes synonyms and related phrases in addition to the keyword search. The reverse ASIN search is another feature. Type any ASIN into this box, telling you which keywords it ranks for.
That means you can observe what your competitors are up to and even duplicate the keywords with the highest search volume.
7. Keepa Overview
Pricing is a significant factor for many purchasers when deciding whether to purchase a product. As a result, internet retailers are responsible for determining the right pricing point for the products they sell. With Keepa's assistance, the issue becomes more manageable.

The tool can track both short- and long-term Amazon pricing patterns. Keeps track of prices across Amazon's international locations. Plus, if price drops happen and deals are offered, Keepa will quickly alert you. Furthermore, the program provides valuable information about Top and Best Seller Lists.
You can more effectively dig into niches and capture opportunities for new trends by looking at the hottest-selling items in each category.
Pricing plans:
Monthly plan: €15/ month
Annual plan: €149/ year
8. ZonGuru Overview
ZonGuru is one of the best Amazon seller tools in the market that provides a considerable data solution that helps you to find top research-selling products, supplier databases, and valuable market opportunities. Its Niche finder will help you to discover inspiration and unlock the ideas for your following niche products. With its robust, easy source tool, you can design to learn the best supplier for your products.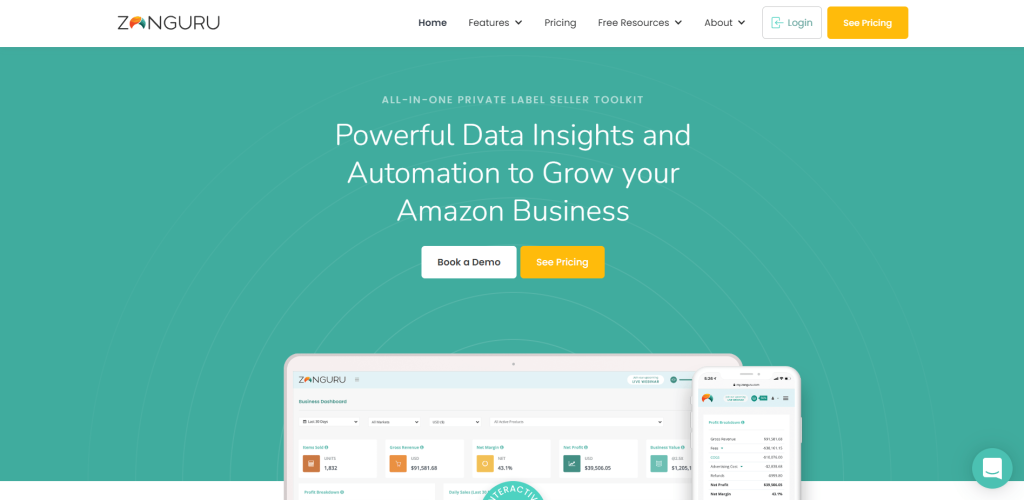 ZonGuru helps you to find a profitable product to sell on Amazon and generate good revenue. This platform is best for Amazon sellers, who can do product research, competitor analysis, pricing, and many more. You can perform these operations under one roof, making it the best platform.
Pricing Plan:
Researcher Plan: $39 per month.
Seller Plan: $49 per month.
Related Read:
Conclusion:
Selling on Amazon can be rewarding, but it can also be challenging. Even within a relatively specific niche, competition is high, given the number of products offered on the site.
In truth, becoming a successful Amazon merchant takes more than just selling high-quality products. You should also pay great attention to the site and the data it provides and learn how to make the most of them. And a product research tool can assist you in achieving these goals.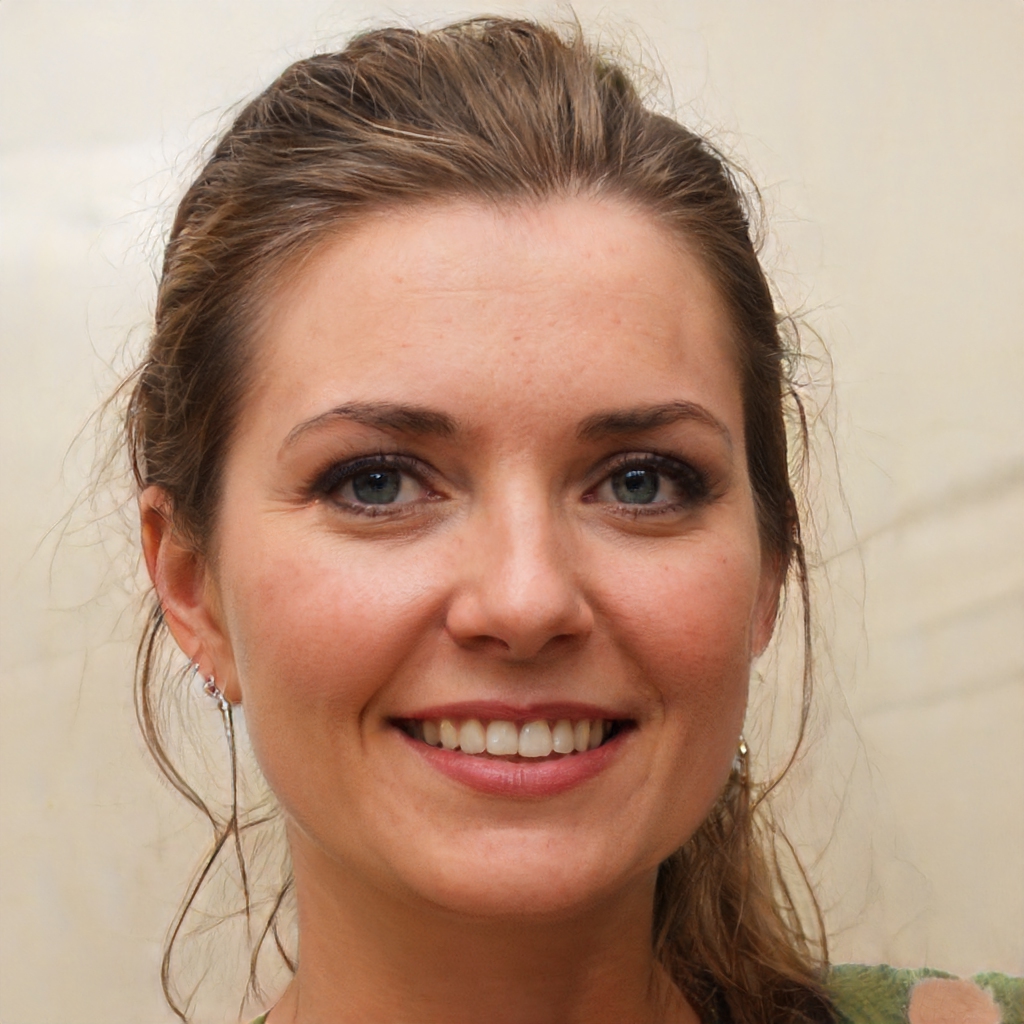 I'm a professor, serial entrepreneur and e-commerce expert with a passion for creating successful online business models. After achieving huge success in the Amazon FBA business, I decided to make it my mission to help my fellow sellers do the same through enjoy-aiia.com .