If you are an Amazon FBA seller, you know how important it is to stay up-to-date and organized. As the Amazon marketplace continues to evolve, you need the best Chrome extensions to help you succeed in your FBA business. Thankfully, a variety of Amazon Chrome Extensions explicitly designed for FBA sellers can help make your life easier.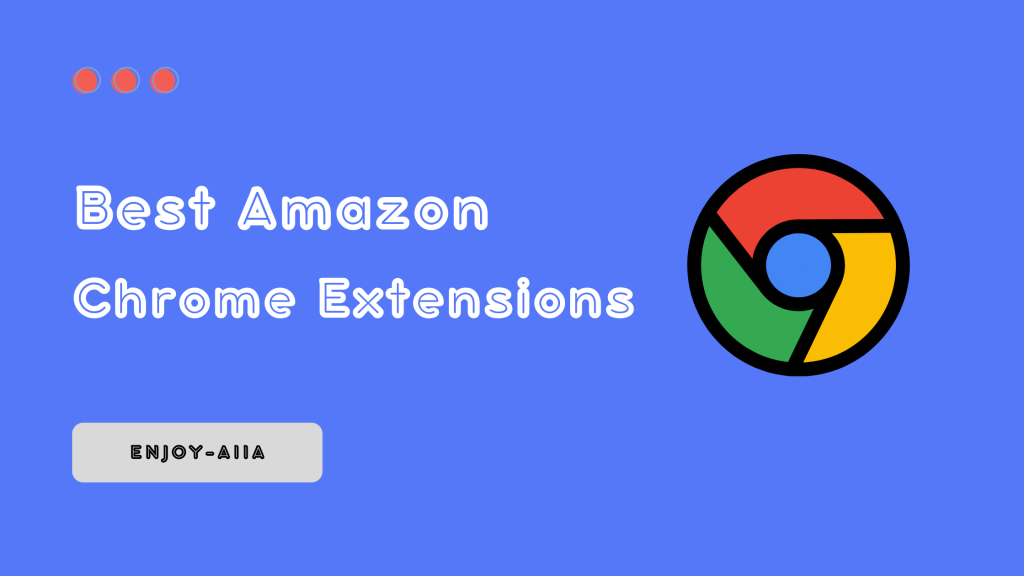 These 8 best Amazon Chrome extensions will provide the essential tools and insights to run a successful FBA business. Whether you need assistance with product research, sales tracking, or inventory management, these Chrome extensions for FBA sellers will give you an edge over the competition and help you achieve your goals faster.
With these powerful Amazon seller tools, you can focus on growing your business and taking it to the next level.
Are Chrome Extensions Useful?
Chrome extensions are incredibly useful, especially for Amazon sellers. With a browser extension, you can access features that make selling on Amazon easier and more profitable. For example, an Amazon business owner can easily use a Chrome extension to research products and source suppliers.
FBA sellers will benefit from extensions that allow them to track prices, measure sales performance, and get detailed analytics about their products. Even Chrome extensions are explicitly designed for Amazon sellers, allowing them to quickly and easily manage their inventory, optimize their pricing strategy, and stay ahead of the competition.
Chrome extensions are essential tools for any Amazon seller looking to maximize profits and increase efficiency in their business operations.
Why Should AMZ Merchants Get Chrome Extensions For Their Business?
Amazon business is an increasingly popular way of selling on Amazon, so it's important to have the right tools at your disposal. Chrome extensions are a great way to give you that extra edge when managing your Amazon business. They can help you with everything from Amazon product research to simplifying FBA seller tasks.
With an Amazon seller chrome extension, you can save time and energy by automating processes that would otherwise be done manually. This will allow you to focus on other aspects of your business, such as marketing and customer service.
With an Amazon seller chrome extension, you can save time and energy by automating processes that would otherwise be done manually. This will allow you to focus on other aspects of your business, such as marketing and customer service.
9+ Best Amazon Chrome Extensions In 2023:
Are you on the go and need a quick overview? Don't worry. We have written down the key takeaways of the nine amazon chrome extensions for you in the table below.
| | |
| --- | --- |
| Amazon Chrome Extension | Key Takeaways |
| Helium 10XRay | Best Amazon Chrome extension |
| Jungle Scout Extension | Best for product research and insights |
| Amazon discount finder | Best to find out discounted products on Amazon |
| Amazon Assistant for Chrome | Best for products comparison |
| Amazon FBA Keyword Tool and Optimizer | Best for keyword research |
| Viral Launch | Best for optimizing products |
| Amazon KW Index & Rank Tracker | Best for the keyword finder |
| AMZSCOUT(PRO) | Best for finding profitable products |
| Keepa | Best Amazon price tracking |
If you are still trying to figure out which Amazon Chrome Extension to use, look over these nine amazon chrome extensions in detail here.
1. Helium 10 XRay:
Helium 10 XRay is hands down the best Amazon Chrome extension. It gives you powerful marketplace insights and offers the best Helium 10 Chrome extension features, including a profit FBA calculator, sponsored ads analytics, and review insights.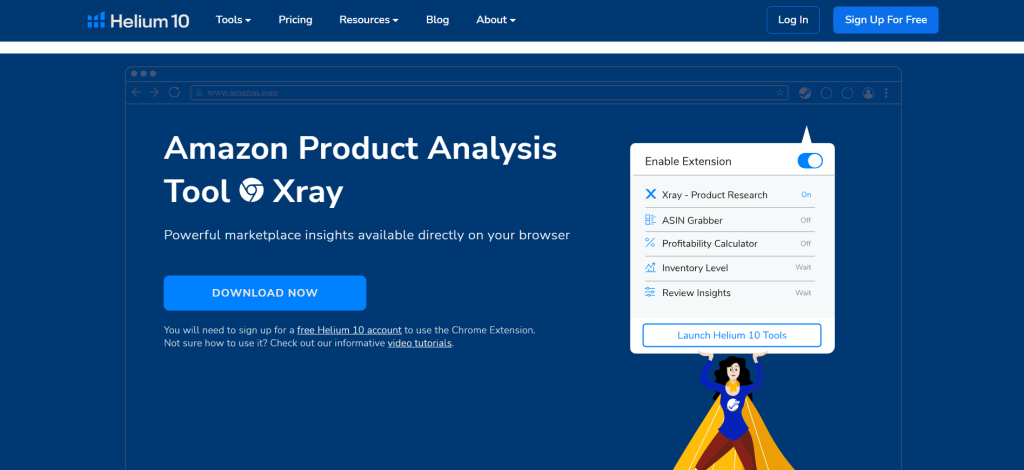 Helium 10XRay analyzes your sales while looking closely over your competitors, looking over every tiny detail, like how much stock they have available.
Key features:
Find out the most reliable suppliers on Alibaba
Generates potential product marketplace demand
Finds potential hot-selling products for next year or season
Price: Helium 10 XRay offers a free trial and has different pricing and plans, including the starter plan at $29/month, the platinum plan at $84/month, and the diamond plan at $209/month. It offers an elite plan at $399/month, with a 7-day money-back guarantee.
2. Jungle Scout Extension:
The Jungle Scout Chrome extension has world-class data research technology. You may get critical product insights from it, such as product demand, competitive data, and product projections. The extension also has a fantastic feature to determine whether a product is worthwhile using real-time data.

Furthermore, it sends customer requests for product reviews to build trust among future buyers. All and all, it helps to launch, sell and find products on Amazon.
Key features:
Customizes data view and shows the most critical data for business
Adds valuable data directly on the product page
Seller central homepage views a graphical view of organic sales vs. PPC sales
Shows monthly revenue, average daily order, historical sales data, etc
Price: Jungle Scout extension offers a basic plan at $29/month, a suite plan at $49/month, and a professional plan at $84/month. You will get risk-free for seven days with a money-back guarantee in each plan.
3. Amazon Discount Finder:
Amazon Discount Finder is the best extension for people who love shopping but have less budget. With the Amazon discount finder, you can filter the deals on Amazon by price, discount, categories, ratings, reviews, etc. Furthermore, you can find deals up to 99% off with the Amazon discount finder by entering your query in the search box with your desired discount.

Key features:
Includes prime only and top brands filters
Filter deals for brands separately
Provides 7000+ categories and subcategories options
Offers "top brands" and "made for Amazon" filters in the Fashion category
Price: The Amazon discount finder is available for free.
4. Amazon Assistant For Chrome (Free):

The Amazon assistant for google chrome is best for comparing products. It helps buyers just as much as sellers by saving time and money before hoping to buy any product. With the Amazon Assistant for Chrome, you will find new deals, exclusive offers, and a 30-day price history on Amazon product pages while shopping. Nevertheless, it allows you to add items from different sites on your Amazon wishlist.
Key features:
Search the product by its photo
Compares Amazon rating, product Q/As, top reviews, etc
Gives personalized recommendations and your recent finds
Provides real-time order updates
Price: The Amazon assistant for Chrome is entirely free to use.
5. Amazon FBA Keyword Tool And Optimizer (Free):
The Amazon FBA Keyword tool and optimizer help you find out the most searched relevant keywords in your niche with less competition. The Amazon FBA keyword tool enables you to find the competitor's keywords you missed. Besides, it also helps you fix the Amazon-required punctuation and capitalization.

Furthermore, it also verifies and alerts you with your product name, product descriptions, and bullet points for any active USPTO TM. It also has features like email alerts for negative feedback, category change, suppressed listing, etc.
Key features:
GEO-Tracking for mobile keywords
Filter's last 30 days' sales record
Calculates ROI, earnings, and profit margin
Organic and PPC Index checker discovers bad keywords
Provides email follow-ups
Price: The Amazon FBA keyword tool and optimizer are available for free.
6. Viral Launch:

Viral Launch is a powerful platform for entrepreneurs and businesses who want to grow their businesses quickly. It provides tools that help with product research, competitive intelligence, keyword optimization, launch services, and more.
With Viral Launch, you can launch your products faster and smarter. You can also find the best keywords for your products, identify new trends in the market and understand how competitors are succeeding.
Furthermore, it allows you to set up automated campaigns that will help you reach new customers quickly. With its easy-to-use platform and robust features, Viral Launch is one of the most powerful tools available for entrepreneurs who want to take their businesses to the next level.
Key Features:
Product Research
Launch Services
Product Discovery
Reviews and Feedback
Reporting and Analytics
Price: Viral Launch offers a variety of subscription plans starting at $69/month, with the option to purchase add-ons and services at an additional cost. They also offer a 14-day free trial for new users to test their platform before committing to a subscription.
7. Amazon KW Index & Rank Tracker:
Amazon KW Index and Rank Tracker Chrome extension allow you to check your index and track your keywords. With the help of this tool, you can easily set your marketing strategy in progress because all the important information is easily available on this extension.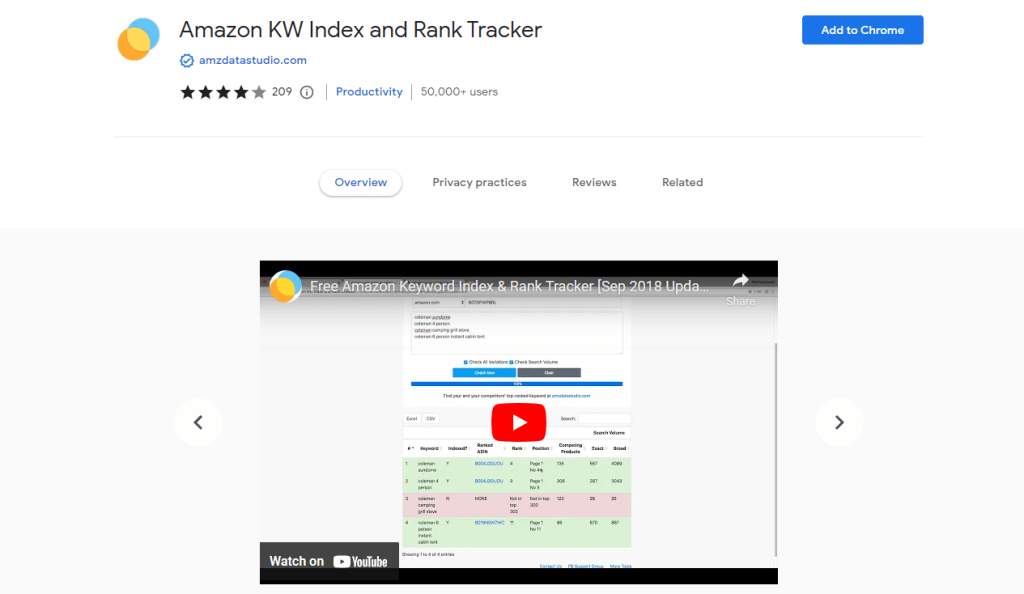 With this tool, you can see the exact rank of your keyword and easily edit your keyword. It is the best tool for keyword research also.
Key Features:
ASIN Lookup
Indexing checking tool
Get the exact search volume of a keyword
Get a ranking of every keyword
Conduct keyword research
Price: It is a free Chrome extension that is easily added from the Chrome web store. 
8. AMZSCOUT(PRO):
AMZSCOUT Pro is a fantastic tool for Amazon sellers. It provides comprehensive market research and analysis to help sellers make smart decisions about their business. With its powerful suite of tools, sellers can easily track product pricing, sales trends, competition, customer reviews, and more.

The data it provides is reliable and up-to-date so that you can have the most accurate insights possible. Additionally, AMZSCOUT Pro also offers a variety of other features, such as automated keyword research, product promotion campaigns, and marketing reports. Overall, AMZSCOUT Pro is an in
Key Features:
Competitor analysis
Product tracking
Sales trend analytics
Keyword search
Automated pricing
Price: They offer a 7-day free trial, and after that, you can choose any of their monthly, yearly, or lifetime plans.
9. Keepa:
Keepa is a great Chrome Extension that is available for Amazon users. It allows you to easily track and analyze the pricing history of products on Amazon to make better-informed purchasing decisions.

With Keepa, you can monitor prices across different product versions, view past price trends, check out real-time stock levels, and compare prices with other sellers. Plus, it gives you notifications when the price of a product changes so you can quickly react to the market.
Key features:
Tracking price history of products on Amazon
Comparing prices with other sellers
Viewing stock levels in real-time
Notifications when prices change
Automatically calculating the lowest price
Price: It's free to use. All you need to do is add the Chrome extension and start tracking prices.
Related Read:
Wrapping Up!
That was it for the five best Amazon Chrome extensions! If the above list overwhelms you, try Helium 10XRay. Nevertheless, it would help if you thought of your needs and accordingly picked the right amazon chrome extension for yourself. With the help of the above Chrome extensions, your business can scale higher, gain customer trust, and generate better profit.
Furthermore, the touch of professionalism added to your business with these extensions is undeniable, so go ahead and give them a shot. We hope the above article has helped you find the best amazon chrome extension.
In the comments below, let us know which Amazon Chrome extension is the best.
Frequently Asked Questions:
What do you mean by Chrome extensions?
Chrome extensions are small software installed to customize or extend the features of a Chrome browser.
How can I remove the Amazon Assistant extension from Chrome?
Follow the steps below to remove amazon assistant from Chrome. Open the Chrome extension menu >Select "manager extension"> See the top-right corner of amazon assistant > Now tap" Remove."
How to add extensions to Chrome?
Follow the steps below to add extensions to Chrome. Open the Chrome web store > Select the extension you want >Tap "Add to Chrome."

Note: Some extensions require permissions or data before tapping "Add to Chrome."
What are the most used Chrome extensions?
Common Chrome extensions include Google Calendar, Grammarly, Loom, Hubspot Sales, and LastPass.
Can extensions read my passwords?
Yes, Chrome Extensions can read your password, credit cards, and other sensitive data you fill in on websites you visit after you provide them with such permission.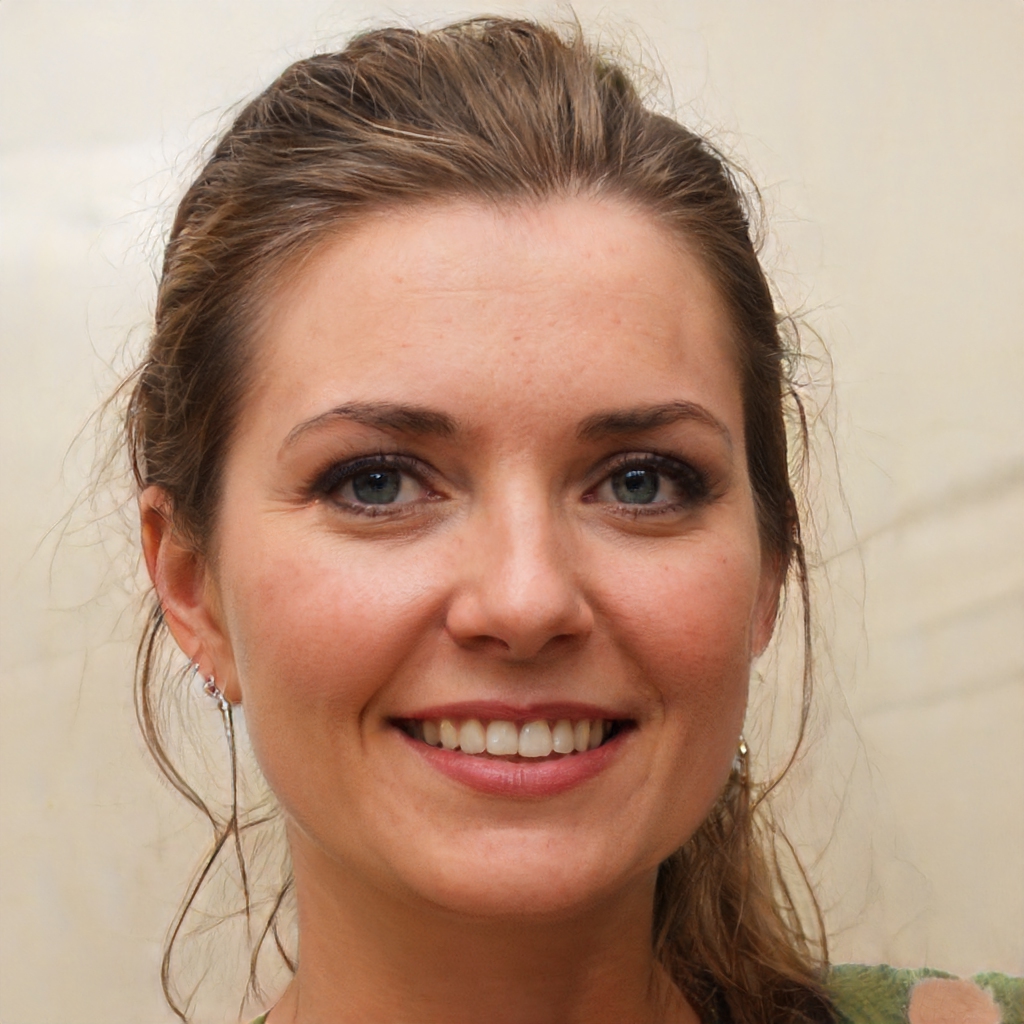 I'm a professor, serial entrepreneur and e-commerce expert with a passion for creating successful online business models. After achieving huge success in the Amazon FBA business, I decided to make it my mission to help my fellow sellers do the same through enjoy-aiia.com .