Looking for the Best Amazon FBA Calculator? Indeed, Pursuing an FBA business requires you to keep an eye on multiple things simultaneously, such as product research, inventory, finances, etc. But when it comes to your overall profit margin, there are several variables to keep under check, including product cost, shipping charges, FBA fees, and other promotional costs. Yes, you can manually estimate the costs, but it requires a lot of time, and also, making errors will be very likely, which can wipe your entire profit margin.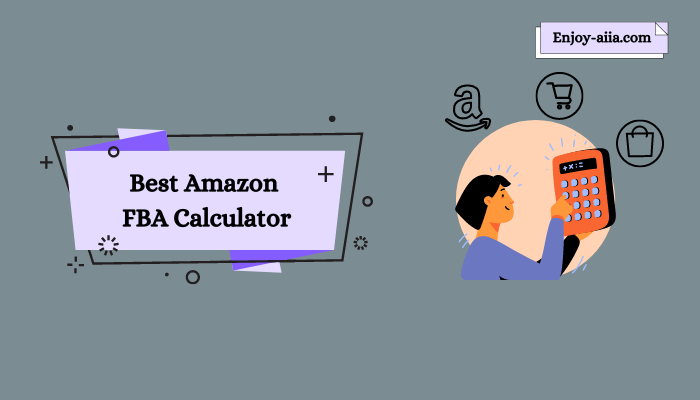 The lack of financial attentiveness might prove costly when running an eCommerce business. With the ever-changing costs of so many products, shipping charges, FBA fees, etc., you risk falling behind in the competition and eventually losing your grip over your Amazon business.
The best solution is to get the help of an FBA calculator. These programs are designed to do all the guesswork for you, such as sales estimation, product pricing, and overall profitability, within a few clicks. When you have a lot of products listed on Amazon, an FBA calculator is a must-have tool to keep all the financial aspects in check.
To help you get a better insight, I have compiled some of the top FBA calculators on the market. Let's go further into the article and find out more.
What Is An FBA Calculator?
An FBA Calculator is a tool used to calculate Amazon revenue and fees associated with using the Fulfillment by Amazon (FBA) service. Numerous FBA calculators are available, but the five most popular are the Amazon Revenue Calculator, FBA Fee Calculator, FBA Profit Calculator, FBA Shipping Cost Calculator, and FBA Cost of Goods Sold (COGS) Calculator.
Each of these calculators has its own features that can help you determine the cost and potential profits from using the FBA service. Using an FBA calculator is one of the best tools to help you understand the costs of selling on Amazon.
The most popular calculator is the Amazon Revenue Calculator, which comprehensively analyzes your sales history, expenses, and profits over time. The other calculators, such as the FBA Fee Calculator and FBA Profit Calculator, provide more detailed information on specific aspects, such as shipping costs or COGS, which can help you optimize your profits even further.
With an FBA calculator, you can quickly evaluate your current performance or forecast potential future profits to ensure you're getting the most out of your Amazon business.
Here are some distinctive features of an FBA calculator:
It analyses Amazon Referral fees and the percentage of each sale going to Amazon.

FBA calculator estimates Fulfilment costs such as Packing, labeling, and shipping of the products.

It also calculated the overall fulfillment fees depending on the product's measurements and weight.

It calculates the monthly storage fee you pay Amazon to keep the inventory in their warehouse.

Based on product price, shipping costs, and overall fulfillment fees, it generates a profit estimation on the product.
List Of 6 Best Amazon FBA Calculators – 2023
There are several Best Amazon FBA Calculators on the market these days. Based on their functionalities, price, and efficiency, I will discuss the top 6 of them.
1. Jungle Scout FBA Profit Calculator:
With access to over 200 million products on Amazon, Jungle Scout has been one of the most prominent FBA assistants. Apart from calculating the FBA costs and product pricing, you can also see the details regarding each expense, giving you a clearer idea about the strategy you need to generate the highest profit margin.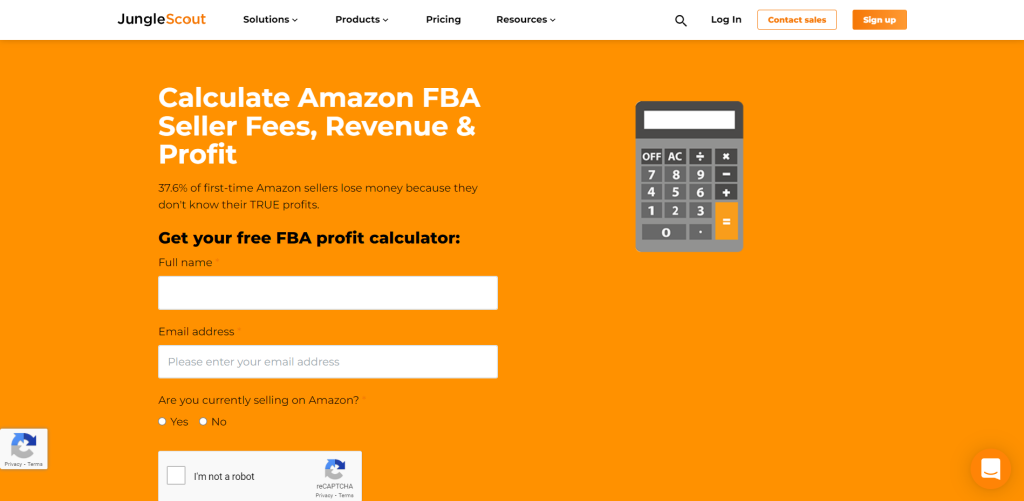 You can estimate the overall profitability and analyze what you need to cut and where you can be generous with the pricing to keep your profit positive.
Moreover, it allows you to download all the expense reports in XLS format, which you can use for future references on any device. You can also use Jungle Scout to determine if the FBA agreement generates enough profit or if you are better off with an independent fulfillment method.
Here are some of the features of the Jungle Scout FBA calculator:
Highly accurate product data with over 80% accuracy.

User-friendly interface, more suitable for people with no technical or accounting background

Allows you to download the financial data for future use

A browser extension provides real-time data in a few clicks while browsing the Amazon website.

Pricing Detail:
Jungle Scout offers three plans,
The basic Lite plan starts at $29/month and $349/year.

The Suite Plan costs $49/month and $589/year.

The Professional Plan costs $84/month and $999/year.

They also provide a 7-day free trial.

2. Seller App FBA Calculator:
Seller App is the second FBA profit calculator on our list. The platform features an easy method to analyze the various costs of any product on Amazon. All you need to do is copy and paste the product link or type the ASIN of the product and calculate the profit. You can check out the web version of the complete program on your computer or use the browser extension to have all the expenses and profit within a few clicks.

You can compare the FBA costs for different products and their actual price and shipping charges. All this information will help you make a better strategy on whether to list the product on Amazon and if yes, what would be your price so that you can obtain maximum profit from it?
Here are some of the features of the Seller App FBA Calculator :
Find the profitability by product URL or ASIN.

Minimalistic user interface.

Efficient browser extension for quick retrieval of FBA costs, profit margin, etc.

Available for all Amazon markets, including the UK, Australia, USA, and India.

Chrome extension and web version for quick access to product data.

Pricing Detail:
SellerApp FBA calculator's PRO-LITE plan is available at $49/month or $39/month if you pay for the whole year. Its PROFESSIONAL plan is available at $99/month or $50/month when paid annually.
3. Helium 10 FBA Calculator:
A profitability calculator is one of the most recent tools added to the Helium 10 seller suite. It allows you to predict how your product will likely perform if sold. The tool provides all the details about the product's pricing, FBA costs, and other promotional expenses. Then it calculates your final revenue and net profit margin based on the data.
You can access Helium 10 via a Chrome extension or inside the Amazon Analytics section on Helium 10 dashboard.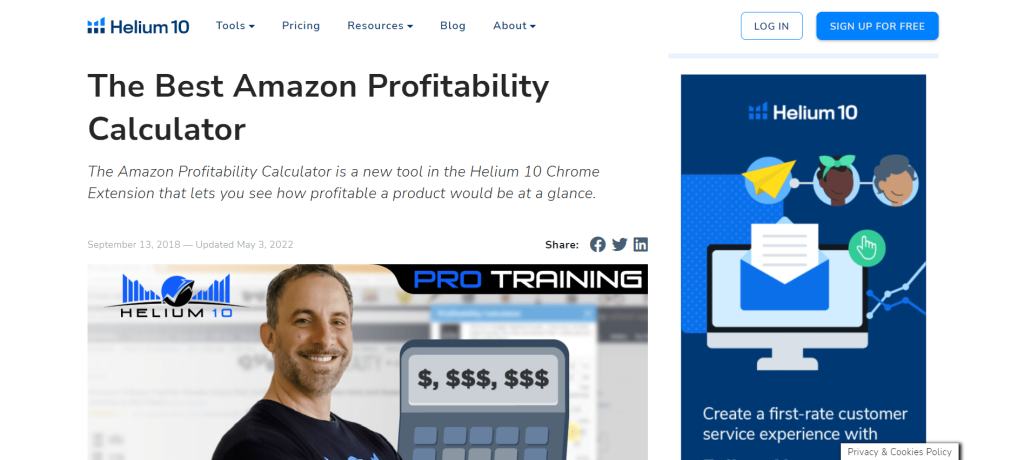 With Helium 10, you get highly accurate data that you can rely on and base your Amazon business strategies on. When you create new product listings, the Helium 10 Profitability calculator estimates the possible cost-benefit based on existing and past listings on Amazon. Helium 10's profitability prediction is based on many parameters, including the product's weight, dimension, current price, estimated manufacturing cost, shipping cost, FBA costs, and many others.
Let's have a glance at some key features of the Helium 10 FBA calculator:
Features XRay – A powerful Chrome extension.

Mobile application for Android and iOS users to have all the data on the go.

It helps you find the most profitable products on the Amazon marketplace.

Calculate overall selling cost with a single click while searching for products with a Browser extension.

Pricing Detail:
You get Amazon Profitability Calculator access with a premium Helium 10 seller suite plan starting at $39/month.
The Starter plan is available at $39/month and $29/month when billed annually.

The Platinum plan is available at $99/month and $79/month when billed annually.

The Diamond plan is available at $279/month and $229/month when billed annually.
4. AMZScout FBA Calculator:
AMZScout is another excellent addition to the arsenal of FBA calculators. As part of AMZScout seller tools, the program calculates the final selling cost of the product based on the FBA charges, product price, shipping cost, taxes, and other promotional expenses. This final profitability estimation allows you to change your sales strategies and product pricing and adjust your shipping methods to keep your overall profit intact.

You can access the AMZScout FBA calculator on the official website or by downloading a Google Chrome extension. All you need to do is input the production cost (item's original cost), shipping charges, and CPC (if you are launching a new product). The calculator does the rest. It analyzes FBA fees based on your input and gives you the possible profit per unit, net margin, and monthly profit.
Here are some key features of the AMZScout FBA calculator:
Generate your profit details, including Profit per unit and monthly net profit.

Google Chrome extension for quick estimation while searching for products.

Data is retrieved from Amazon Seller Central directly.

Calculate FBA charges accurately based on the dimension, weight, etc
Pricing Detail:
AMZScout FBA calculator is free of cost. Register on AMAScout's official seller page or download the Chrome web extension.
5. Viral Launch FBA Calculator:
Viral Launch is one of the most popular FBA seller suites that offer a variety of tools to retrieve vital product data and profitability scores based on it. The platform uses its comprehensive FBA calculator for that. You can use Viral Launch's product discovery tool to find the most lucrative products to sell, and then using the product ASIN, you can calculate whether the item is worth selling or not.

All you need to do is search input product's ASIN on its website, and you can access valuable data related to the particular product, including its sales trends and monthly revenue, etc. You can also use advanced settings to input your item's purchasing price and shipping cost. You get all the information regarding FBA cost, inventory protection cost, monthly profit, etc. It is advisable to go through the video tutorial before using the calculator to get the best out of it.
Let's have a look at some of the key features of The Viral Launch:
It helps you calculate the all-inclusive net profit on each item

Includes a powerful product research tool to find the most profitable products on Amazon

Features market intelligence and Competition Analysis tools to help you plan a better strategy

Quickly find the product details by using ASIN using the Chrome browser extension.
Pricing Detail:
The Viral Launch profit calculator is free to use.
6. Seller Sonar FBA Calculator:
This calculator helps you to estimate the costs of selling products on Amazon through Fulfillment by Amazon (FBA). It considers your product cost, shipping fees, and other fees associated with selling on Amazon. You can customize it to reflect better potential profits and losses based on your sales projections. This makes it easy to calculate the best pricing strategy for your business. Additionally, it helps you get an accurate estimate of how much money you'll make on each item sold to plan accordingly and avoid running into losses.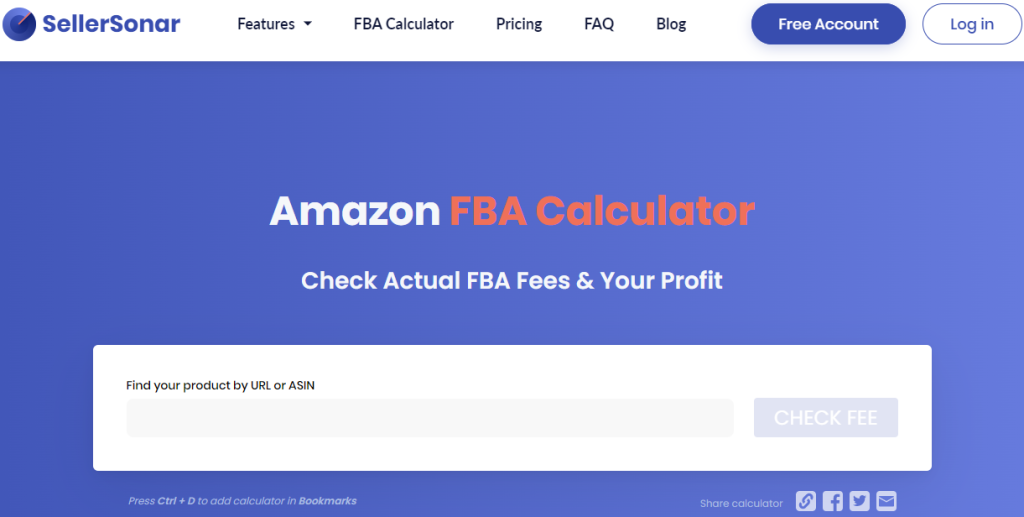 With Amazon FBA Calculator, you'll get an estimate of costs associated with selling on Amazon and see the potential profits for each item sold. You can customize your pricing strategy based on the figures you get from this calculator – allowing you to make sure that your products are priced correctly and maximizing your profits.
Here are some key features of the Seller Sonar FBA calculator:
It gives you an accurate prediction of your total costs, profits, and losses.
You can customize your pricing strategy according to the figures provided by the calculator.
You can get an estimate of profits for each item sold to plan accordingly.
Seller Sonar also provides useful insights into the competition and the trends in your marketplace.
Pricing Detail:
Seller Sonar FBA Calculator offers three different types of plans:
The basic plan starts from $9.98 per month.
The pro plan starts from $19.98 per month.
The premium plan starts from $39.98 per month.
FBA Calculator: Why Do You Need It?
The Amazon business is all about numbers, calculations, and profit. Whether launching your product or selling something already available on the marketplace, you must have the perfect planning. To execute your strategies efficiently, you need access to product data such as storage cost, shipping, marketing, etc.
FBA calculator will do the numbers for you by estimating the overall profit of a product with a few simple steps. FBA calculators can be helpful for your FBA business in various ways. Let's have a look.
The profit calculator helps you analyze the FBA cost of any product, including storage, fulfillment, customer care, and return and refund costs. This will help you analyze whether FBA is a better seller agreement for you based on your type of business or if you should go with an independent fulfillment method such as FBM.

Manual calculations of different fees take a lot of time and resources. The FBA calculator does it within seconds, and you can allocate more time toward promotional activities.

With the FBA calculator, you can compare the selling costs of different items to find the most profitable one, considering all the additional charges.

Manual calculations are more prone to errors and might lose your entire profit. FBA profit calculator provides near-accurate details regarding expenses, final price, and net profit with an excellent margin of error.

You can adjust your price depending on the data from the FBA calculator. You can try a few variations and pick the one which affects your profit margin the most.
Related Read:
Wrapping Up:
There you go. This piece on Best Amazon FBA Calculator will help you understand how the FBA pricing system works and how to always stay with the latest price trends and fluctuations. Most of the profit calculators I've mentioned above are free to use, so I advise you to get your hands on at least a couple of them to have a clearer idea and figure out which one works best for you.
Suppose you are just starting your Amazon Business. In that case, Jungle Scout is the better option for you, mainly because of the robust set of seller tools featured in it, including product research, inventory management, keyword analysis, and so on.
If you need help determining which seller agreement works for you, try Helium 10. Moreover, you get many seller tools and access to the widely popular Freedom Ticket FBA training program.
The FBA calculator is an essential tool for the strong foundation and growth of any FBA business. With the right calculator, you can plan and implement clever strategies and have the upper hand over your competitors.
Happy Selling!
Frequently Asked Questions:
What does an FBA Calculator do?
An FBA calculator analyzes the various fees to determine the overall profitability of a product. The tool calculates FBA price, profit per unit, and monthly net profit to determine if the product is worth selling.
What is the cheapest FBA Calculator on the market?
AMZScout and Viral Launch are the platforms that provide a free-to-use FBA profit calculator tool for their users. All you need to do is register on the official website. Input the product price and shipping details; the calculator does the rest.
Which is the best FBA calculator?
If you are looking for a robust FBA seller tool and an FBA profit calculator, you can try Helium 10 seller suit. The plan starts at $39/per month.
Is The Amazon FBA Calculator accurate?
The Amazon FBA calculator is a great tool to help you decide what products to sell and the cost of selling them on Amazon. It can help you determine your potential profits and the fees associated with using Amazon's Fulfillment by Amazon (FBA) program.
Is selling on Amazon profitable in 2023?
Selling on Amazon in 2023 is likely a very profitable venture. With its growing customer base, the platform has become one of the most popular e-commerce sites in the world. The wide selection of products available and the ease of selling make it an attractive option for sellers.

Additionally, Amazon provides excellent customer service and various tools that make selling more accessible and efficient—staying updated with trends, focusing on customer satisfaction, and utilizing Amazon's helpful features. Stay up to date with trends in the e-commerce industry by reading market research and staying informed about changes in consumer behavior.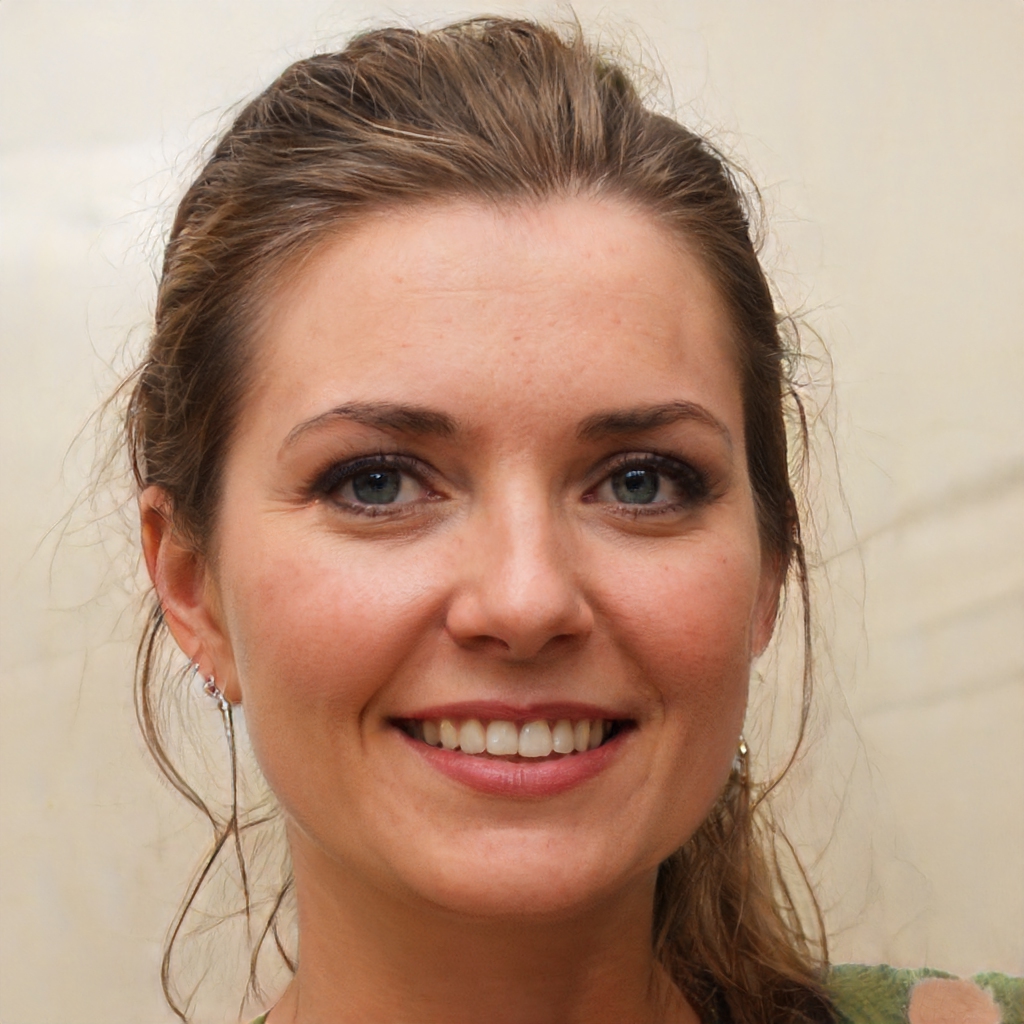 I'm a professor, serial entrepreneur and e-commerce expert with a passion for creating successful online business models. After achieving huge success in the Amazon FBA business, I decided to make it my mission to help my fellow sellers do the same through enjoy-aiia.com .