Are you searching for the best site audit tool, SEO software, and research tool? If so, you've likely come across two of the most popular options: Semrush and Moz.
Both offer excellent features and capabilities to help you optimize your website for search engine rankings. But which one is better suited for your needs?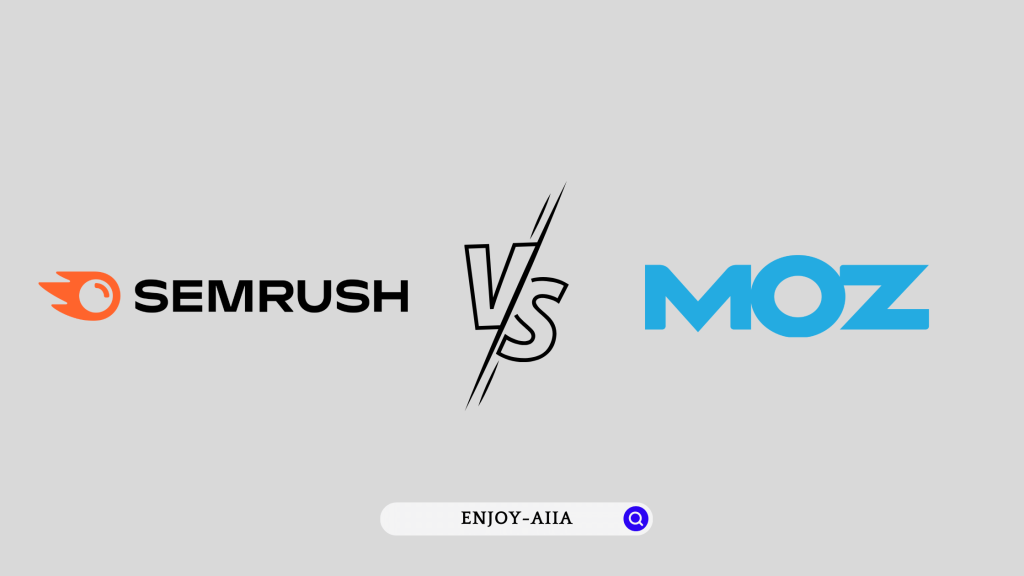 In this article, we'll explore the differences between Semrush and Moz and help you decide which one is right for your on-page SEO and technical SEO needs.
We'll look at their features, pricing plans, customer support, and more to help you make an informed decision. So let's get started!
Why Use An SEO Software Tool?
SEO software is a great tool to optimize a website for search engines. They provide a comprehensive analysis of your website, allowing you to identify areas that need improvement and track progress over time.
SEO tools can help improve visibility in organic search results, analyze keyword performance, generate content ideas, and measure the success of efforts.
This can save time and money while improving the website's overall performance. Additionally, these tools are often easy to use. They can quickly provide valuable insights into your website's performance and SEO performance.
Using an SEO software tool is a great way to understand better your site's ranking on search engine result pages (SERPs) and identify areas for improvement.
Semrush vs Moz: In A Nutshell
If you don't want to check out the entire comparison, then look over the Nutshell below for a quick comparison between Semrush and Moz.
Parameters
Semrush
Moz
Overview
Semrush is an SEO tool with a bundle of additional features, including brand monitoring, keyword analytics, etc., making it an all-in-one tool for SEO.
Moz is an SEO tool for businesses, marketers, and individuals with additional SEO features at competitive prices.
Key Features
Track competitors' keywords and websites.
Allows brand monitoring.
Finds website health issues and resolve them.
Analysis of brand popularity.
Extensive link analysis.
Performs complete site audit.
Conducts backlink research.
Keyword Research Tool
Research tool named keyword magic tool for complete keyword research and analysis.
Research tool named keyword explorer for keyword suggestions and analysis.
Dashboard
Complete information on keyword density, performance, volume, etc. provided.
Data on total visits, total cost, etc. is provided in the form of graphs
Pricing
It starts from 119.95/month.
It starts from $99/month.
Pros & Cons
Pros: Comprehensive site auditing feature.
User-friendly interface.
Better visualization feature.
Provides a lot of additional data related to SEO.
Cons: Inflexible when it comes to project limits.
Pros: Provides ranking data through different sites, including Yahoo and Bing.
The basic plan is cheaper.
Compares backlinks for five sites at once.
Cons: Less contextual help provided in comparison to Semrush.
Doesn't provide valid keyword intent data.
Free Trial
Semrush offers an exclusive 30-day free trial.
Moz offers a 30-day free trial.
If the above Nutshell didn't help you understand the best between Semrush and Moz, then look over the detailed comparison between Semrush and Moz below.
Semrush Overview: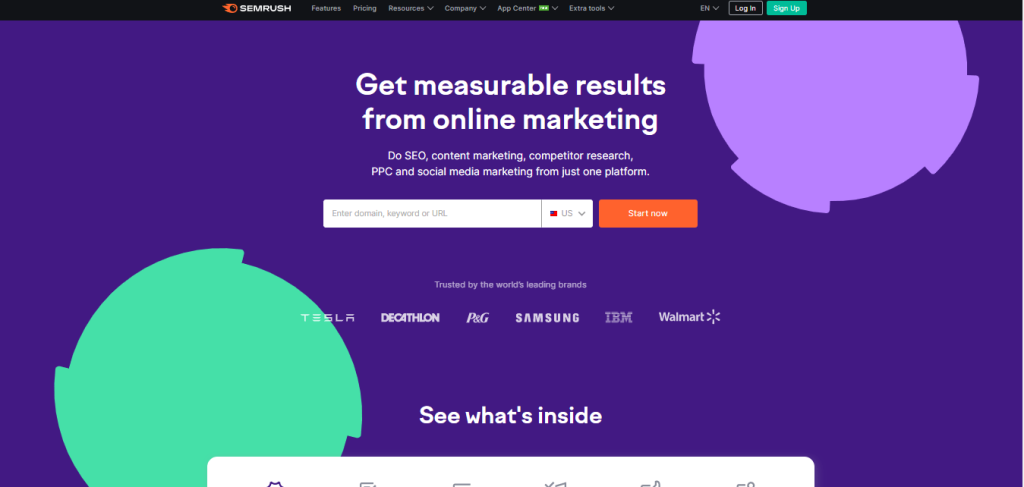 Semrush is an all-in-one digital marketing toolkit to help businesses get the most out of their online presence. It offers a comprehensive suite of tools and services that enable users to monitor and analyze their website's performance, track keyword rankings, research competitors' strategies, and more.
With Semrush, users can access data-driven insights that can inform their decisions and optimize their digital marketing efforts. From SEO optimization to content creation to link building, Semrush provides users with everything they need to succeed in the digital space. Additionally, its intuitive interface makes it easy for new users to quickly learn how to use the platform's features and take advantage of its powerful capabilities.
Moz Overview:
Moz is a powerful SEO tool that helps increase website traffic and visibility. Initially started as a blog called SEOmoz, with ideas about SEO suggested by experts, Moz now offers its SEO services through software, community advice, and videos. Furthermore, it helps improve the quality of traffic on the website through its additional features, including audits, link explorer, rank tracking, etc.
Semrush vs Moz: Key Features
Semrush and Moz offer a bundle of functions to provide absolute value to their users. Have a look over the key features of Moz vs Semrush.
Semrush Key Features: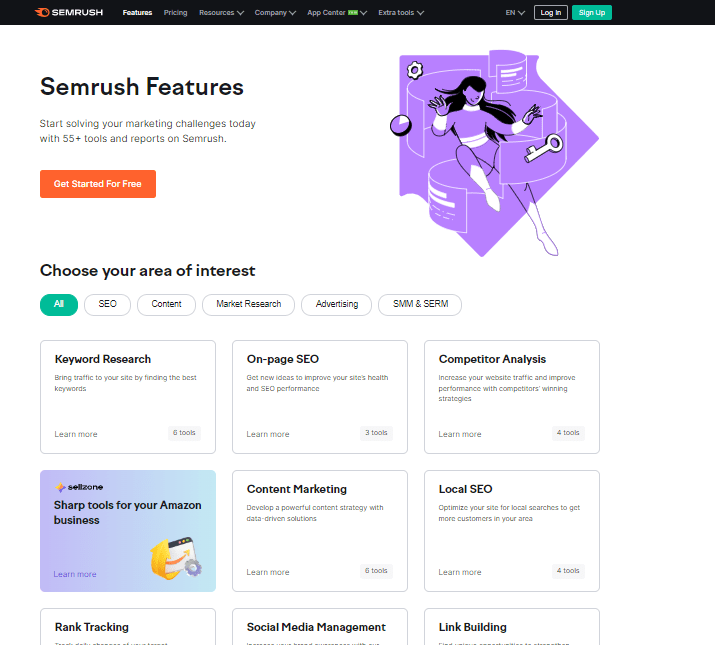 Keywords for PPC campaigns.
Tracks competitor's top-performing keywords.
Tracks new competitor websites.
In-Depth link analysis through backlink features.
Tracks 50 keywords with daily research.
Checks and resolves website issues.
Analysis of new websites and niches.
Provides location-specific or Local SEO information.
Moz Key Features:

Analyzes website popularity.
Analyzes and reduce spam links by providing quality links.
Provides 300 keyword rankings.
Provides recommendations for improving website on-page optimization.
Finds and fixes all website-related issues.
Saves keyword lists for after review.
Provides review management features for local SEO optimization.
How Are Moz Pro And Semrush Similar?
Moz Pro and Semrush are similar in many ways. Both offer an extensive suite of tools that allow users to track and analyze their website's performance. They provide keyword research, backlink analysis, content optimization, rank tracking, and more. Additionally, both platforms offer comprehensive reports that give users valuable insights into their SEO performance.
Moz Pro and Semrush are similar in many ways. Both offer an extensive suite of tools that allow users to track and analyze their website's performance. They provide keyword research, backlink analysis, content optimization, rank tracking, and more. Additionally, both platforms offer comprehensive reports that give users valuable insights into their SEO performance.
How Are Semrush And Moz Pro Different?
Semrush and Moz Pro are the most popular SEO tools on the market. While they offer a suite of features designed to help businesses improve their website's visibility and rankings, there are a few key differences between them.
First, Semrush offers keyword research and competitive analysis tools to help you identify potential keywords to target in your content. In contrast, Moz Pro does not have these features.
Semrush has more comprehensive reporting capabilities, allowing you to track your progress over time. Lastly, Semrush offers an intuitive user interface with helpful visualizations that make understanding your data easier. Both tools offer powerful features for improving your SEO strategy. However, depending on your specific needs, one may be better suited for you than the other.
Semrush vs Moz: Keyword Research
Keyword research is the primary feature of Semrush and Moz. When comparing both tools, it is vital to see which tool offers better features for keyword research. Let us examine both tools based on keyword research below!
Semrush Keyword Research:
Semrush offers its users a powerful keyword tool called keyword magic to get an overall analysis of the keywords for SEO optimization. The keyword magic tool helps you know the keyword ranking capability through a keyword difficulty score given after analyzing competitor scaling through it.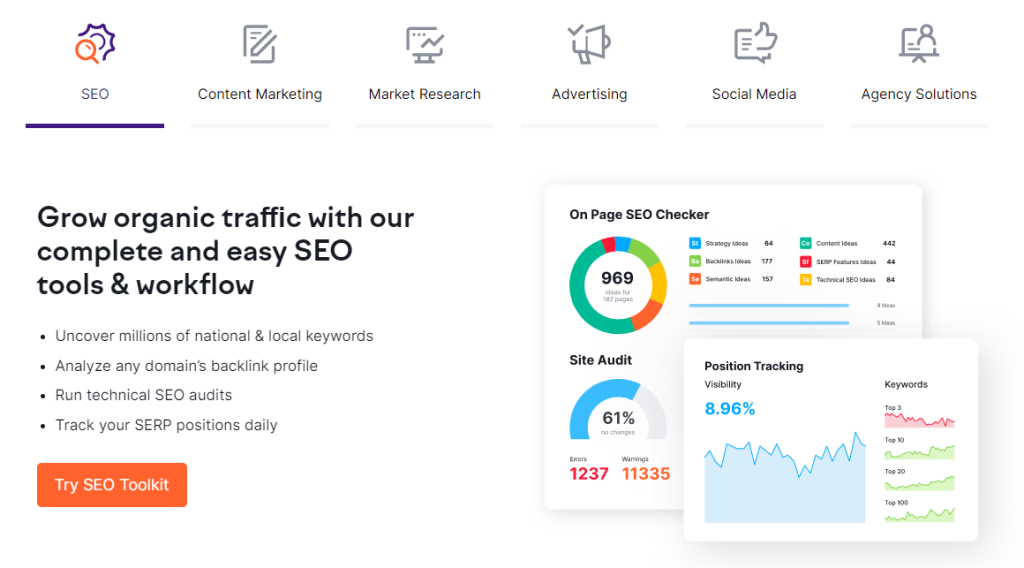 Additionally, it provides you with complete analytical information regarding your keywords density, CPC, search volume, etc. The best is that you can filter and know the specific information you want about the keyword you are using, giving you the best keywords to rank and attract quality traffic.
Moz Keyword Research:
Moz is ready to compete with Semrush's keyword magic tool with its keyword explorer tool. Moz offers you some great suggestions after analyzing the keyword through its monthly search volume, CTR, difficulty to rank, and priority. Not just that, Moz also provides excellent accuracy in terms of keyword selection.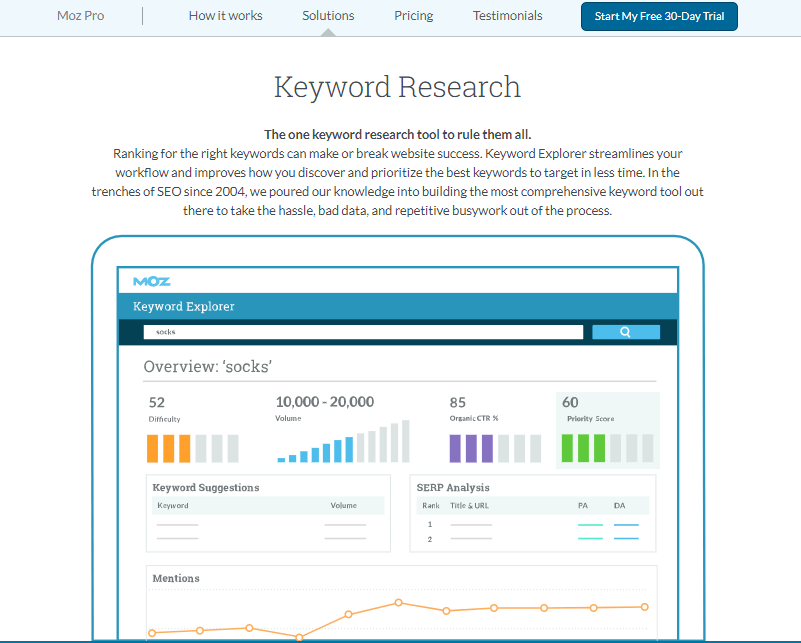 Furthermore, Moz offers an on-page grader to optimize your website's content. Like Semrush, you can filter the results to get specific information related to your keyword.
Moz and Semrush have excellent keyword tools; hence we cannot decide the better one solely based on the keyword research, so let's move forward and get into a bit more detail to find the winner.
Semrush vs Moz: Dashboard
A dashboard will be the place that will help you manage all your work. Therefore, the dashboard of the tool you pick must be easy to use and beginner-friendly. If the dashboard is complex, it can be challenging to manage your work, and you may spend time understanding it.
So, which tool offers an intuitive dashboard? Let's see below!
Semrush Dashboard:
Semrush offers a fantastic dashboard to its users, with all the primary metrics visible right after you log in. The upper panel of the Semrush dashboard displays your organic and paid rounded traffic figures alongside total backlinks and advertising figures. Below the organic and paid round figures, you can find the percentage of individual keyword count and traffic you gained.
Below the numerical figures, you will find the pie chart representing these metrics with the countries giving their share in your organic and paid traffic. The dashboard view does not end here; in its subsequent panel, you are also shown additional information like main organic competitors, organic position distribution, competitive positioning map, etc.
Moz Dashboard:
Like Semrush, Moz also provides a great dashboard view to its audience after they log in to Moz. The Moz dashboard provides a graphical representation of search visibility and total visits. The best part about the entire visit graph is its various resources comparison.
Furthermore, the other features we can't miss in the Moz dashboard are the page authority and domain authority ranking meter to view your site's SERPs ranking; as you go below the dashboard, you find insights into your competitor's keywords ranking.
Semrush vs Moz: Pricing
Semrush and Moz offer various plans to their users based on their needs. We have now noted the pricing of each plan with the people they are best suited to.
Semrush Pricing: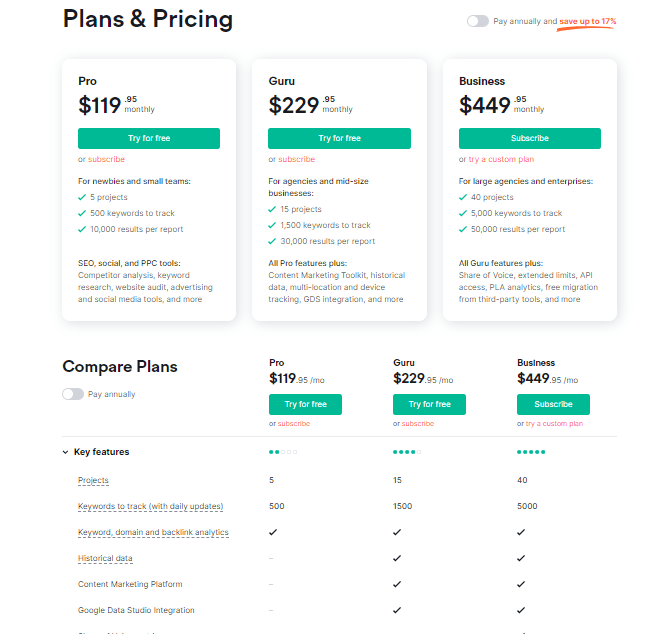 Semrush offers three pricing plans which are explained in the table below.
| | | |
| --- | --- | --- |
| Plan Name | Price | Best suited to |
| Pro | $119.95 monthly | For smaller teams and newbies |
| Guru | $229.95 monthly | For mid-size businesses and agencies |
| Business | $449.95 monthly | For large agencies and enterprises. |
Semrush provides an exclusive 30-day free trial offer along with a 7-day money-back guarantee to its users and an anytime downgrade and upgrade option.
Moz Pricing:
Like Semrush, Moz also provides various plans to its users with cancellation anytime they want the option.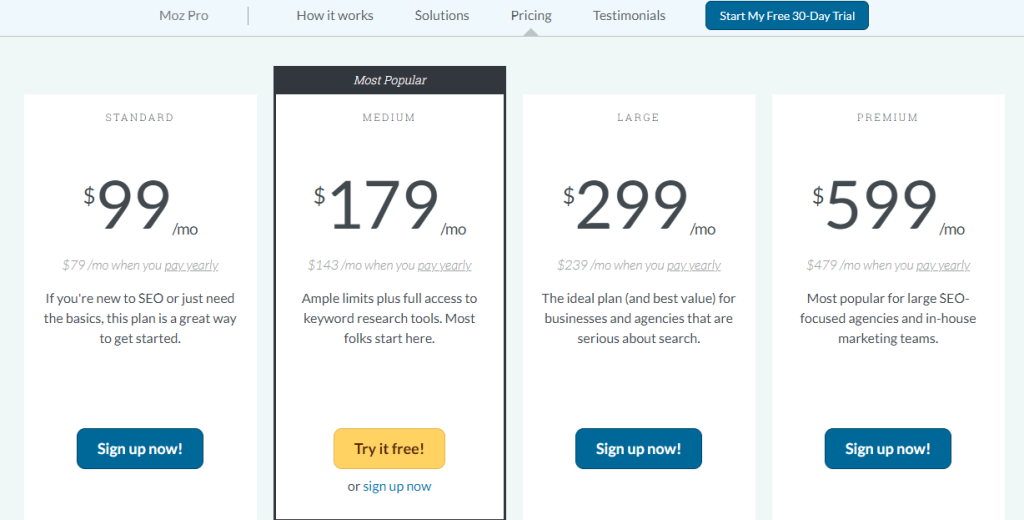 The best part about Moz is its 30-day free trial for users who wish to experience the plans before investing in them. It said that it now just quickly moves toward its pricing options.
| | | |
| --- | --- | --- |
| Plan Name | Price | Best suited to |
| Standard | $99 monthly | For newbies or smaller teams |
| Medium | $179 monthly | For medium-sized teams |
| Large | $299 monthly | For businesses and agencies serious about the search |
| Premium | $599 monthly | For large SEO-focused agencies or in-house teams |
Does not offer a friendly user interface.
The Semrush dashboard provides better insights and data in comparison to Moz.
Does not offer enough tools needed for SEO.
Semrush vs Moz: Free Trial
When it comes to free trials, each of these powerful SEO tools offers something different. Semrush offers an exclusive 30-day free trial that allows you to get started with the full set of features without any cost. On the other hand, Moz offers a 30-day free trial and doesn't require a credit card upfront.
The downside of the Moz trial is that it won't give you access to all the features. Instead, you only get access to some of their limited-access tools, like their keyword difficulty tool and link explorer. So if you want full access to their features, you'll have to upgrade to one of their subscription plans.
Semrush vs Moz: Pros & Cons
Now that we have seen various features and functionalities of both tools, let us focus on another crucial aspect. No matter how many features Semrush and Moz provide, they both have their pros and cons. Have a look over the pros and cons of Semrush below.
Semrush Pros And Cons: 
Here are the pros & cons of Semrush.
Pros:
Semrush offers a wide range of features for a site or page's complete SEO optimization.
Improves SEO ranking by tracking competitors with domain vs domain features.
Semrush provides very competitive data over keywords.
Powerful link-building functionality.
Offers custom PDF SEO reports.
Cons:
Semrush is costly for any new site owner or digital marketer.
Moz Pros And Cons:
Here are the pros & cons of Moz.
Pros:
Provides Detailed analytic information.
It offers a unique spam score feature to reduce spam links.
Provides a wide range of SERP analyses.
Great community and forum to get answers to any queries.
Provides tool updation, which helps in enjoying better features each passing day.
Cons:
Does not offer a friendly user interface.
The Semrush dashboard provides better insights and data in comparison to Moz.
Does not offer enough tools needed for SEO.
What To Choose Between Semrush And Moz?
Both Semrush and Moz are excellent tools for overall Search engine optimization. However, Semrush is a comparatively better tool than Moz. Semrush has unique dashboards with loads of features and an easy-to-use interface. In contrast, Moz lacks the ease of use and the dashboard features if we look at a business owner, digital marketer, or any individual's perspective for the information to get rank on search engines.
Semrush offers a bundle of features, including the site auditing one and CRM style approach to link outreach in comparison to Moz at almost the same price and wins the race for the best SEO tool in the marketplace.
Related;
Wrapping Up!
This marks the conclusion of our extensive comparison. Hopefully, by this point, you have determined which tool is best for you. If not, we advise choosing Semrush because of its incredible functionalities and accuracy, though Moz is also a good option. If you invest in their paid plans, Semrush and Moz demonstrate practical SEO tools that can improve your Search engine ranking. You can use the free versions if you don't want to engage in paid programs.
This article above made it easier for you to choose between Moz and Semrush. Let us know which SEO tool between Semrush and Moz is best according to you in the comment section below.
FAQs
What are the top free SEO tools?
The top free SEO tools in the marketplace are as follows.
1. Website grader.
2. Google keyword planner.
3. Spark content optimizer.
4. Google Analytics.
5. Google search console.
Is there a free version of Moz?
Yes, there is a free version of Moz, and you can use the accessible version of Moz by signing up for it.
How long is the Semrush free trial?
Yes, Semrush offers an exclusive 30-day free trial on the Pro plan and a 7-day free trial on the Guru Plan.
Which is the best among Semrush Moz and Ahrefs?
Semrush is the best SEO tool available in the marketplace, which leaves behind Moz and Ahrefs in terms of value for money.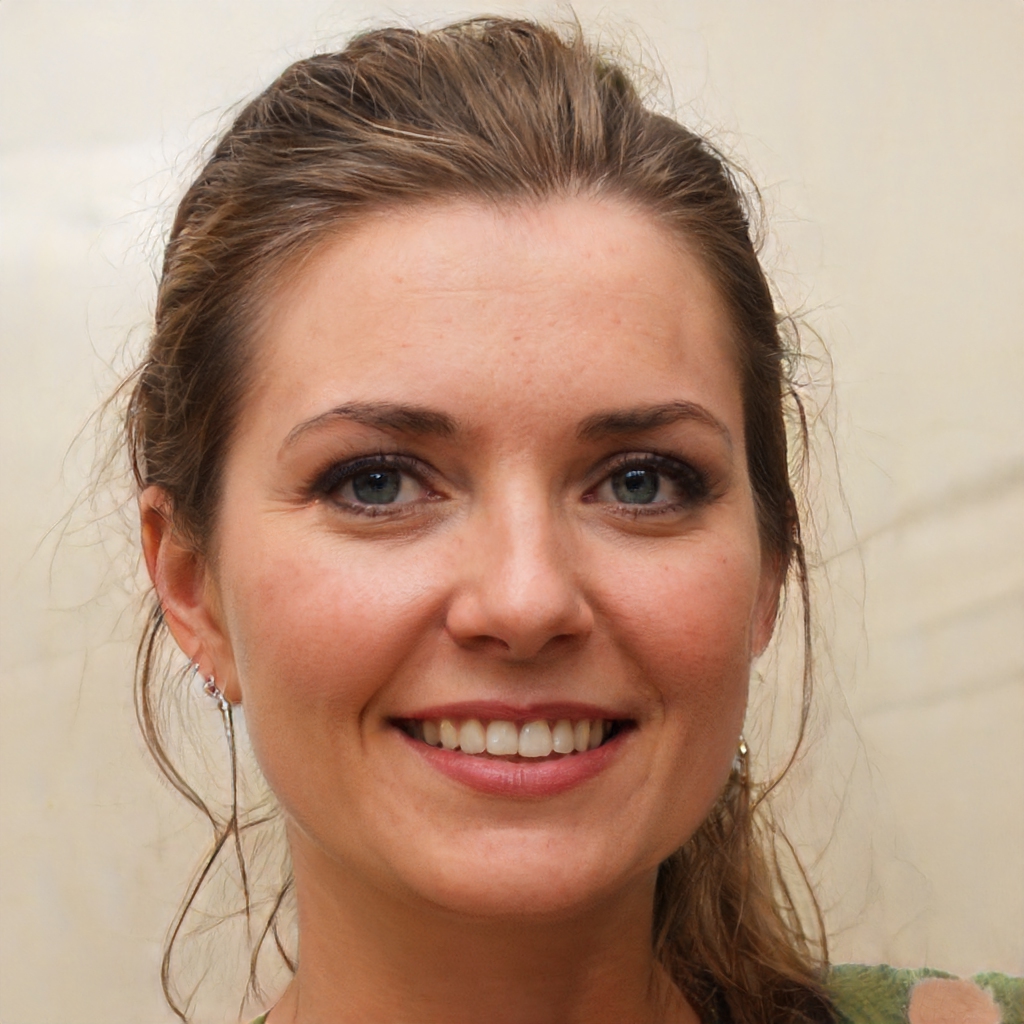 I'm a professor, serial entrepreneur and e-commerce expert with a passion for creating successful online business models. After achieving huge success in the Amazon FBA business, I decided to make it my mission to help my fellow sellers do the same through enjoy-aiia.com .