Selling your business products on Amazon has to be one of the most popular ways of earning money. But what if you could speed things up by using some tools that helped you beat your competitors and stay at the top of the game?
There are many Amazon seller tools in the market. And when you're new to the online business world, it's difficult to choose one because you don't know which is better. Don't worry, as we have facilitated this process for you by bringing you an in-depth review of Helium 10.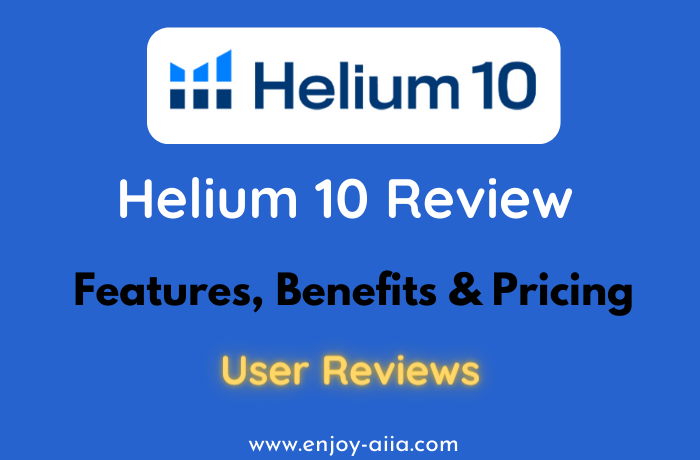 Helium 10 has helped many to reach their sales goals and boost their business. Its powerful tools for tracking your competitors, product research, and profit analysis are certain to deliver to you the success you're looking for.
Well, this article contains a 100% honest and thorough review of the Amazon seller tool, Helium 10 so that you can decide whether it's the right tool for you or not.
Helium 10 Review (2022)
Helium 10 is an Amazon seller tool. When the company was initially started in 2015, it only had 10 tools, because of which they named it Helium 10. Years later, the company has now more than 20 tools to facilitate sales on Amazon.
Helium 10 offers all the handy tools required to improve your performance on Amazon. Black Box is the ultimate, must-have Helium 10 tool that filters out products based on user's criteria and gives results in only a few seconds. It helps you find products that are profitable.
One clever feature that we liked was the misspellings checker. Often users type in wrong spellings on Amazon, which leads Amazon to display fewer results. With Helium 10's tool, you can plug in the wrong spelling with your product and take advantage of this situation.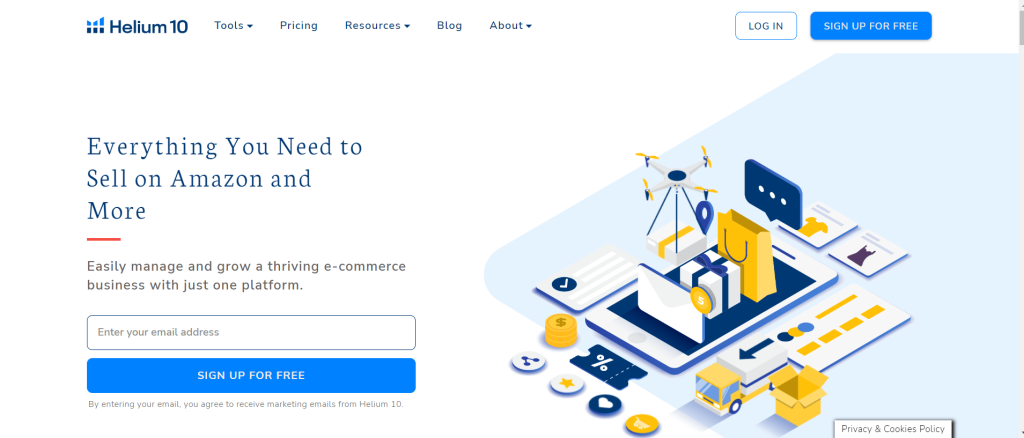 Other than that, listing optimizer tools, effective ad launches, and inventory management are a few other tools that make Helium 10 an all-in-one solution for speeding up sales.
Helium 10 offers Freedom Ticket, the best Amazon seller training, to its members when purchasing a plan. The training alone costs nearly a thousand dollars, so it's a pretty attractive deal. This training teaches you everything you need to know to start selling online.
Helium 10 has pretty good customer support. It also provides many of its services for free for a limited time. For users that like to change their minds after making the purchase, Helium 10 offers a 30-day money guarantee as well.
Helium 10 – Power Tools & Features
Helium 10 got its name due to the 10 tools that the product had at the time of its launch, though more tools have been added now. Helium 10 has 7 different categories of tools and over 20 tools under these categories.
Let's now learn in detail about their features and how these tools can help you.
1. Chrome Extension
Upon adding this to your chrome browser, you will be able to perform instant product research with just a few clicks. Adding this extension will automatically display a few product details in the space above a product as shown in the picture below.

As you can see, you get an easy view of product ranking, ASIN, and other information. For more in-depth information, you can use the tools included in the extension with a click.
There are more tools included in the extension for product research based on your specific criteria, calculating profits, inventory management, and review insights.
2. Black Box
This tool helps you filter products from the entire Amazon database according to your chosen criteria. Black Box can find products based on monthly revenue, price, review count, and shipping size tier.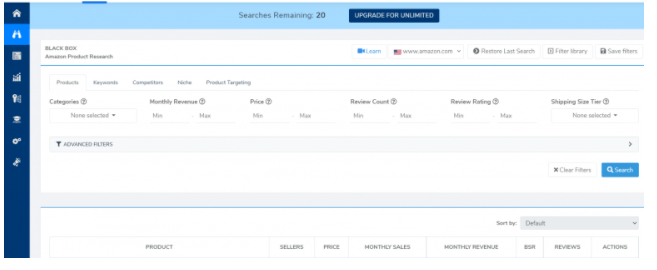 For more advanced searches, there are additional filters as well. You can further use the "Keywords", "Competitor", "Niche" and "Product Targeting" tabs for more in-depth research. Here's how the Black Box interface looks like.
3. Trendster
This is the perfect tool to find out which products sell at which time of the year. Trendster can help your business by analyzing the sale of a particular product and finding out the season when it's mostly in demand.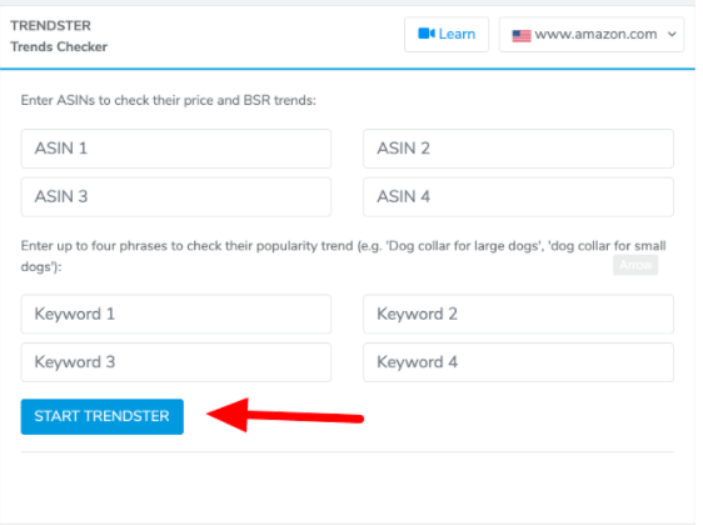 Enter product ASIN and get results in a few seconds to check which products sell all year round and which ones experience demand fluctuations.
4. Cerebro
Keywords are the most crucial factors for online businesses. With Cerebro, you can find out which exact keywords help your competitors to rank and then use them to optimize your listing on Amazon, thus boosting your sales.

Just enter an ASIN and you will get results for both sponsored and organic products. With that, you can uncover the most relevant keywords. It's one of the best tools as you can find out the top keywords for specific products.
5. Misspelling Checker
Often Amazon users type the wrong spelling while searching for a product on Amazon. When this happens, Amazon only shows products with those specific keywords and rules out the other ones with the correct spelling. Thus, the competition decreases.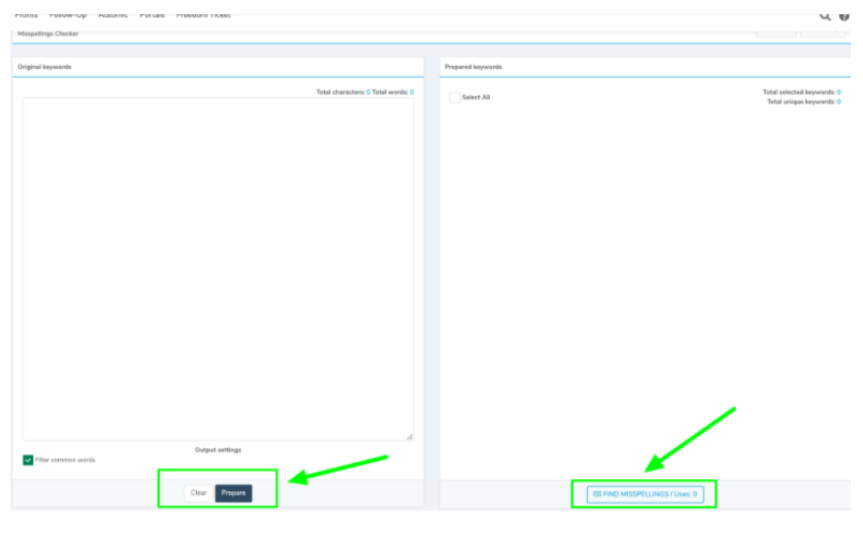 A misspelling Checker was made to take advantage of this situation. With this tool, you can plug in wrong spellings that are commonly entered by Amazon users, with your products. This will lead Amazon to show your product in search results and fewer competition will increase your chances of a sale.
6. Frankenstein
Using Cerebro, we can find thousands of relevant keywords. We can't use all the thousands of words, can we? Here's where the tool Frankenstein comes for help. This tool sorts keywords using filters and tools according to our needs.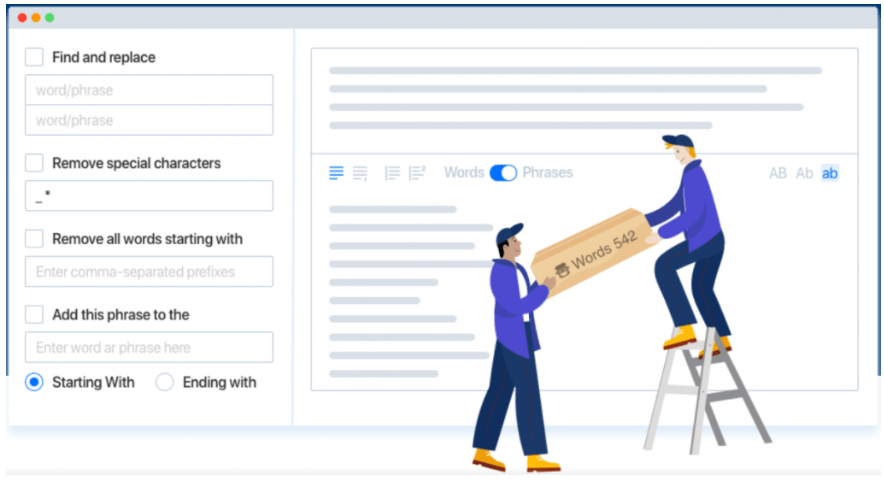 When your keywords are sorted and cleaned up, they can be used for optimal listing of products, thus bringing in more traffic.
7. Index Checker
Instead of manually checking if your products are showing up in results for certain keywords, you can check them using this tool. You can enter more than one keyword and check instantly if they're being listed by Amazon or not.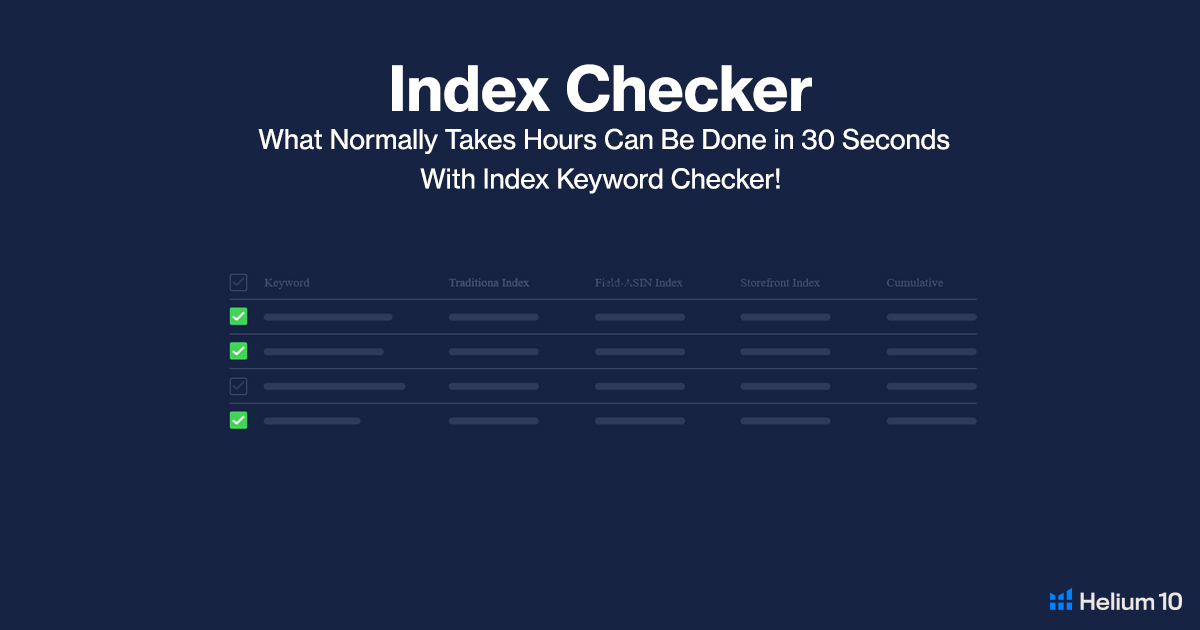 Also, you can use this tool to check for any bad keywords that are costing you sales. You can also spy on your competitors by finding out which keywords do and don't make them rank.
8. Inventory Management
With one single tool, you can manage your entire inventory, from supplier orders to sending inventory to Amazon, in one place.
Inventory Management gives you quantity updates and predicts your inventory intelligently. It suggests you reorder stock at the right time, so you never run out.
9. Inventory Protector & Alerts
Helium 10 has two main tools to protect your products from abuse- Inventory Protector and Alerts. Inventory Protector protects your products from being oversold by setting a maximum quantity for your products.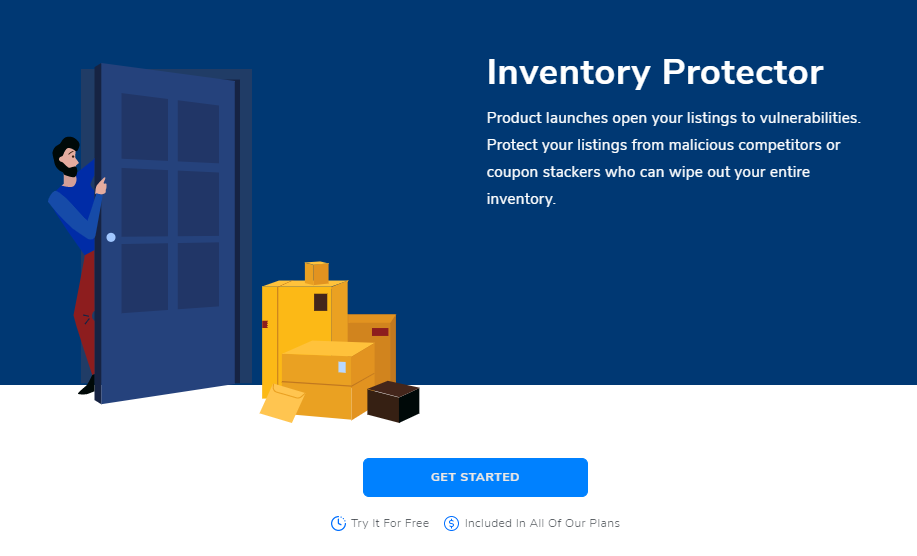 Alerts tool continuously monitors your product ASINs and lets you know whenever another seller attempts to sell an imitation of them. This way, your brand stays protected.
10. Seller Assistance
Reputation is an important factor, whether it be an online business or offline. Customers always go for good reputed sellers and products. For a good reputation, online products require positive and a decent number of ratings and reviews.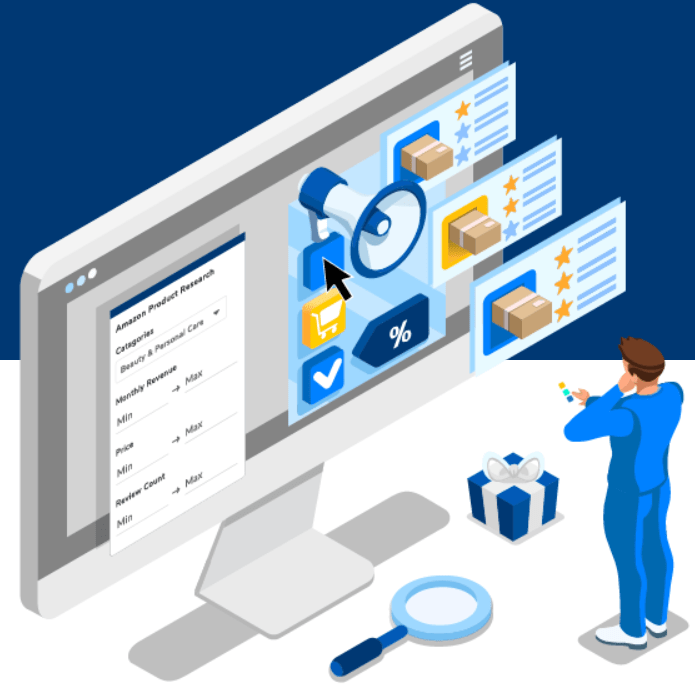 Seller Assistance tool sends invites to dozens of your customers to review your product with just one click. You can ask them to review a recent order or all orders placed in the past 4 to 30 days.
11. Market Tracker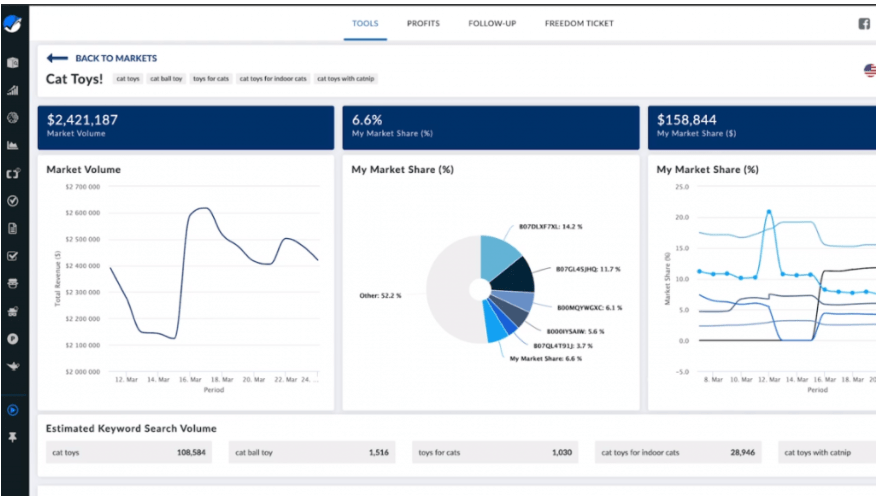 This tool helps you track your competitors' movements and suggests products to help you make the best business decisions. It helps you track your and your competitor's performance and gives you a clear view of where you stand in the market.
12. Adtomic
Adtomic helps you create effective ads that save time and bring you maximum ROI.
Helium 10: 8 weeks of Amazon Seller Training
Helium 10 has joined hands with Freedom Ticket to provide you with the best Amazon seller training. Freedom Ticket is hands-on training on how to sell on Amazon. It is straightforward and includes the most up-to-date information.
Along with 8 weeks of training, Freedom Ticket comprises 60+ videos, real data and walkthroughs, review slides and written notes, handouts on sourcing, accounting, mistakes to avoid, and more. The real price of this training alone costs $997.
But, since Helium 10 has collaborated with Freedom Ticket, on buying Helium 10's Diamond, Platinum or Elite plan, you receive this training along with other tools of Helium 10 at one price. This deal makes Helium 10 a complete solution for Amazon sellers.
Helium 10: Pricing
Helium 10 has 5 different pricing plans, one of which is free of cost. This product's positive feature is that it offers a few of its tools for free. By this, you can check out their services for free first and then decide if you want to fully commit or not.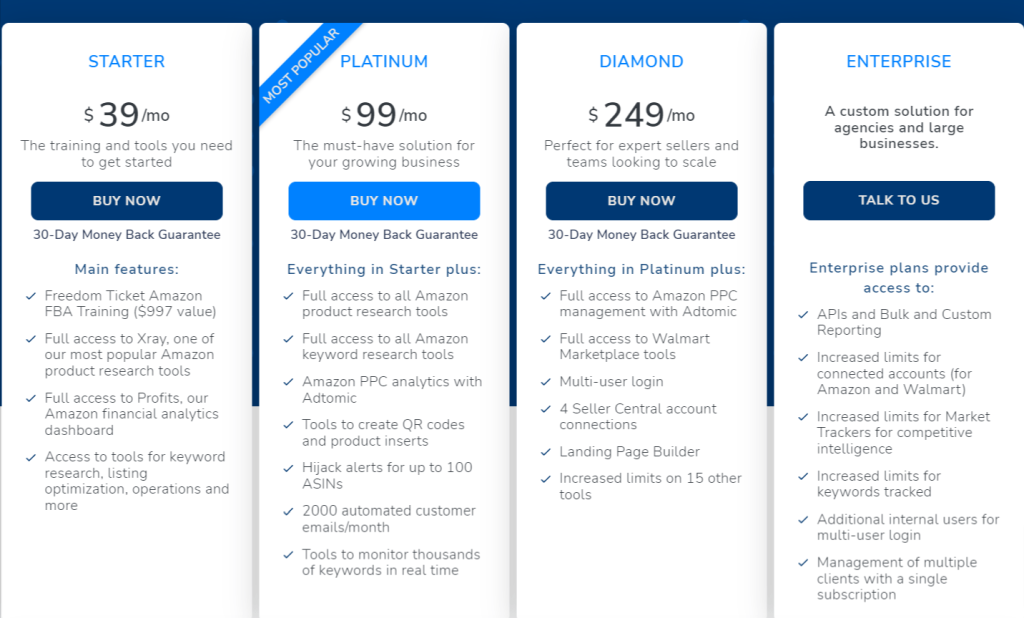 Let's see what features you get with each plan.
Free Plan –
The free plan does offer a decent number of features, although their uses are limited. For example, you get Black Box, Trendster, Xray, and a few other things, but all these can be used only a limited number of times or for a limited period.
Starter Plan –
The starter plan is probably a good choice for those just getting started with their business and are new to this world. But a few tools still have limited uses within the subscription period, for example, the Black Box and the keyword tracker.
Here's a list of things that you get with the Starter plan.
Full access to Xray
Limited access to the rest of the tools
Amazon seller training worth over $900
Price: $39/month
Platinum –
This is their most popular single-user plan, as claimed by Helium 10 itself. Here you receive unlimited uses of many tools. This plan is perfect for those who have a steady business and would like to upgrade it more.
Here's a list of things you get with the Platinum plan.
Everything in the starter plan
Index Checker: 150 uses/month
Keyword Tracker: 2,500 keywords/month
Alerts: 300 ASINs/month
Follow Up: 5,000 emails/month
Price: $99/month
Diamond –
This plan is most suitable for expert sellers who have been in the business world for quite a time and are looking to upscale.
Here's what's included in the plan.
Everything in the Platinum plan
Multi-user login
Index Checker- 300 uses/month
Keyword Tracker- 5,000 keywords/month
Alerts- 600 ASINs/month
Follow Up- 15,000 emails/month
Free access to Adtomic up to $20k/month ad spend
4 seller central account connections
Inventory Management: Unlimited SKUs
Price: $249/month
Enterprise –
Your one-time solution for agencies and large businesses. The best part about this plan is that you can customize it according to your needs. There is no fixed price for this plan and it depends on how large your business is. To discuss your plan, you can contact their team.
Price: Customisable according to needs
Elite –
The last plan on the list is tailor-made for sellers looking to expand their business rapidly. It's designed to provide you with top-tier features with LIVE training and unlimited access to resources.
Here's what you get with Elite.
Everything in Diamond
Highest-tier access to Helium 10
Quarterly in-person workshops
LIVE monthly online training with industry experts
Access to the private Elite Facebook Group
Price: $399/month
So, these are the plans currently offered by Helium 10. The best part about each plan is getting a 30-days money-back guarantee. Therefore, even if you do not like their services, you can always ask for your money back within 30 days.
Helium 10 offers – Discounts & refunds
Helium 10 sure does have tools to boost your online business. But we can't ignore its prices which can be a little on the expensive side, especially if you're a new business startup. But worry not, as Helium 10 has plenty of offers that can save you money.
Discounts:
Helium 10 offers discounts on its Diamond and Platinum plans. If you're running low on your budget, make sure you take advantage of this offer while it lasts.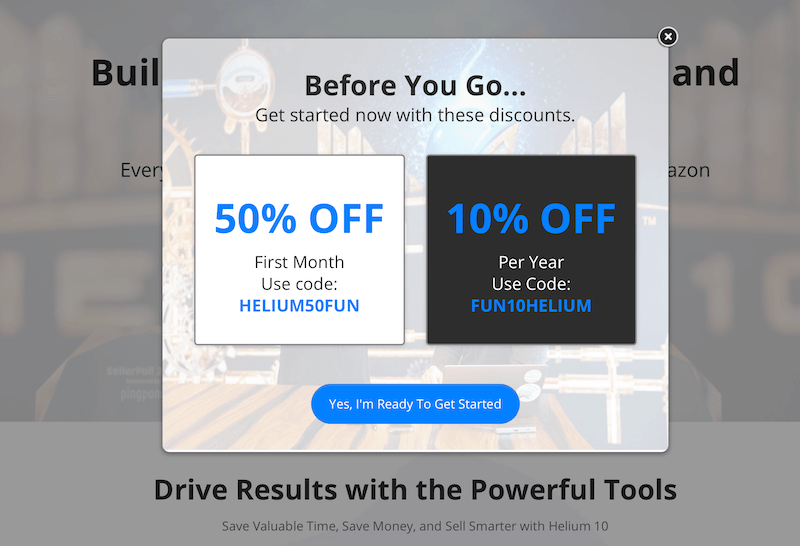 To grab this offer, you need to enter promo codes on Helium 10's website to slash the prices. Currently, 2 promo codes are available.
Helium50fun– Get 50% OFF on your first month
FUN10Helium– Get 10% OFF every month
Here's how you can use your Helium 10 promo code.
Go to the official website of Helium 10.
Click on the "Pricing" tab.
Enter your coupon code in the coupon code box and click on "Apply".
Upon clicking on "Apply", you will see a slash in the prices below.
Congratulations! You have successfully used your Helium 10 coupon code. You can proceed to buy the plans by clicking on "Buy Now" under your preferred plan.
Refund Policy:
Just when you thought Helium 10 couldn't possibly get better. Along with discounts and dozens of free services, Helium 10 also has a 30-day money-back guarantee on all of its plans. You can request your money back from them within 30 days of buying a plan.
Here are the steps to request a refund.
Go to Helium 10's support page by clicking on this link.
Enter the details about your request and attach the necessary files as proof of your purchase.
Click on "Submit" when done.
You have successfully requested a refund.
Helium 10 Support & Resources
Helium 10 users remain backed with a customer support feature 24 x 7 nights. The customer support team can help the users anytime and solve your queries. In addition to this feature, Helium 10 also offers its massive library, including the Freedom Ticket Course. This helps the new users to know about Helium 10 and how to use it.
Helium 10 also provides other resources such as podcasts, webinars, Freedom Ticket Xtra, Academy, PPC Courses, and many more. These are available to the users for free, and all you have to do is explore the library of Helium 10. It covers in-depth information and allows the users to access the tool quickly. 
Helium 10 Mobile App:
Now with the Helium 10 mobile app, you will never get away from your business which means you can take care of your business anytime, anywhere. You will instantly get critical sales data and alerts when you want it most with the same analytics and notification tool displayed on your mobile device.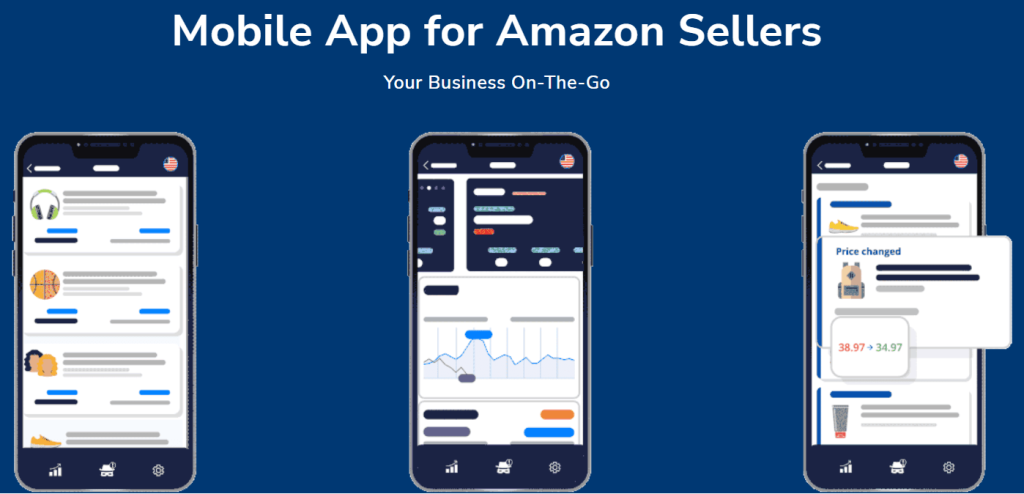 You will also get a push notification on any doubtful activities on your account, such as fraudulent product sales and listing changes. You will get notified on the mobile interface display in easy to read list.
Helium 10: Is it better than its competitors?
There are many competitors of Helium 10 in the market. The most popular ones are Jungle Scout, Viral Launch, and AMZscout. On comparing Helium 10 with a few of its biggest competitors, we found that none of them provides as many advantages to the users as Helium 10 does.
Helium 10 has all the handy tools required to sell on Amazon along with valuable training. Helium 10's free resources are more in quantity than other products as well as its duration of money-back guarantee offer is bigger too.
The brand's only setback maybe its prices. All three competitors had much more affordable plans than Helium 10. Other than that, Helium 10 is a pretty good choice.
Helium 10 Vs Jungle Scout: A quick comparison
Both these tools Helium 10 and Jungle Scout offer robust features. Here we have compared Helium 10 vs Jungle Scout to clear your doubts.
Helium 10 is a more valuable and comprehensive tool than its competitors. If you want to scale your FBA business, you can't ignore Helium 10. At the same time, Jungle Scout is simple to use with excellent product research capabilities.
Here, we have a comparison chart between Helium 10 and Jungle Scout. Let's have a look.
| | | |
| --- | --- | --- |
| Features | Helium 10 | Jungle Scout |
| Product Research | ✅ | ✅ |
| Keyword Rank Tracker | ✅ | ✅ |
| Sales & Profit Tracking | ✅ | ✅ |
| Product Tracking | ✅ | ✅ |
| Keyword Research | ✅ | ✅ |
| Opportunity Finder | ✅ | ✅ |
| Request Review in One Click | ✅ | ✅ |
| Inventory Manager | ✅ | ✅ |
| PPC Automation Tool | ✅ | ❌ |
| Mobile App | ✅ | ❌ |
Comparison Table
Helium 10: Pros and Cons
Here we have given the pros & cons of Helium 10. Let's have a dive.
Pros:
Friendly user interface
Makes customer success a priority
Quick results
Accurate analysis
All handy tools in one place
Cons:
Unresponsive to support tickets
Some tools are sometimes incorrect
A bit expensive
Helium 10: Is it worth the money?
It's no secret that Helium 10 is a bit expensive, especially for people who have just started their business. Nobody likes to invest more than their profit. However, Helium 10's excellent competitor analysis, ad launches, and keyword tracker tools can't be neglected.
Helium 10 holds the potential to boost your business if its tools are used wisely. For that, they even provide $997 worth of training. Now that's an attractive deal. With tools to monitor your competitors and effective ad launches to lure in customers, Helium 10 is a pretty great product.
So do we recommend Helium 10? Yes. We think it's worth one try. If you are skeptical about spending so much money on an unknown service, try their free tools first. Even if you buy their plans, you can request your money back.
Related Read:
Conclusion:
It's the era of competition. You might think that your business idea is new and unique only to find a hundred others with the same plan. It's bound to happen in these times, and everyone wants to earn more money than others.
It's nearly impossible to compete with millions of other businesses without proper tools. Helium 10's tools are sure to give you a perspective of where you and your competitors stand in the market. This will help you take suitable steps to up your game.
We hope you liked our article. Do leave your valuable feedback and let us know if you encountered any mistakes.
Frequently Asked Questions:
Which is better – Helium 10 or Jungle Scout?
Helium 10 and Jungle Scout both have good features and give accurate results. However, Helium 10 offers many more free services in its trial than Jungle Scout.
Can I use Helium 10 for free?
Yes. You can use Helium 10 for free for a limited period. Helium 10 offers over 15 of its tools for free for non-subscribers.
What is Helium 10 freedom ticket?
The Helium 10 Freedom Ticket is a training session for Amazon sellers. It is step-by-step training for new sellers to boost their online business, learn new skills, and make optimal use of Helium 10 resources.
How can Helium 10 help me sell my products on Amazon?
Helium 10's tools have been designed to help you monitor your competitors, and profits, reach potential customers, create successful ads, etc. All these features can help you sell more products on Amazon.
How accurate is Helium 10?
No tool will give you 100% accuracy. That being said, Helium 10 is pretty accurate and shows useful estimations. When compared to other products, the difference between the accuracy is often negligible and both the estimations are useful for a business.