When we talk about the top e-commerce platforms, Ecwid vs Shopify are the two platforms that have a long-lasting list of exciting features. However, choosing the right e-commerce platform is essential as you invest considerable money.
Ecwid and Shopify are the two top platforms to sell the market and manage the products in your online store. Each has unique features and tools that help you grow your online business efficiently.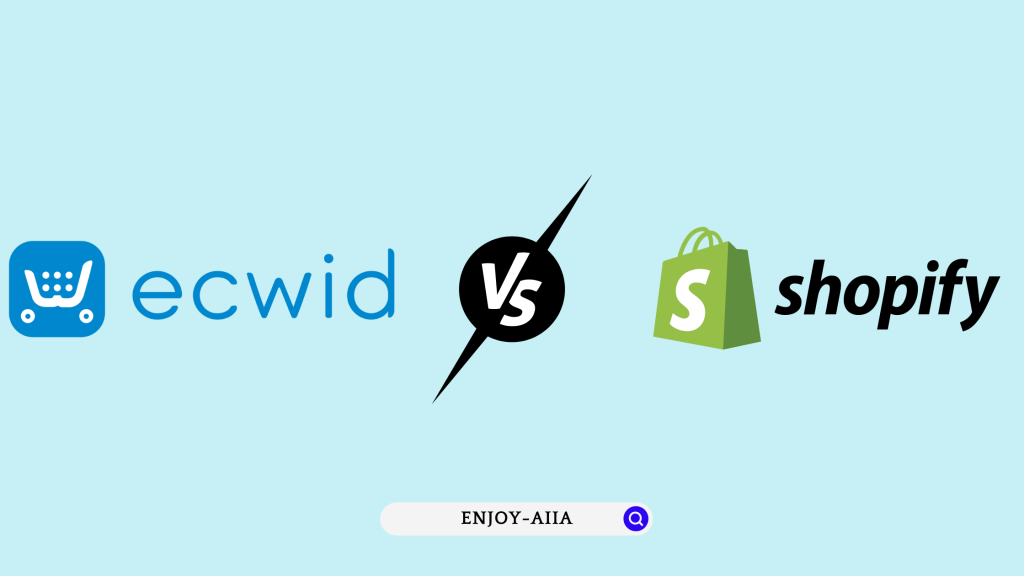 Nevertheless, with so many perks, you might get confused or overwhelmed about which platform fits your needs the best. With the internet filled with so many biased and fake reviews, it becomes more confusing, and you might make the wrong decision.
So, we decided to end your misery. In today's post, we will discuss everything about Ecwid vs Shopify. This article is based on our experience with both platforms; we promise to provide an honest comparison between both.
With that, let us quickly dive into the article
Ecwid vs Shopify: Overview
Before we head to the direct comparison between Ecwid vs Shopify, let us check out a quick overview of both e-commerce platforms.
Ecwid Overview
Ecwid is a popular e-commerce platform with all the necessary features and tools to build an efficient and profit-gaining online business. To ensure your business flourishes, Ecwid offers excellent integrations that help in increasing your sales.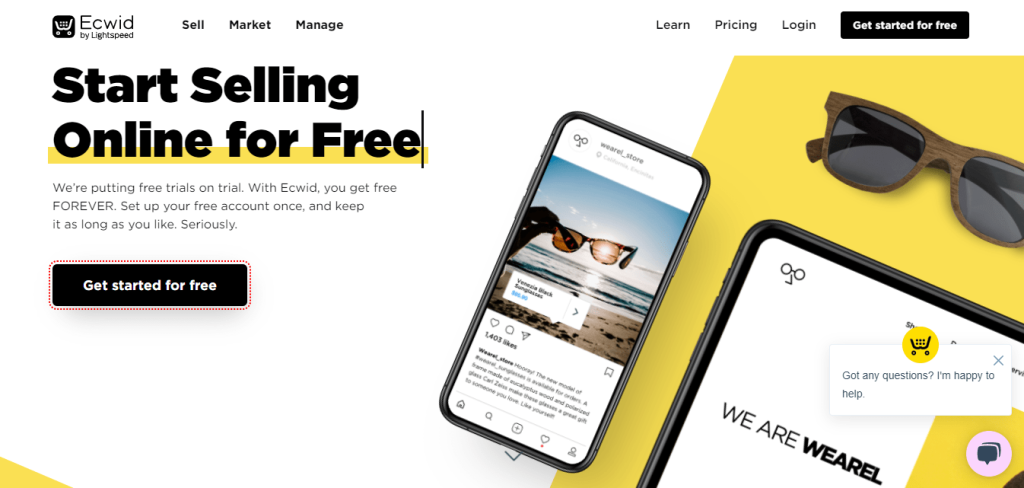 Ecwid provides excellent marketing tools to help entrepreneurs or new businesses grow their online stores tremendously. Along with that, it also has researching and dropshipping facilities that make selling any product hassle-free.
Moreover, you can also track the progress of your e-commerce store and social media business with Ecwid. It gives essential insights into your store's overall sales, which helps you improvise and adapt new techniques for increased revenue.
Shopify Overview
Shopify is an all-in-one e-commerce platform for researching, selling, and advertising your products. The robust features and tools can help you manage massive sales in your stores, making Shopify perfect for managing big and professional online stores.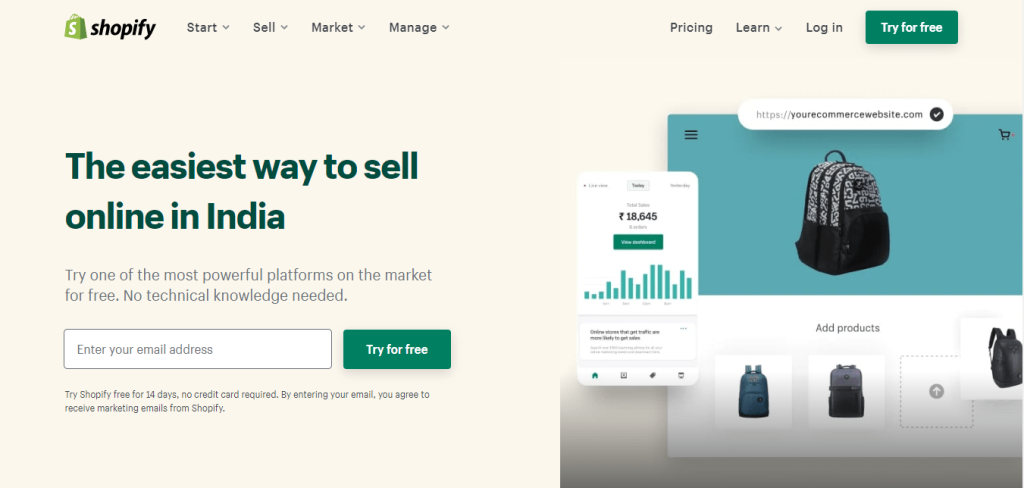 In addition, Shopify has thousand of customization available, which help your design your store according to your preferences. Anyone who wishes to build their online store can do it with Shopify in just a few easy steps.
Moreover, it has integrations available with tops brand, which help you sell and market high-rated and authentic products. Finding offbeat and exclusive products can make your store stand out with the unique product research tool.
Ecwid vs Shopify: Key Features
After reading the overview, you must have a brief idea of what Ecwid and Shopify are capable of. Now let us check out the exclusive vital features of each e-commerce platform.
Ecwid Key Features
Partnered promotions
Flexible management options
Multilingual translation for online stores
Manage several online businesses at once
Mobile friendly
Store customization
Automated marketing tools
Sell and promote digital products
Shopify Key Features
In-built remote shopping cart
More than 70 professional store themes
Exceptional customization available for online stores
HTML and CSS
Personal or sourced domain name
Promotes blogging and interaction
Website Hosting
Content management system
Ecwid vs Shopify: Integrations
An e-commerce platform must have excellent integrations to promote and sell your online store. Here we will be seeing the integrations of Ecwid vs Shopify.
Ecwid Integrations
Ecwid has some exceptional integration available. As an e-commerce platform, Ecwid ensures that the users do not face any issues reaching out to the maximum to increase their sales. It blends with top social media platforms like Instagram, Facebook, TikTok, and Pinterest.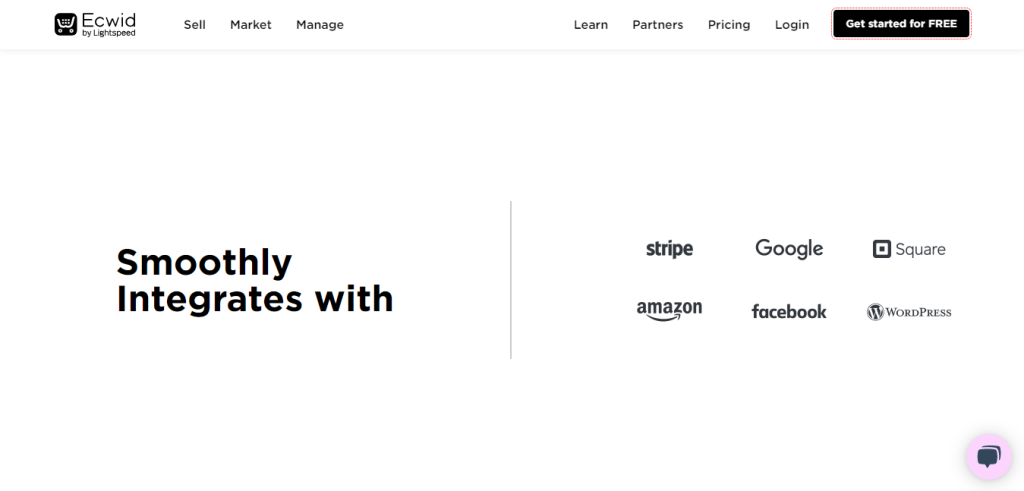 Moreover, it also has integration with Google, Amazon, and WhatsApp. You can use Ecwid on these platforms to build and reach out to your targeted audience. It integrates well platforms like these because of their reach and the millions of people who use them.
Using these responsive and professional platforms for selling your products will build a loyal customer base who will keep returning if they like the products in your store.
Shopify Integrations
Regarding integration, Shopify is one of the top e-commerce platforms that provide every possible resource to help your website grow. It has excellent social media integration with reigning platforms like Facebook, Instagram, Twitter, and Tumblr.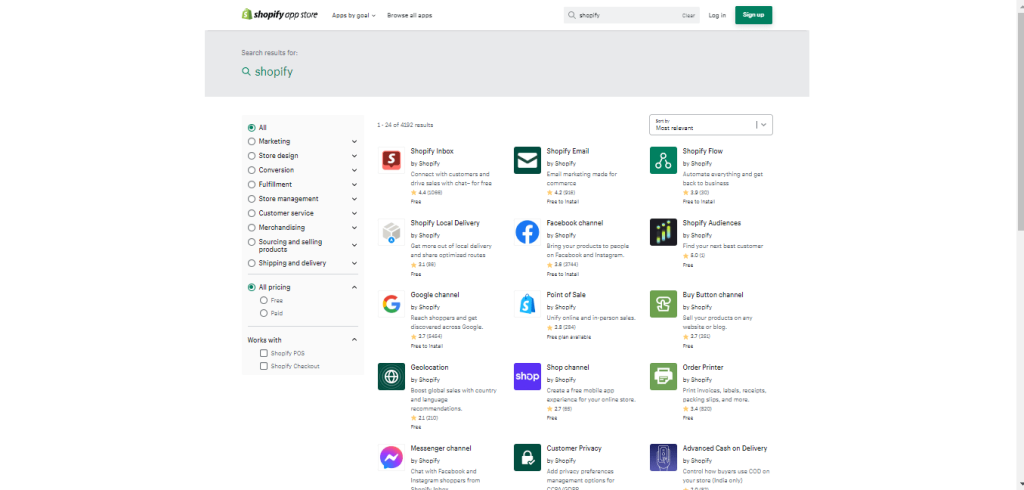 The best part about Shopify integrations is that it offers your website several SEO integrations that help boost your website to the top when customers are looking for a product you sell. It will increase traffic to your website and will generate big profits in the long term.
Other than that, Shopify also blends well with e-commerce sites like eBay and Etsy, which are massive selling platforms for all products.
Ecwid vs Shopify: Ease Of Use
Every e-commerce platform must have a user-friendly interface. So, to know how easy it is to use Ecwid and Shopify, keep reading.
Ecwid Ease of Use
Ecwid has an exceptionally easy-to-use web interface. It is super simple and beginner friendly for first-time users. Moreover, anyone without prior experience establishing and running an online store can easily create a successful online business with Ecwid.
The website has a simple yet appealing look, with everything displayed right in front of you. Anything you need to create a storefront is available right before you. At the top is a dashboard with shortcuts for different website sections.
So, you can shift from one section to another without changing multiple tabs within seconds. Moreover, it has separate divided sections for different kinds of tasks and tools that you need to customize your store.
Shopify Ease of Use
The reason why Shopify is a ruling e-commerce platform today is also because of the user-friendly interface of the website. Even though Shopify has unlimited customizations, it makes reaching each section and tool hassle-free.
However, due to the many functionalities available, users who have never built an online store might get confused initially. Once familiar with the tools and features, you will quickly figure out the e-commerce platform.
Ecwid vs Shopify: Customer Support
Along with all the robust features and storefront tools, an e-commerce platform must have a responsive support team. This section will explain how customer support or Ecwid and Shopify work.
Ecwid Customer Support
Ecwid has friendly and responsible customer support available 24/7, all day of the year. It has various resources like blog articles, videos, faqs, and new updates at its help center. However, if you do not find a solution for your query, you can contact the support team directly by submitting your request.
The Ecwid support team will get back to you within 24 hours of your request via email. The email will include the necessary interaction or assistance to solve your problem. For advanced plans and subscriptions, Ecwid even offers live chat support.
Shopify Customer Support
Shopify's help center is at your service 24/7, 365 days a year. If you face any issue with the e-commerce platform, you can contact the support team simply by getting their Shopify community or exploring their help center.
The center has many written solutions and step-by-step guides to solve technical problems. However, you can contact the support team if you cannot find the correct answer to your story.
Ecwid vs Shopify: Dropshipping
Dropshipping is a convenient way of running an online store if you do not have a storage area to keep products in bulk. However, let us see the dropshipping integrations and features of Ecwid and Shopify.
Ecwid Dropshipping
Ecwid has excellent dropshipping features and connects well with platforms like Alibaba Spocket, Printful, Syncee, Wholsale2B, etc. These platforms easily let you connect your Ecwid storefront to sell and market your products.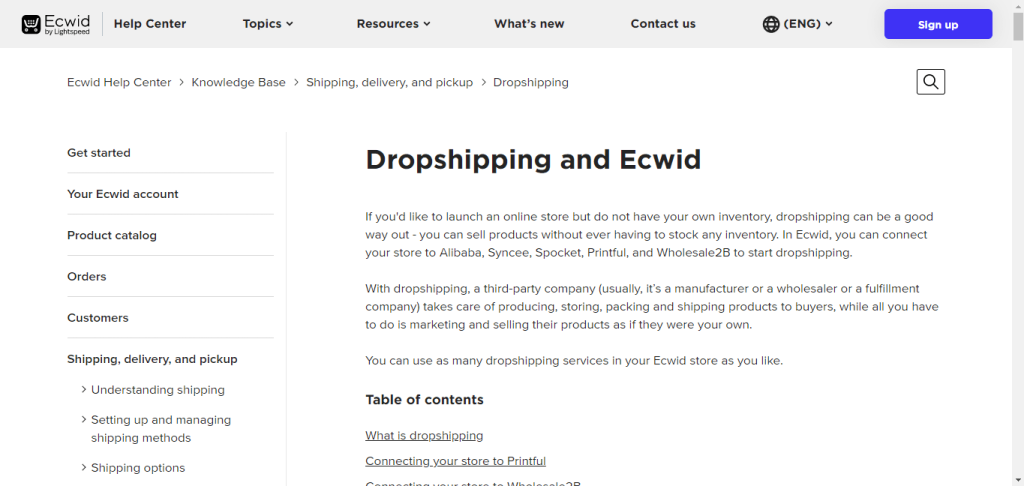 Moreover, Ecwid enables direct communication with the dropshipping supplier, which helps avoid confusion. Once the order is placed, you simply have to forward the customer's address details to the dropshipping supplier, who will directly ship it to the buyer.
Shopify Dropshipping
Shopify is a one-stop solution for maintaining all e-commerce storefronts and websites. This also includes dropshipping wholesalers and suppliers you can connect with your store.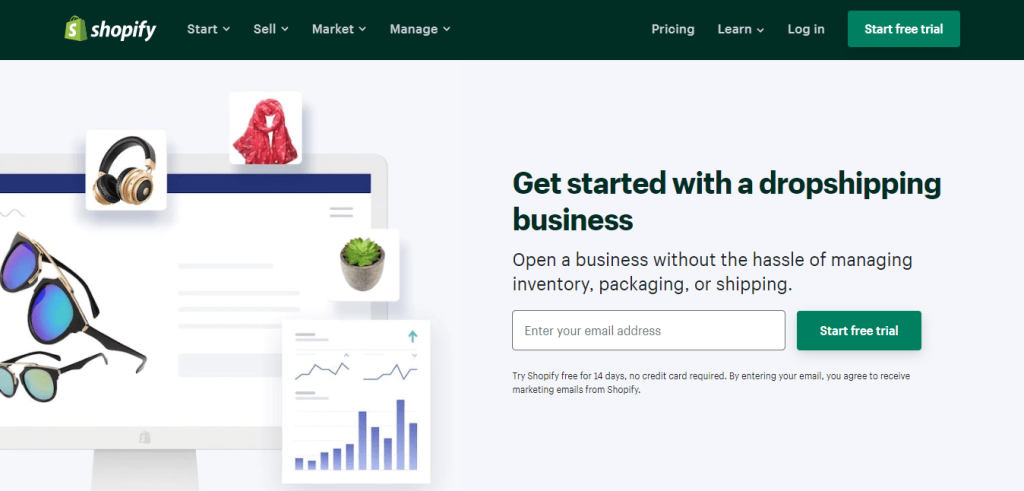 Shopify has a product research tool that enables you to find high-demand products; you can also find dropshippers from sites like Alibaba and Oberlo that directly deliver orders to the customer.
Once a buyer places the order, your Shopify store automatically forward their information to the respected dropshippers. After that, the order delivery is their responsibility, and you get to keep your share of the amount per order.
Ecwid vs Shopify: Pricing
To choose an e-commerce platform between Ecwid vs Shopify, you must understand their pricing to decide which platform fits your budget.
Ecwid Pricing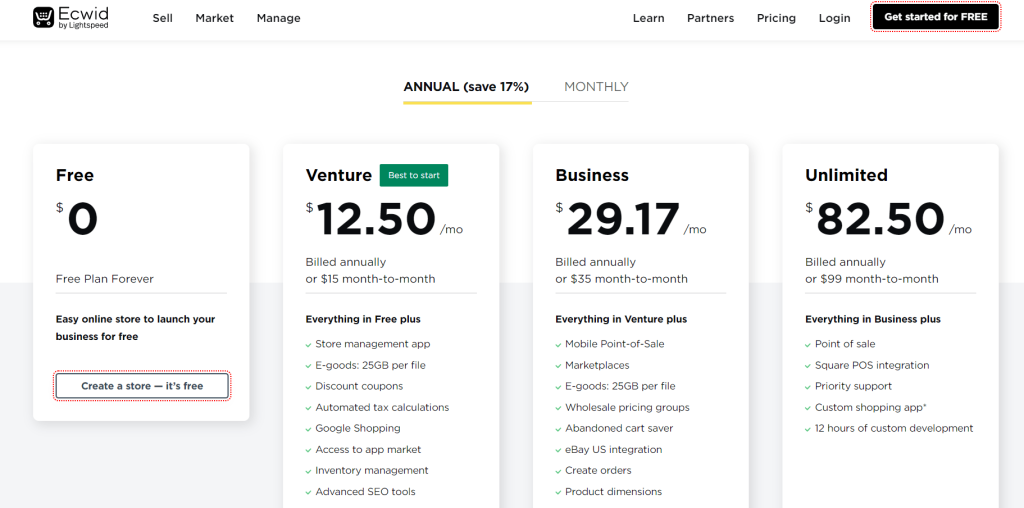 | Plans | Pricing | Best For |
| --- | --- | --- |
| Venture | 12.50 per month | Best suited for beginners with no prior experience |
| Business | 29.17per month | Best for small businesses with average revenue |
| Unlimited | 82.50 per month | Best for professional business owners |
Shopify Pricing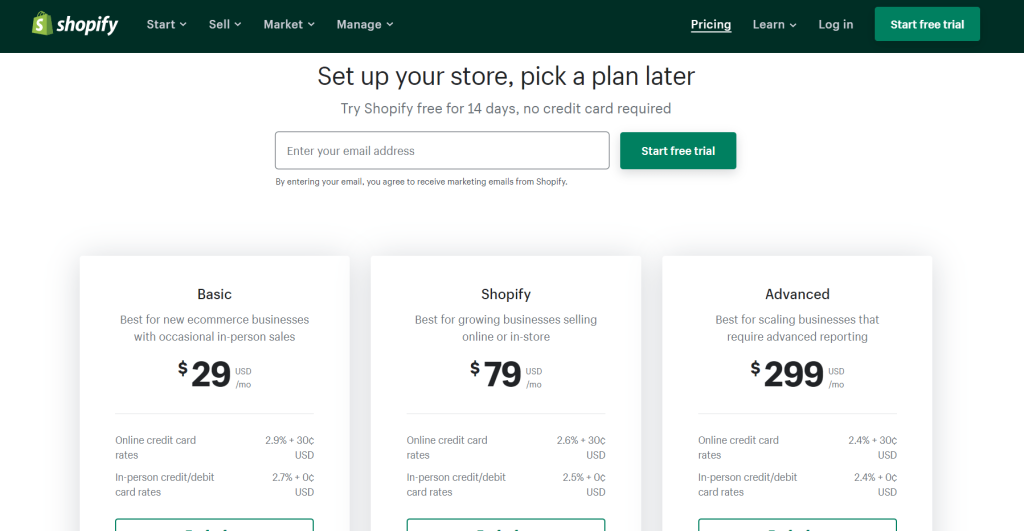 | Plans | Pricing | Best For |
| --- | --- | --- |
| Basic | $29 | Best for newbies and small businesses |
| Shopify | $79 | Best for entrepreneurs |
| Advanced | $299 | Best for fully developed and high revenue businesses |
Ecwid vs Shopify: Pros and Cons
We save the best for the last. The most exciting part of this article is the pros and cons of Ecwid and Shopify.
Ecwid pros and cons
| | |
| --- | --- |
| Pros | Cons |
| Can covert your pre-owned business into an online store | Lack of design choices |
| Use of reliable and familiar website building systems | AMP pages are absent |
| More than 40 language options | |
| Enables you to create a store mobile app | |
Shopify pros and cons
| | |
| --- | --- |
| Pros | Cons |
| Automated shipping calculations | Restricted editing in themes |
| Additional functionalities for inventory management | Short free trial |
| SEO optimization | |
| Easy transactions | |
Who is Ecwid Ideal For?
Ecwid is a powerful e-commerce platform for anyone trying to create and manage an online storefront or business website. You can collaborate with different media to run your store or establish an individual business website.
However, Ecwid is more famous for its social media integration and marketing regarding the selling approach. Moreover, it makes for a perfect e-commerce plugin that helps you boost your sales.
The primary role served by Ecwid is to help and grow small online businesses and stores. So if you are a small business owner running your store Ecwid is the perfect platform for you to promote your store and increase revenue.
Who is Shopify Ideal For?
Shopify has an advanced and well-built e-commerce structure and unlimited customization and design options. These designs include ready-to-use templates for newbies and fully customizable website and storefront tools for entrepreneurs and professional business owners.
The drag-to-drop feature enables you to create a store based on your preferences. In addition, it has powerful partners like Amazon, Facebook, and Twitter that helps you connect and advertise your store to a large audience.
Dues to its various features and other functionalities, Shopify is perfect for beginners, entrepreneurs, and professional business owners.
Final Thoughts
After going through the entire article, you must clearly understand the capabilities of Ecwid and Shopify. Both these platforms have unique tools that cater to different needs and requirements.
However, when choosing one e-commerce platform, we suggest you go with the one that fits your checklist the best and comes under your budget. For example, if you are a small business owner with a handsome amount to invest in the growth of your business, go with Ecwid.
Similarly, if you are a beginner or professional business owner who needs maximum customization within mina pricing, you should choose Shopify. Both platforms are great, and you would be satisfied with either. So let us know your choice in the comments section below!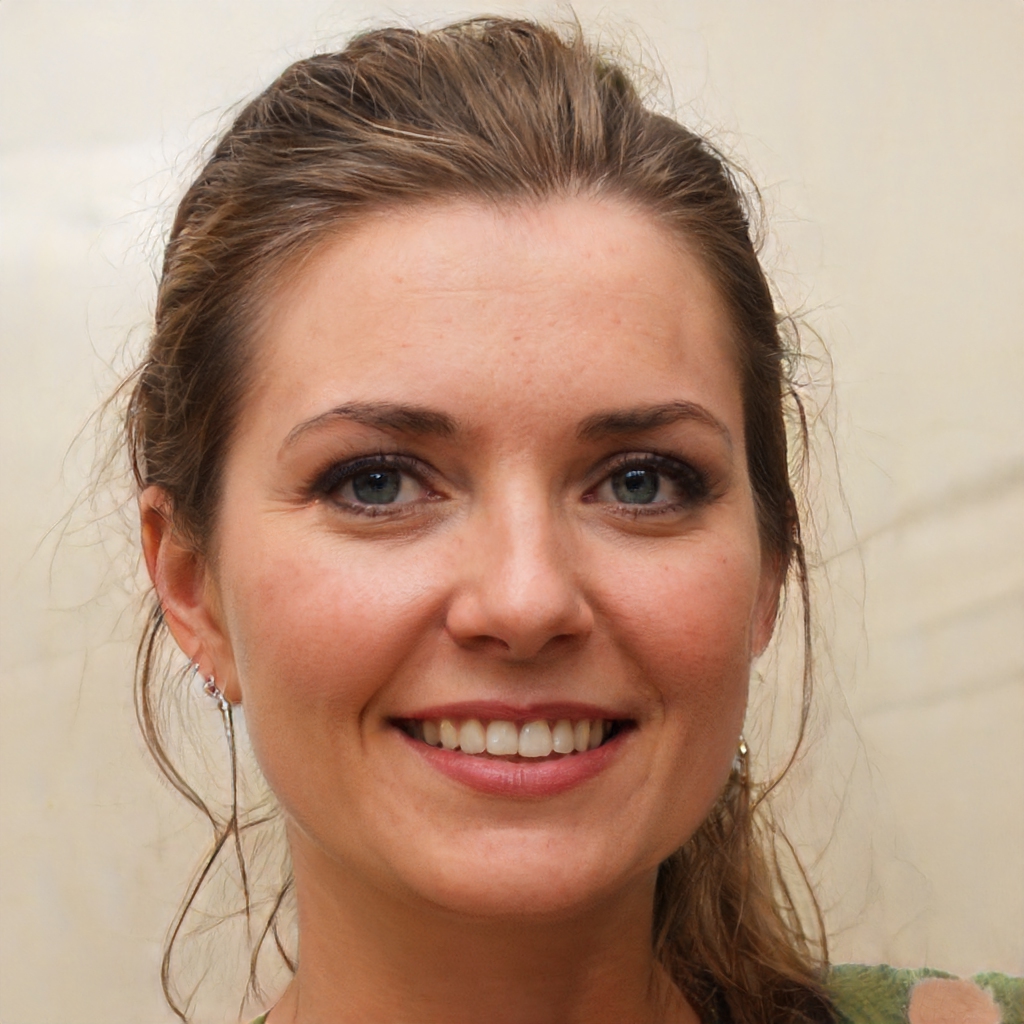 I'm a professor, serial entrepreneur and e-commerce expert with a passion for creating successful online business models. After achieving huge success in the Amazon FBA business, I decided to make it my mission to help my fellow sellers do the same through enjoy-aiia.com .