Are you wondering which one is better: Helium 10 vs. Jungle Scout? Then you have come to the right place. We are going to bring you a complete analysis of the two tools. It will cover chrome extension, product research tools, product tracker, and other valuable insights. So if you're wondering about whether to use Helium 10 or Jungle Scout, this is the one place that has it all.
Both of these tools are high-demand with low-competition. With that said, we are bringing you everything you need to know! So, let's begin!
Helium 10 vs Jungle Scout – Overview
1. About Helium 10
Helium 10 is software that seems to be built exclusively for Amazon users. It is a complete suite with a wide assortment of tools and features that can help anyone thrive on the platform. Primarily, it focuses on Amazon FBA Sellers.
It allows you to conduct a keyword search by finding higher ranking keywords. You can keep track of the competitors and spy on them to understand their strategies. Furthermore, there's an option to identify the trends and identify what makes a product so trendy. More importantly, you can thoroughly optimize your product and its listing to raise in the ranks.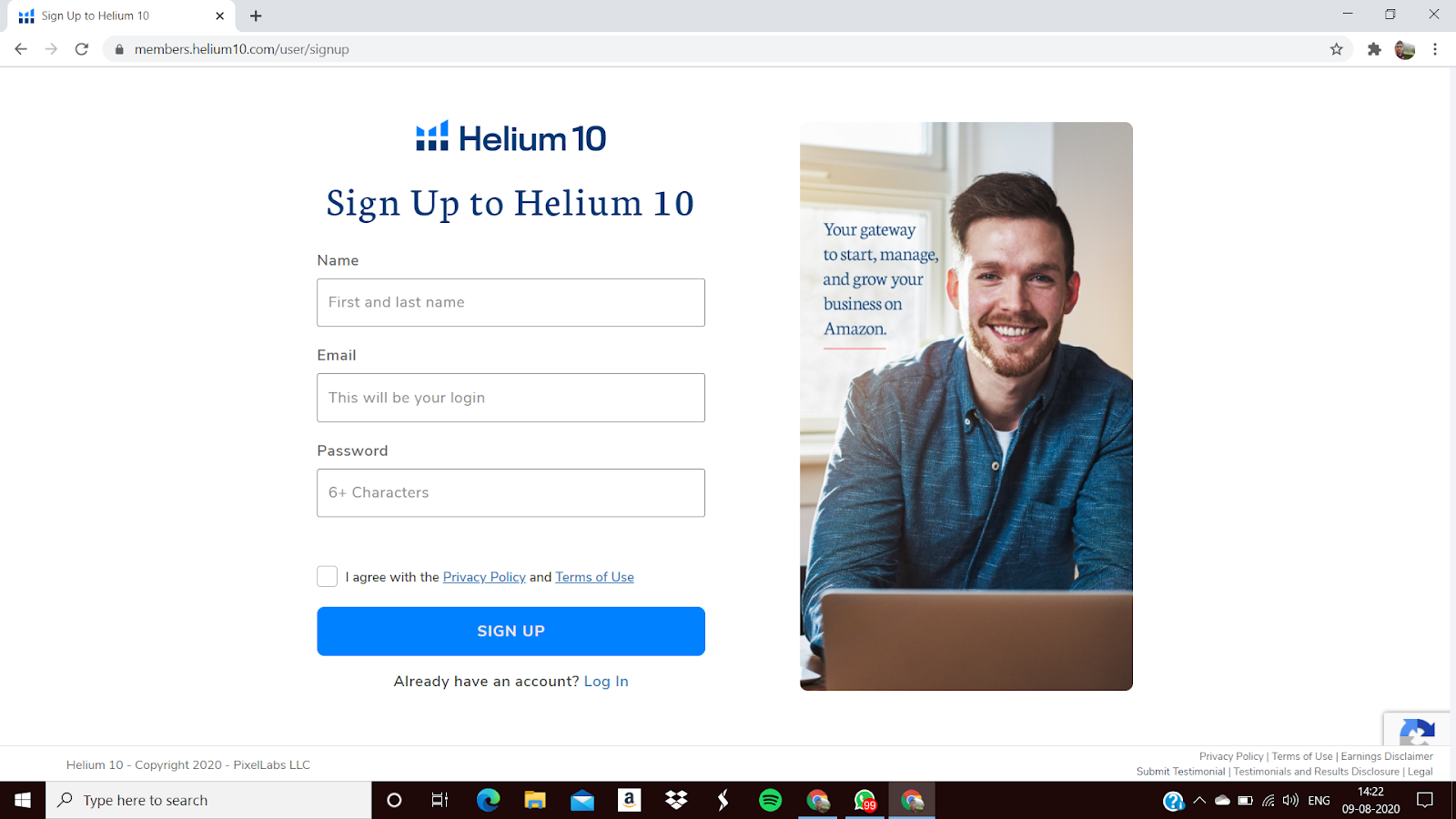 Primarily, Helium 10 came with around 10 tools that helped users. Over time, more tools were implemented according to technological advancements. It's like having a full-fledged professional platform for you to become an excellent Amazon seller.
Correlatively, you would have to invest time attending tutorials or learning through the database full of articles and videos. That will enable you to grasp the tools and use them optimally.  The most striking aspect of the tool is that it allows you to change your methods according to the goals.
Key Features Of Helium 10:
Complete keyword research with an organized spreadsheet for ease of research
Provides data-driven strategies according to the goal or objective (AI-integrated)
Reverse-engineers competitor's strategies to figure out keywords and other tactics
Black Box features enable you to find various products with high demands and low competition.
Includes cumulative data of the misspellings and another relevant content search for proper strategies
Refund Genius prevents you from loss and might even assist in making profits.
You have a free chrome extension to work with
A free plan is available for 30-days to try various premium features.
A complete marketing suite with proper tools to excel on Amazon
One of the highest accuracy rates, which makes it a top tool
Remarkable customer support and a complete database to assist in learning
Quite an expensive investment
It Will consume some time to get used to the tools and to understand them.
Not an intuitive suite, but professional
About Jungle Scout:
Jungle Scout is not a complete suite like Helium 10. However, it is more user-friendly and intuitive. While Helium 10 has various tools and features, Jungle Scout manages to keep it borderline easy to use and understand. It is gradually rising in the rankings and has become one of the best for its competent market research expertise. Overall, it is not only great for Amazon sellers but affiliate marketing, as well.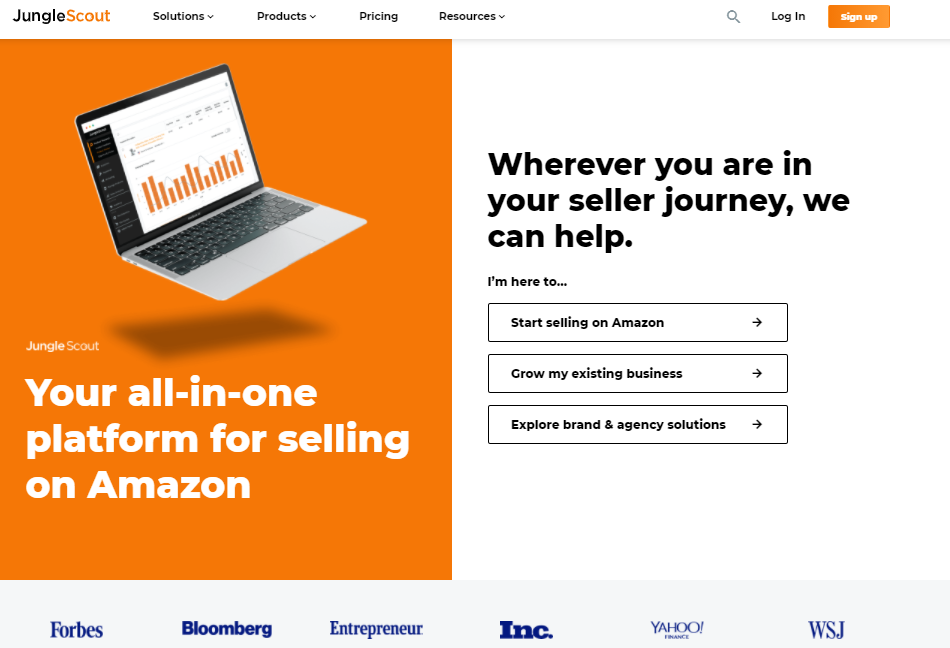 You gain access to various tools and features that bring you in-depth analysis of the product, trends, keywords, and relevancy. It brings you the ranking of the best selling products, reviews insights, and how well the competitors' tactics worked. However, the most striking aspect is that while Helium 10 is a complete suite, Jungle Scout is divided into two full-fledged apps.
You get a web app that becomes your hub for using Jungle Scout, and you have a Chrome Extension. Both of these will assist you in growing the Amazon business.
Key Features Of Jungle Scout:
Compares various products to bring you ranking (with the winning product)
Provides complete insights into the product, including sales history, reviews, price, and much more.
Niche hunter would enable you to explore product categories and find the right one.
Keyword research and a unique approach of scoring them for most effective ranking
Relevancy ratings to ensure you have the right optimization according to SEO and other popular keyword integration
An extensive product database with access to all of them for better market research
It offers cheaper plans with full features.
Intuitive interface, easy to learn, and easy to use
Higher accuracy rates than Helium 10 despite the lack of suite
Provides sales data of any Amazon product
Provides keyword research for any Amazon product
Compare sellers, strategy, and relevance to get various rankings.
Lacks mobile app
It doesn't have a free extension, unlike Helium 10
It doesn't have as many features.
Helium 10 VS Jungle Scout: Features
We could go into the in-depth analysis of each feature, tool, and option available. However, there are many similar features and tools that you get with both of these. The names might be different, but the function is the same. We decided to save you some time with a quick overview rather than expanding on it for no reason. Here is a quick rundown on the common features: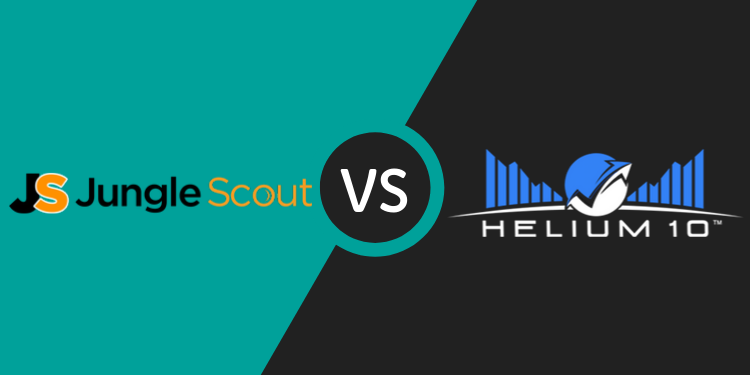 Black Box vs. Product Database: Both provide you a list of products with proper information available on Amazon
Both reverse engineer keywords provide insights regarding Keyword usage and ranking. You get the list in both of them.
You get insights regarding sales, advertisement performance, competitor's strategies.
It is easier to review your performance and curate new strategies.
Both offer chrome extensions with similar functionalities.
Unique Features Of Jungle Scout:
Two specific features stand out in Jungle Scout that Helium 10 doesn't have.
1. Supplier Database
A supplier database allows you to find verified competitors or sellers on Amazon. You can spy on them and follow each strategy or move effectively. The option is available right on the dashboard for you to use.
2. Giveaway Platform
If you're launching a new product or seek some promos, Giveaway brings you various ideas and options. It makes things easier for you to boost sales right off the bat. You can even curate it to meet the sales.
Unique Features Of Helium 10:
Similar to Jungle Scout, some Helium 10 features are exclusively available for the users. These are the ones that will help you understand the distinction between the two.
1. Refund Genie
If you struggle with learning how to get your refund of the losses, especially product damage and such, you will find it beneficial. Basically, Refund Genie helps you find errors in Amazon and showcases the proper method to get your refunds.
2. Competitor Keyword Spy
This feature brings you analysis not only of the SEO and keyword strategies but organic endeavors, as well. Hence you can check out the PPC campaigns, advertisements, and other organic integration of the competitors to see where you stand.
Helium 10 vs Jungle Scout – Accuracy
As both tools strongly rely upon data to provide insights and strategies, it is indispensable to learn about their accuracy regarding the task. Of course, both of them offer the highest accuracy available in similar tools. Here's a quick rundown on each one:
1. Helium 10 Accuracy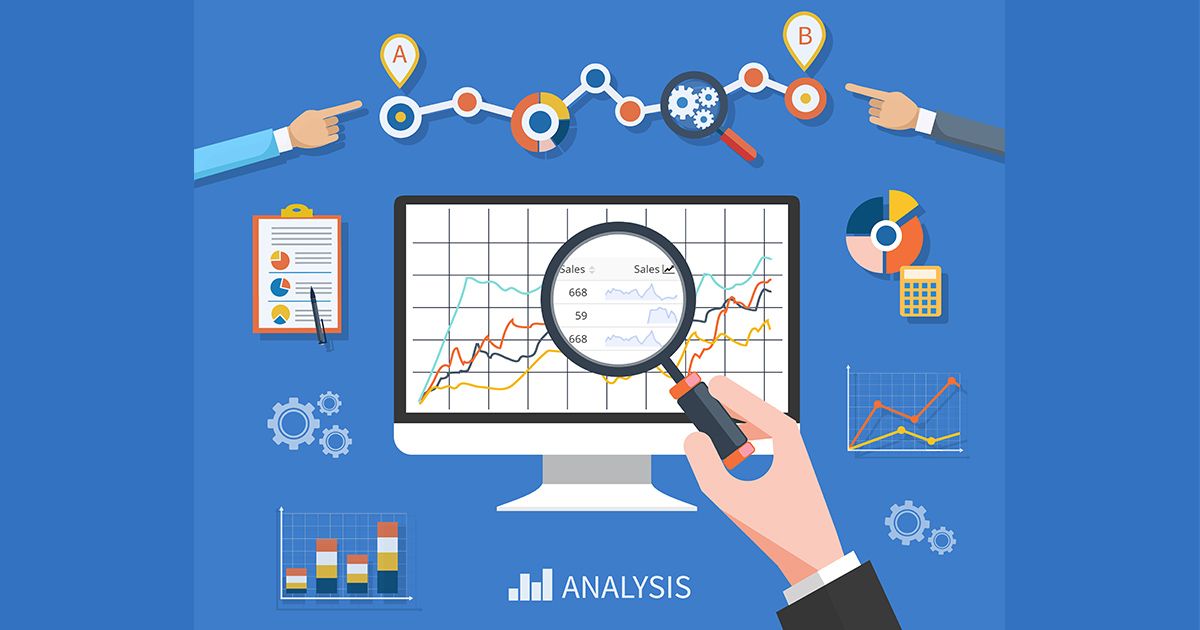 Helium 10 has an accuracy of around 70-80%, generally falling around 75% on average. It means that:
It has around an 8% chance of product failure.
There is around an 8% chance for the product to sell half the amount Helium 10 predicts.
There is around an 8% chance that it might sell around 1/3rd of the predicted sales.
However, all of these could become better or worse, depending on your proficiency at using Helium 10 tools to the market.
2. Jungle Scout Accuracy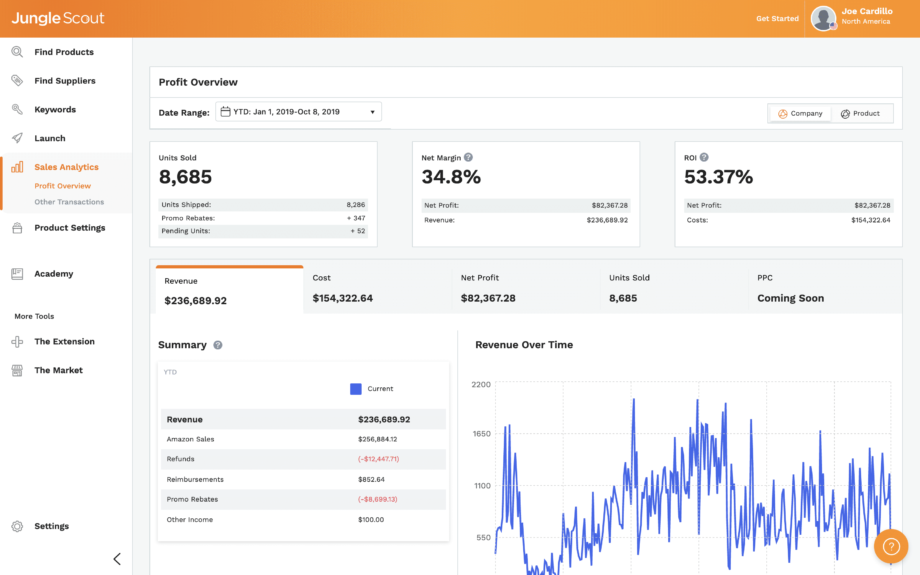 Correlatively, it seems like Jungle Scout has a higher margin of success and lesser of failure. It has around 80-85% of success rate. Perhaps it is due to the ease of use and the limited tools that don't require immersive learning as Helium 10. It means that:
There is around a 5% chance of Product failure.
You have a 5% chance that it will sell only half of what it predicts.
Around 5% chance that there will be 1/3rd the predicted sales.
Frequently Asked Questions:
1Q. Is Jungle Scout Or Helium 10 Free?
Ans: Neither of them is genuinely free.  However, Helium 10 does have a Chrome extension with access to a couple of free features. Jungle Scout will require you to invest money if you sincerely want to use it.
2Q. Are There Trials Available For The Two?
Ans: Helium 10 does have an extensive free trial and even a money-back guarantee. Meanwhile, Jungle Scout has a 14-days trial, and that is not available everywhere. It would depend on the user significantly.
3Q. Which One Is Better For Beginners?
Ans: It would seem that for new sellers, Jungle Scout would be a better choice as a research tool to sell on Amazon. However, it doesn't change the fact that you would have to subscribe to use Jungle Scout. So, in that regard, maybe Helium 10 would be better with the trial.
4Q. Can You Use Them In Mobile Phones?
Ans: There isn't any official Jungle Scout mobile app available for the users. However, it has a display capacity for mobiles and iPad. You can utilize that if you don't want a change in the interface. Meanwhile, Helium 10 does have a mobile app to support the users.
Verdict – Which tool should you use?
As you can see, we didn't cover Helium 10 pricing or Jungle Scout pricing because those are bound to change. Still, Jungle Scout is cheaper than Helium 10. Meanwhile, we would now come down to the main points that matter.
Best For Professionals:
Helium  10 is more of a professional product research tool that offers you a wide array of tools like Helium 10 Black Box and much more. Overall, it would require you to learn how to use it effectively for optimum results. Therefore, it is not a beginner-friendly tool. It is for someone serious about expanding Amazon Business.
Best For Beginners:
Jungle Scout is a competitive alternative to Helium 10. It is easier to use with an interactive platform. If you have a low-budget and first want to build a foundation with the product and online business, this is the one to choose. Over time, you will learn everything about these tools, and then you can move onto Helium.
Conclusion:
That's all! This concludes the review for the two more effective tools available. So, if you want to grow your business as an Amazon Seller, you should use one of them. From pros and cons to product research, we have attempted to bring you complete information if you want to know which one to use. Hopefully, you found it informative and now you can determine which one is best for you!