As lucrative as it appears from the outside, running an FBA business is quite a challenging feat. Even starting the business and finding a profitable product to sell takes a lot of research and planning, let alone making the money. There is a lot of thinking that goes into product research, keyword analysis, inventory protection, and so on.
To assist you with all the guesswork and analysis, there are FBA seller tools available that can provide you with valuable data and analytics regarding your business model. Currently, Helium 10 and Viral Launch are amongst the top seller tools, helping thousands of aspiring Amazon sellers make their fortune.
In this article, I have put together a detailed analysis of both tools including their key features, resources, and pricing information. The review is based on the opinions of over 100 Amazon sellers making a 6 figure income from FBA business. So without wasting any more time, let's get to the details.
Helium 10 Vs Viral Launch: Understanding the Platforms
Both Helium 10 and Viral launch are designed to help start-up businesses as well as established ones. In this review, I have analyzed their top features, key differences, ease of use, and pricing details. Let's have a look at each tool closely and hopefully we'll be able to figure out which one is right for your business.
Helium 10: An Overview
Since 2015, Helium 10 has been one of the top FBA seller tools on the market. It features a complete seller suite that includes a powerful product research tool, keyword manager, listing optimizer and inventory manager, and a bunch of other features that will help you grow your FBA business. It also includes financial analytics that allows you to keep an eye on your monthly sale, expenses, and profit margin.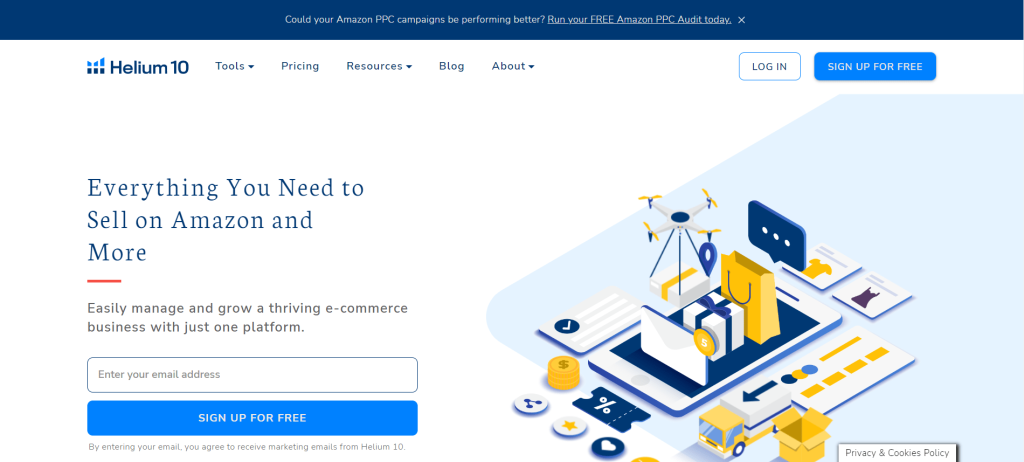 Helium 10 is a perfect business solution for beginners and also features a free-of-cost plan so that you can get a feel of the platform and its functionalities before you start taking advantage of premium services. Two striking features set Helium 10 apart from other seller tools – An easy to use interface and the widely popular Freedom Ticket training program.
Viral Launch: An Overview
Viral Launch is another FBA business assistant on our list which is gaining recognition rapidly, mainly because of its precise data and advanced PPC campaigning tools. Apart from a full seller suite, the platform also focuses on generating ads for its customer businesses. Since its launch, Viral Launch has helped its users generate sales of over $8 Billion worldwide.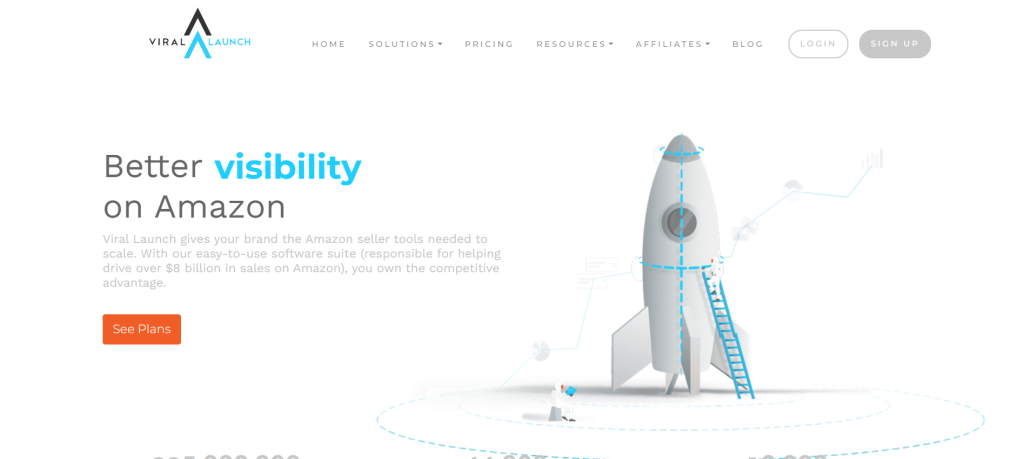 Viral Launch was developed back in 2014 with the aim to help the sellers create the most profitable business model and manage the sales, ad campaigns, and other business-end needs. Thanks to its real-time data integration, you can spy on your competitors, find the products with the highest margin, spot the best performing keywords, and much more. Moreover, you also get reasonable resources including ebooks, video lessons, and several online courses which give you insight into the FBA business environment.
Helium 10 Vs Viral Launch: Top Features
Let's have a quick look at the key features that Helium 10 and Viral launch has to offer:
Helium 10 Features:
Helium 10 has a Google Chrome extension – XRay that helps you retrieve vital data including the product price, ranking, revenue forecasts, etc in a few clicks.
The powerful product research tool BlackBox helps you locate the top trending and profitable products on the Amazon marketplace. You can further modify the research based on the monthly revenue of the product, type of niche, overall product ranking, and so on.

Review Downloader helps you extract the product reviews so that you can understand the concerns of customers.

Scribble is a powerful listing optimization tool that enhances your Amazon listing by analyzing the most relevant and trending keywords based on your product. It also regulates the number of keywords to be used according to the product description.

Trendster tool analyzes the market trends, price fluctuation, etc to forecast upcoming trends. You can plan your strategy and list your product, and set the price accordingly.

Refund Genie tool calculates and asses all your reimbursements from FBA and regulates the refund process.

Financial Analytics tool keeps all your financial activities in check. You can easily check your profits, expenses, sales estimations, and much more.

Inventory Protector allows you to keep an eye on your item stocks. The tool predicts the quantity you need to order in order to have enough stock to keep the sale going.
Viral Launch Features:
Product Discovery Tool helps you find the best-performing products on Amazon. It also includes various filters you can use to locate the top trending product that suits your preference. Not only that, but you can also find the products according to your expected revenue.

With Keyword Research Tool you can find the highest search volume keywords which you can use to prepare your Amazon listings. This is a great way to improve your search ranking on Amazon. Moreover, You can also create sponsored advertisements within a few minutes

Viral Launch also offers a Browser Extension that allows you to access the product information while you are browsing through Amazon.

Kinetic PPC Tool shows the pay-per-click performance of your ads. The tool allows you to monitor your ads, implement modifications, and manage keywords and campaigns.

Competitor Intelligence is similar to the Reverse ASIN tracker from Helium10. It gets you valuable insights into your competitor's performance. You can retrieve high-performing keywords just by the product ASIN and figure out the sales traffic, pricing, and much more.

Market Intelligence is the sales estimation tool from Viral Launch. It analyzes the current sales and market trends that allow you to plan a better strategy to improve your sales.

Quick Feature Comparison:
| | | |
| --- | --- | --- |
| Features | Helium 10 | Viral Launch |
| Product Research | ✔ | ✔ |
| Keyword Research | ✔ | ✔ |
| Browser Extension | ✔ | ✔ |
| Inventory Management | ✔ | 🗙 |
| Certified FBA Training | ✔ | 🗙 |
| Review Downloader | ✔ | 🗙 |
| Split Testing | 🗙 | ✔ |
| Opportunity Score | 🗙 | ✔ |
| PPC Campaigns | ✔ | ✔ |
| Listing Optimization | ✔ | ✔ |
| Customer Service | ✔ | ✔ |
| Sales history Analysis | ✔ | ✔ |
| Free Plan | ✔ | 🗙 |
| Refund Analysis Tool | ✔ | 🗙 |
| Mobile Application | ✔ | 🗙 |
Additional Benefits:
Apart from seller tools, both platforms provide some valuable additional services. When it comes to FBA business, there are two main ingredients that every seller would need at some point – Resources and Customer support. Let's see which platform offers better support to its users
Helium 10
To assist you with your queries and concerns, Helium 10 has 24/7 customer support available at your service. Whether you are having trouble navigating through the platform, plans, and offers, or even have concerns regarding data analysis, you can raise a request by email, generate a request ticket or even contact the support team directly from anywhere in the world. The response time is within 24 hours and you will have your issue resolved. Their support staff is well-trained for the job and has a proper understanding of the platform.
Helium 10 also offers an FBA training program for its premium users – The Freedom Ticket. It's an 8-week course that walks you through various tips and tricks that you will need to start and run your Amazon business successfully. You also get access to private sessions with marketing experts and some renowned FBA sellers.
Viral Launch
Viral Launch also provides customer support to its users via email and call. However, there are mixed opinions regarding the quality of service. Of course, you can raise your concerns about plan upgrades, payment methods, or refunds and they will respond to you within a reasonable time period. Many users have complained about the response time and some even claimed they never got a response regarding their queries. In terms of customer service, Helium 10 seems to be a step ahead of Viral Launch.
Although Viral Launch doesn't have a certified training program, you get a bunch of other resources including online reading material related to FBA business, video tutorials, and an online course that can help you learn the hidden secrets of the Amazon FBA ecosystem.
A comparison of Data accuracy
FBA business is all about data analysis and in order to succeed you need accurate data regarding the products' performance, sales history, keywords' ranking, and competitor's strategies. No matter what Seller tool you use, data accuracy is the key element in it. Both Helium 10 and Viral Launch are widely known for their data precision and validity. Let's check out which tool has the upper hand in terms of accuracy.
Data accuracy of Helium 10
Unfortunately, there is no proven method to find out the accuracy level of these seller tools. However, Jungle Scout, another popular FBA seller tool, has performed thorough research on some of the popular Seller platforms to figure out the accuracy level. Now, how authentic the data is, it's a bit tricky to figure out.
In the Jungle Scout research, the Helium 10 holds an accuracy level of 74%. Besides that, Many FBA sellers have also claimed that with Helium 10, the margin or error is 25-30%, meaning 3 out of 4 times, you are likely to get genuine information on the product performance, price, and sales history, etc. The more accurate the data is, the more effective your marketing strategies will be.
Data accuracy of Viral Launch
The Viral Launch has performed a little better in Jungle Scout's research. The tool is overall second in terms of data accuracy and validity. Now, it's not the most accurate tool by any means, however, the users have claimed that in real life as well, the Viral Launch is one of the top products when it comes to sales estimation and its data is somewhat more accurate.
Pricing Comparison:
In terms of pricing, Helium 10 offers slightly cheaper and flexible plans along with a free plan with limited functionality. However, Viral Launch has no free plan which is a shame because you don't get to know and understand the tool before you actually invest in it. Let's find out what plans they have for users.
Helium 10: The Plans and Offers
Helium 10 offers 4 plans – Starter, Platinum, Diamond, and Elite.

Starter
The Starter plan costs $39/month and provides you the limited usage of basic tools such as Keyword Research, Financial Analytics, and Listing Optimizer. You also get access to Freedom Ticket FBA training worth $997. A starter plan is designed for beginners who want to start their FBA business.
Platinum
The Platinum plan comes at $99/month and gives you full access to the product research and Keyword research tool. You also get additional services including keyword monitoring and PPC analysis along with all the services from the Starter plan. The Platinum plan is aimed at established businesses that are looking to grow on the Amazon platform.
Diamond
The Diamond plan costs $249/month and is more suitable for well-settled businesses looking for rapid growth. Along with all the features of Starter and Platinum plans, it gives you a multi-user license. You also get the premium features such as complete PPC campaigning and full access to Walmart marketplace data.

Elite
The plan is tailored for advanced sellers and costs $349/month. The plan gives you complete access to the entire Helium 10 platform and tools. It also includes monthly online training with market experts, in-person quarterly workshops, and access to a private Facebook group.
Offers
Helium 10 offers up to 25% discounts if you choose to buy a yearly plan instead of a monthly one. Moreover, there is a 7-day money-back guarantee if you are not satisfied with the Helium 10 suite of tools. There is free access to the Freedom Ticket training program worth $997 with either of the plans.
Viral Launch: The Plan and Offers
Viral Launch has 3 plans for its customers – Essentials, Pro, and Pro Plus Ads. If you want to save some extra bucks on Viral Launch, check out the Viral Launch Coupon Code here.

Essentials
The Essentials plan costs $69/month. It includes the product discovery tool and keyword research tool. You also get a Chrome extension for instant product research. Additionally, you get access to the global market data for worldwide product research.
Pro
The Pro plan costs $99/month and includes everything from the Essential plan. Besides that, you get monthly revenue and sales history filters to further fine-tune your product discovery. You also get access to the competitor intelligence tool and listing optimizer. You also get the powerful keyword tracker to monitor your keyword rank, performance, and so on.
Pro Plus Ads
Pro Plus ads plan costs $199/month and gives you full access to the Viral Launch Platform. The plan includes all the features from the Essential and Pro plans. Pro Plus Ads plan is aimed at advertising meaning you get campaigning ideas, 24/7 PPC monitoring, ads and campaign customizations, and much more.
Offers
All the plans include expert assistance, FBA studying material including video guides, and tutorials on how to succeed on Amazon. Viral Launch offers up to a 15% discount on yearly plans.
Related Read:
Verdict: Which FBA Tool is Best for You?
There you go. I hope this article clears the air regarding both FBA tools and you will be able to pick the better one. I have compared both platforms on various parameters as well as highlighted the key features and differences between them. Ultimately, it all comes down to your personal preference and business requirements. Here are some quick suggestions:
If data accuracy is something that matters to you the most, Viral Launch is a good option for you. With its precise data, you can plan better strategies and implement them ahead of your competitors to get a headstart.

If you are looking for a complete seller suite with a wide range of tools, and great customer service at a reasonable price, Pick Helium 10 without a second thought. Trusted by thousands of successful sellers, it's without a doubt one of the best FBA assistant tools ever.
If you need an unbiased opinion, I'd suggest Helium 10, simply because of its wide range of tools and ease of access. You can get a feel of the platform with a free plan and then purchase the premium one where you get the popular Freedom Ticket training to learn FBA business from the inside out.
Frequently Asked Question:
Which is cheaper: Helium 10 or Viral Launch?
Helium 10 is more affordable with the monthly plan starting at just $39 compared to $69 for Viral Launch.
Which FBA tool is the best overall?
Helium 10 is overall better in terms of features, ease of access, and services it offers. You also get free access to the Freedom Ticker FBA training program if you buy one of the premium plans. 
How can I expand my FBA business?
A. Running an FBA business requires a deep market study as well as a strategic approach. You need to know the trending and profitable products and how to properly list them on Amazon to attract the highest organic traffic. You can reduce your guesswork by purchasing an FBA seller tool. Taking an FBA training course is also a good idea before you step into the Amazon market. 
Which one is more accurate – Helium 10 or Viral Launch?
A. According to the research conducted by Jungle Scout, Viral Launch is 2nd most accurate in terms of market data and product information, sales history, etc. According to the report, Viral Launch is 79.3% accurate while Helium 10 is 74%