Although Ahrefs is an excellent SEO tool, it might not fit your list of requirements. You might be looking for other options because of budget or convenience. Here are the top Ahrefs alternatives to boost your search traffic.
There are plenty of SEO tools on the internet. But when it comes to the one that should fit your checklist perfectly, you can get a little confused, especially when you see so many biased or unpromising reviews.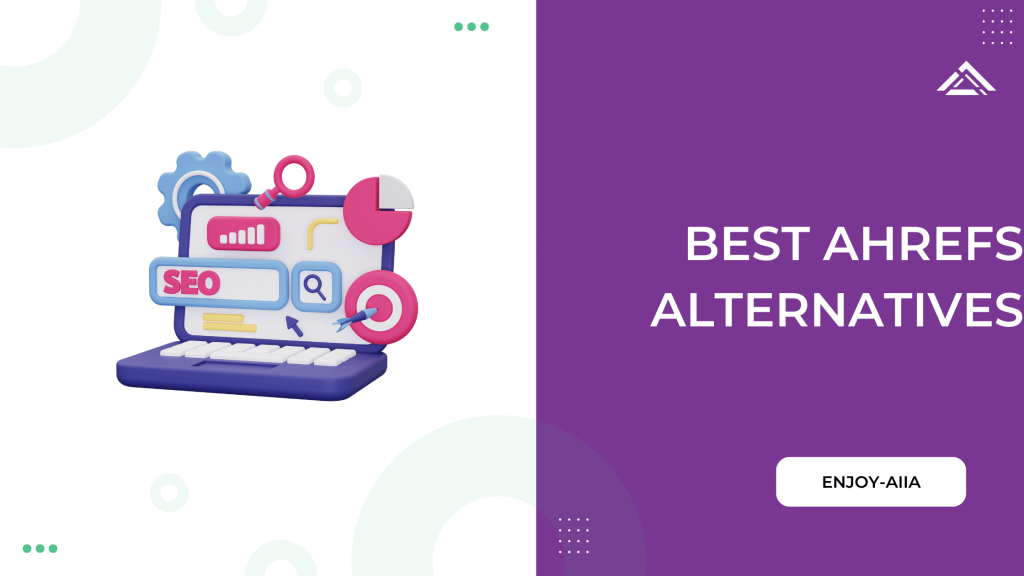 So to put an end to your misery, we have created a list of the nine best Ahrefs alternatives based on our experience. We have also mentioned our top 5 favorites at the very beginning for the readers who do not have the time to go through the entire article.
So what are you waiting for? Let's get into the details quickly!
Ahrefs Alternatives: Our Top 5 Picks!
If you are tired of reading extensive comparisons and reviews, this section is for you. Below are 5 Ahrefs alternatives that we find most efficient.
| | |
| --- | --- |
| SEO Tools | Why choose it instead of Ahrefs? |
| Semrush | More visibility and better refreshing speed |
| Ubersuggest | Extremely pocket-friendly |
| Majestic | Most established SEO software |
| SE Ranking | Most diversified SEO tool |
| BuzzSumo | Best performing content |
List of Top 9 Ahrefs Alternatives
In this section, all the Ahrefs alternatives are compared in detail. These SEO tools have unique features that might be perfect for your website or business.
1. Semrush
Semrush is one of the most robust and popular SEO tools for any website or online business. The reason behind that is it is a one-stop solution for all your needs. From a keyword research tool for PPC to becoming a complete SEO guide, Semrush has become one of the most preferred SEO tools in the market.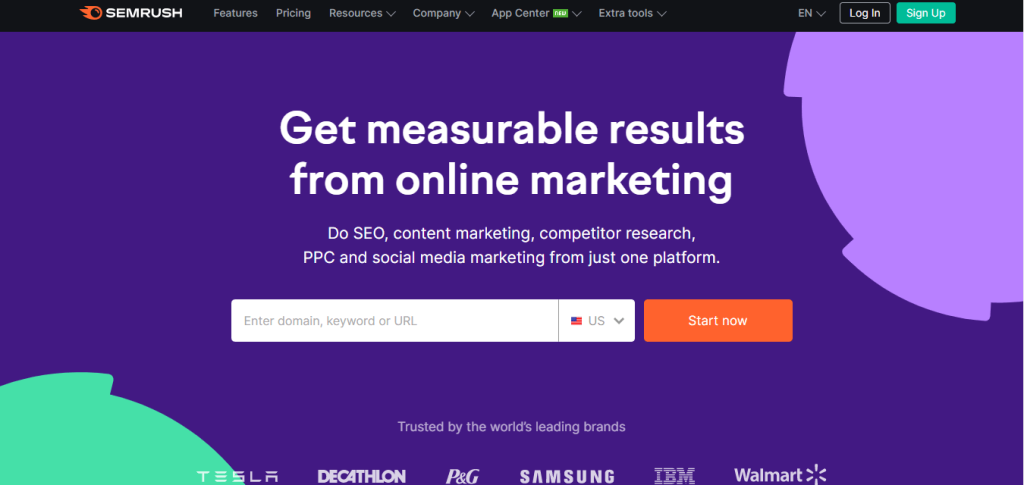 Whether you are into SEO or continent marketing or want to grow your social media, Semrush caters to everyone's needs. We have been using Semrush for years now and have seen it evolving it an exceptional digital marketing tool.
Key Features
On-page SEO
Competitor analysis
Rank tracking
Social media management
Content optimization
Market analysis
Pricing
| | |
| --- | --- |
| Plan | Pricing |
| Pro | $119.95 per month |
| Guru | $229.95 per month |
| Business | $449.95 per month |
2. Ubersuggest
Ubersuggest is an excellent SEO tool for beginners or people who do not have a budget for investing in expensive SEO software. Ubersuggest has all the necessary features and functionalities for boosting your website to search, plus its super simple website interface makes it easy for anyone to navigate through it.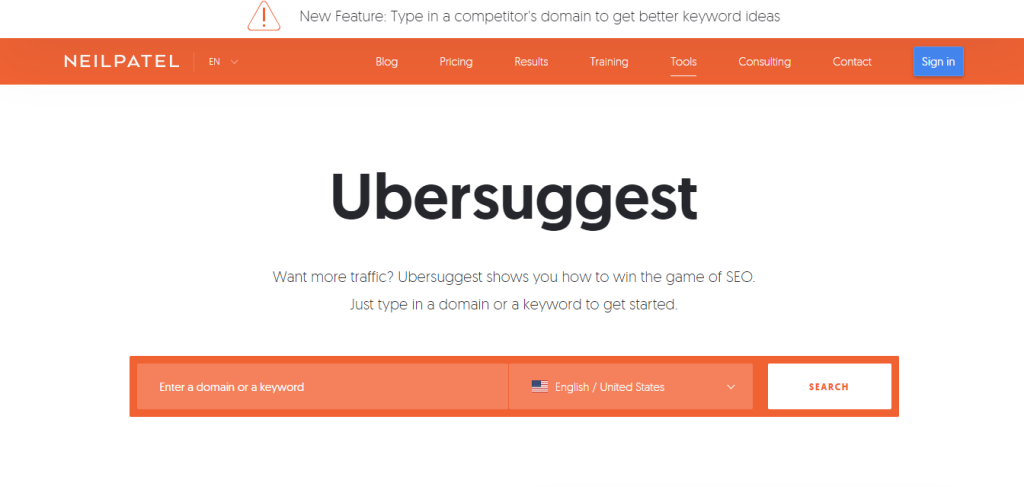 The best part about Ubersuggest is that the free plan has several tools that any other online SEO tool would charge for. Moreover, it also provides competitors' research for your website so you can learn about what is trending.
Key Features
SEO ranking
Backline data
Content suggestions
Keyword Suggestions
Competitor strategies
Exceptional customer support
Pricing
| | |
| --- | --- |
| Plan | Pricing |
| Individual | $29 per month |
| Business | $49 per month |
| Enterprise | $99 per month |
3. Moz Pro
Even though Moz Pro does not provide cutting-edge competition to Semrush or Ahrefs, it is an ideal option for someone who likes to stick to a specific pattern regarding features and website interface.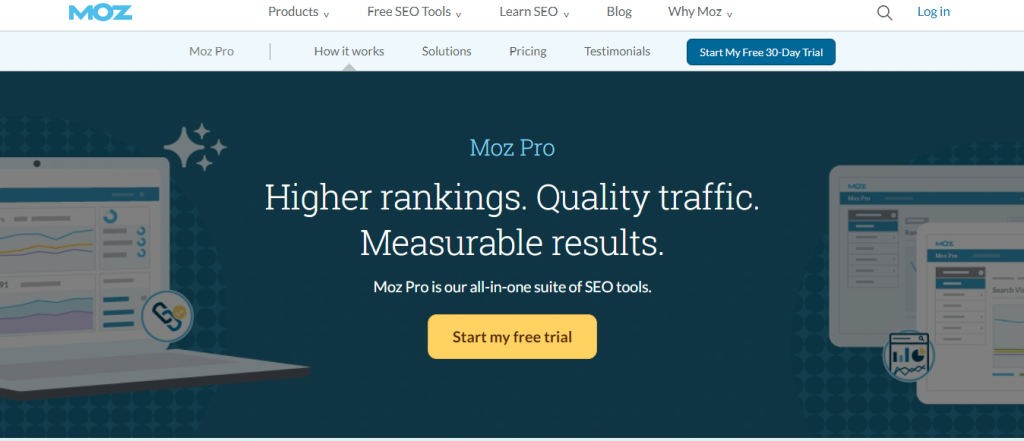 Moz Pro is known for its traditional and unique SEO research and marketing approach. They even launched a recent tool known as 'Keyword researcher' that provides accurate results. Moz Pro is not the platform for range; however, the quality and accuracy are top-notch.
Key Features
Link equity
Mozrank
Domain authority
Crawl diagnostics
Page optimization score
Link explorer
Pricing
| | |
| --- | --- |
| Plan | Pricing |
| Standard | $99 per month |
| Medium | $179per month |
| Large | $299 per month |
| Premium | $599 per month |
4. BuzzSumo
BuzzSumo is an all-in-one content marketing tool. It has over 8 billion articles and 300 trillion social engagements that can contribute massively to the growth of your website. Moreover, you can build high-functioning content and track your performance.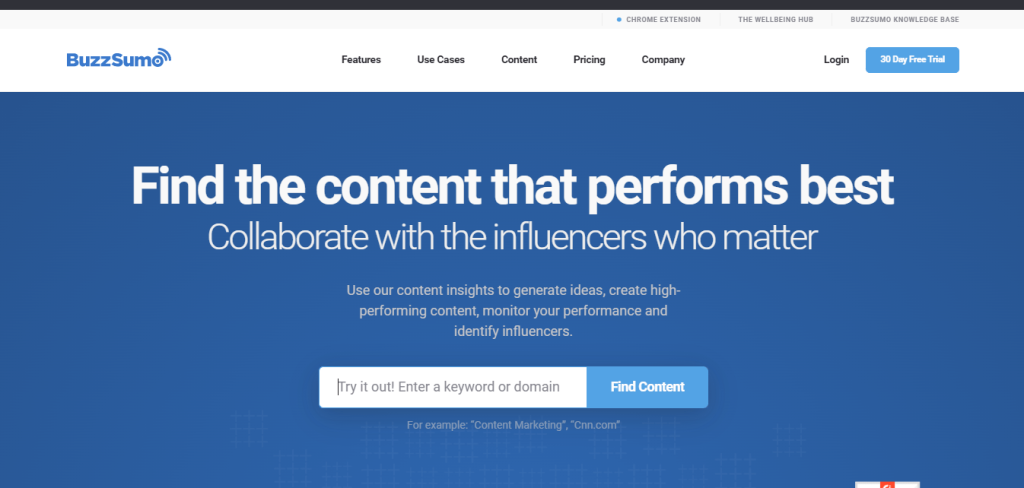 BuzzSumo is a popular choice of many marketing experts for depicting facts about content marketing and how to implement successful strategies to boost your SEO search.
Key features
Explore high-functioning content
Massive data analysis
Refine your marketing strategy
Connect with influencers who have high reach
Tracking comments and feedback
Quick and easy responding
Pricing
| | |
| --- | --- |
| Plan | Pricing |
| Free | $0 |
| Pro | $99 per month |
| Plus | $179 per month |
| Large | $299 per month |
5. Monitor Backlinks
Monitor Backlinks has one of the easiest and fast functioning interfaces. You can track your SEO progress and the rank of your keyword all from a single place. The dashboard is super accessible and has every necessary feature, so you do not have to keep switching sections.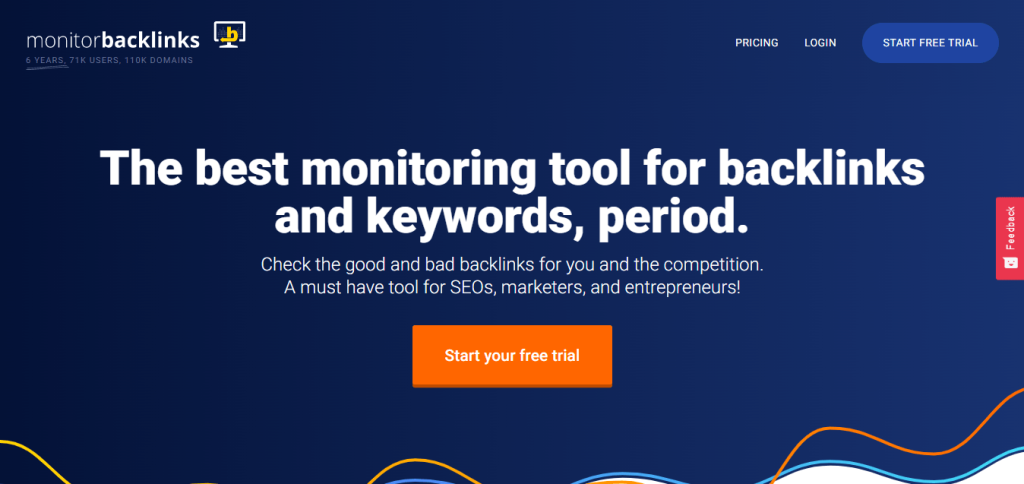 You also pull about 4000 daily rows of data, sufficient for a beginner or someone still in the learning process. You can even spot backlink patterns with helpful reports that are customizable.
Key Features
Monitor keyword ratings
Recover lost links
Backlink strategies
Establish efficient links
Connect with influencers
Conquer negative SEO with a disavowing tool
Pricing
| | |
| --- | --- |
| Plan | Pricing |
| Start | $25.00 per month |
| Plus | $49.90 per month |
| Professional | $99.90 per month |
6. Mangools
Mangools is a unique SEO tool that stands out from other SEO software in the market. Unlike other platforms, Mangools is not a combined SEO suite; instead, it is divided into five parts, each being a platform.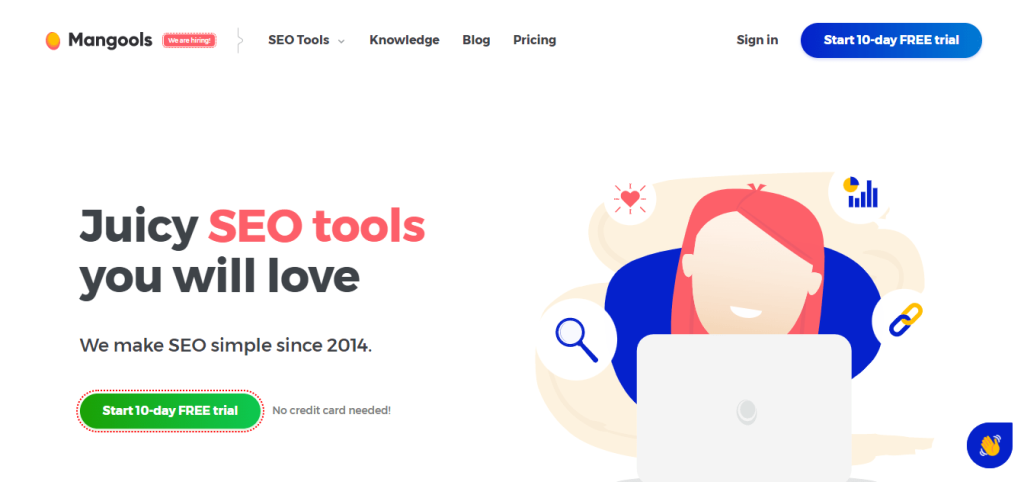 Let's say you want to perform keyword research for the sites on Google; for that, you must head to its KWFinder, where you can research keywords, import them, make a list, and even check your keyword history.
Just like the other four sections are built for an elaborative and convenient experience. They are under the labels SERPChecker, SERPWatcher, LinkMiner, and SiteProfiler.
Key Features
Robust backlinks
Competitor website analysis
User-friendly interface
On-page SEO
No credit free trial
SERP analysis to boost keyword research
Pricing
| | |
| --- | --- |
| Plan | Pricing |
| Basic | $49 per month |
| Premium | $69 per month |
| Agency | $129per month |
7. Majestic
Majestic SEO is one of the market's oldest and top SEO tools. Even though Majestic excels in backlink reports, it does not have expertise in other essential SEO tools. However, if you are looking for a robust SEO tool that offers link intelligence data to dominate your field, Majestic is an ideal choice.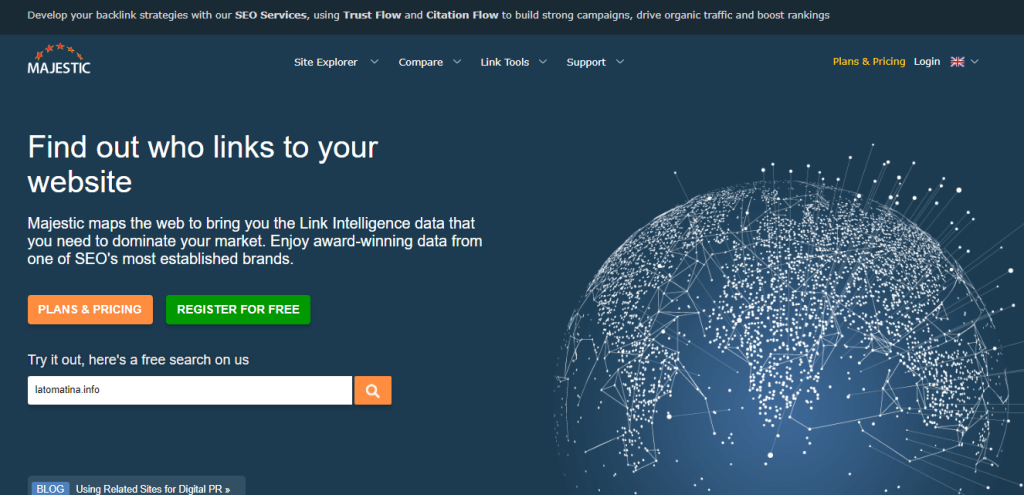 Rejection is the most established brand today and offers excellent data. It also has a free plan with some restrictions so you can experience the platform before you invest in it. It has more backlinks than most top SEO tools on the internet and is entirely beginner friendly.
Key Features
Quality check of websites and URLs
Citation flow
Flow metric scores
More than 800 categories of sites
Topical relevance of websites
Visibility flow
Pricing
| | |
| --- | --- |
| Plan | Pricing |
| Lite | 49.99 per month |
| Pro | 99.99 per month |
| API | 399.99 per month |
8. SE Ranking
SE Ranking is a perfect choice for people who want SEO software with all the adequate tools and functionalities. With SE Ranking, you do not have to switch between tabs to access different tools, as you will find everything in the one SEO software.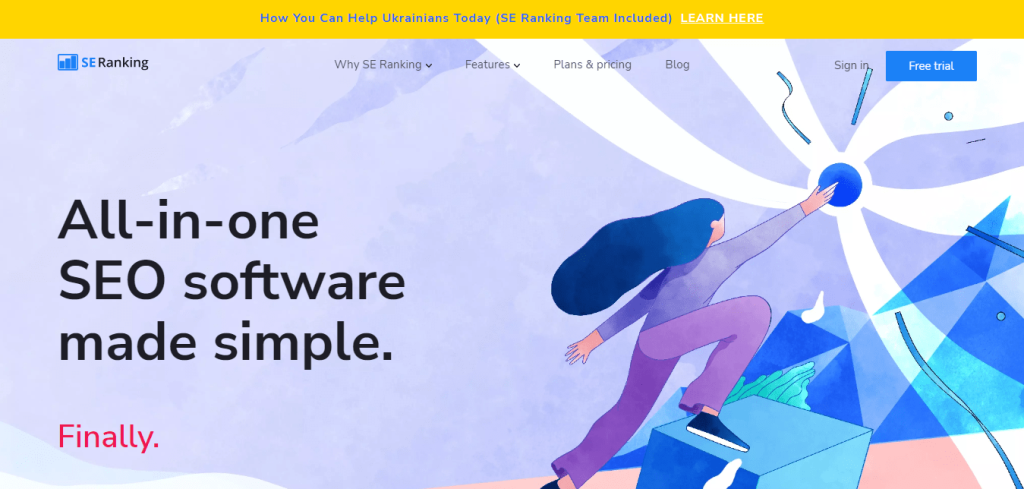 In addition, all the SEO analyses and marketing tools available on SE Ranking make your keyword research and website growth super convenient. Tools like on-page SEO checks, white labels, and page change monitoring can help you expand your website or business on different levels. You can even use social media for marketing and content analysis.
Key Features
Keyword grouper
SEO reporting
API Acess
Snippet crawler
Mobile-friendly
Search index status
Pricing
| | |
| --- | --- |
| Plan | Pricing |
| Essential | 39 .20 per month |
| Pro | 87.20 per month |
| Business | 191.20 per month |
9. Web CEO
Web CEO is a high-quality and advanced-level SEO software. Although the user interface of Web CEO is quite simple, it might not be suitable for beginners, especially those with no prior experience.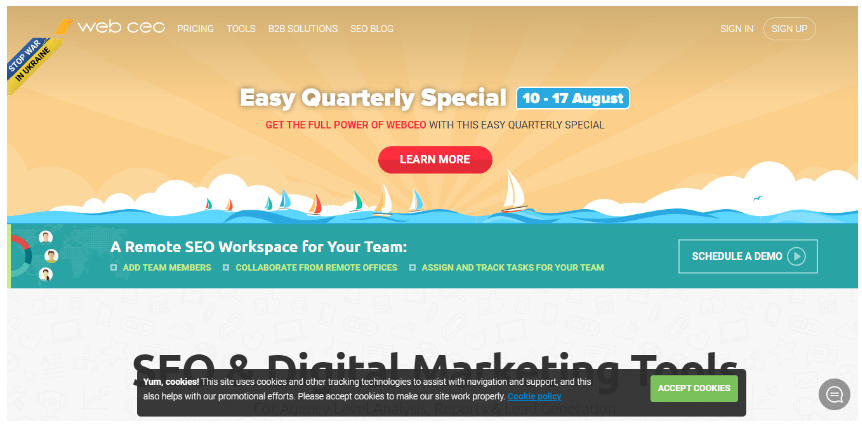 The reason is that Web CEO is known for its diversity and robust features, which are not necessarily needed for a beginner but are essential for professionals with high SEO search requirements.
It has a range of unique and excellent pro-level SEO tools that can run in-depth audits, monitor backlinks, social media content marketing, etc.
Key Features
Safe link building
Link detox
Detailed marketing analysis
SEO report
Task manager tool
Handy widgets
Pricing
| | |
| --- | --- |
| Plan | Pricing |
| Startup | $99 |
| Agency unlimited | $99 per month |
| Corporate | $299 per month |
Related Read;
Wrapping Up! Ahrefs Alternatives
And that is all for today's article on Ahrefs alternatives. Now that you have reached the end of the article, you must have a much clearer picture of what you want from an SEO tool. Make sure you do not rule out your budget while checking your list.
Once you decide on all the requirements from an SEO tool and your budget, you will select the best SEO platform for you within seconds. Those who do not have money to spend on SEO software can also choose from some excellent free choices above.
We hope this article helped you find an appropriate Ahrefs alternative for all your SEO and content marketing needs. For more such helpful articles, keep visiting our page, and we will ensure we never disappoint you.
FAQs: Ahrefs Alternatives
Which is the best free Ahrefs alternative?
If you are looking for a free SEO tool with the top features and functionalities, you must go with Ubersuggest, as it has several amenities available in the free version.
Is Semrush better than Ahrefs?
Although Semrush and Ahrfs have some excellent functionalities and are equally accurate, Semrush has a slight edge over Ahrefs in visibility and speed. 
Which is the best SEO software for beginners?
There are plenty of SEO tools available in the market which are beginner-friendly. However, if you want the maximum advantage, we suggest going with Moz Pro as it has uniformity in its interface or Magools because of its well-built sections.