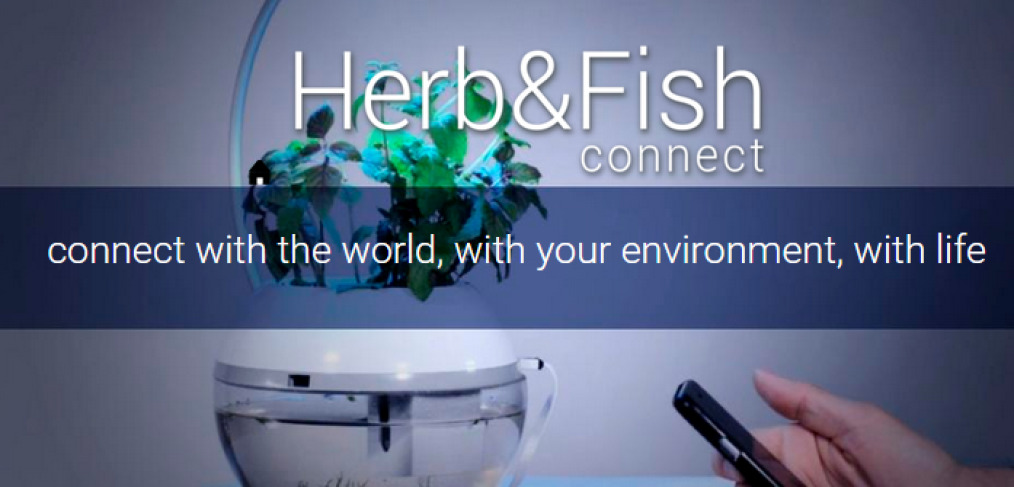 Herb&Fish CONNECT
Recently we've received an email from the reader of our blog, where he shared with us his project launched on Kickstarter. Surely, we can't pass by this awesome project by two reasons: it is amazingly cool and genius gadget that leaves no one indifferent and the second reason is that we are happy to support creative projects. And the third reason is that it is a great pleasure for us to help you. Did I mention two reasons? Oh, never mind;) Read about this great aquaponic invention in our article!

For several decades, there exists a problem of insufficient gardening in big cities. Citizens and volunteers plant trees and bushes to keep the right balance of oxygen in megalopolises. After all, green plantings decorate the concrete jungles changing the appearance of the city.
And what about the apartments? How to make an ideal aquaponic system indoors? The answer is – easily! Herb&Fish CONNECT can do this for sure as it is an ideal complete ecological cycle which consists of a fish bowl, plant and LED lamp. Moreover, it's the world's smartest aquaponic system that connects via an app to your smartphone.
The harmonic design of Herb&Fish CONNECT is made of circles that represent the aquaponic cycle. It has an elegant round fish tank, arc-shaped lighting, round-shaped cover and disc-like touch sensor switch.
Great news for organic food lovers! You can transform your Herb&Fish CONNECT into a kitchen herb garden – you can grow aromatic and tasty herbs such as oregano, basil, peppermint, lavender and many others.
1. Wireless LED Light Control
As you know everything in our world needs light to grow especially plants. Unfortunately, not always we can provide our indoor plants with the enough amount of light due to lack of window space, or hot radiator, or seasonal changes.
That is why Herb&Fish CONNECT is equipped with two LED lights that can help your plants and herbs grow and flourish as if they were in an outdoor space. Using your smartphone, you will be able to turn on/off the LED light and adjust the brightness in 4 distinct levels giving your plants all the energy they need.
2. Schedule Water Pump Control
Not only do humans need oxygen to breathe, fishes need oxygen too! Aerating your aquarium allows your fish to breathe properly which is essential for its good health. Water pump serves to oxygenate the water and give them the air they need to breathe and survive.
With Herb&Fish CONNECT, you would be able to turn on and off the water pump from your smartphone. You can also program the water pump to run on a set schedule.
3. Water Temperature Sensor
A water for a fish is highly important, that is why it should be always clean, aerated and have a definite temperature. Herb&Fish CONNECT will be able to constantly monitor the water temperature, making sure your fish is comfortable. So pamper your pets in the nice environment and make them feel at home.
4. Useful Alerts
One of the most important things about taking care of a pet is feeding them. But there are days where we are busy and often times forget this important task. You will be able to set personalize alarms to:
•Remind you when your fish needs to eat
•Remind you when it is time to change the water in the fishbowl
•Alert you when the temperature gets too cold or too hot
Isn't this device great? Our whole team thinks it definitely IS! And what do you think about it? Don't forget to write your impressions in comments and of course, support Herb&Fish CONNECT on Kickstarter!
All photos provided by Herb&Fish CONNECT