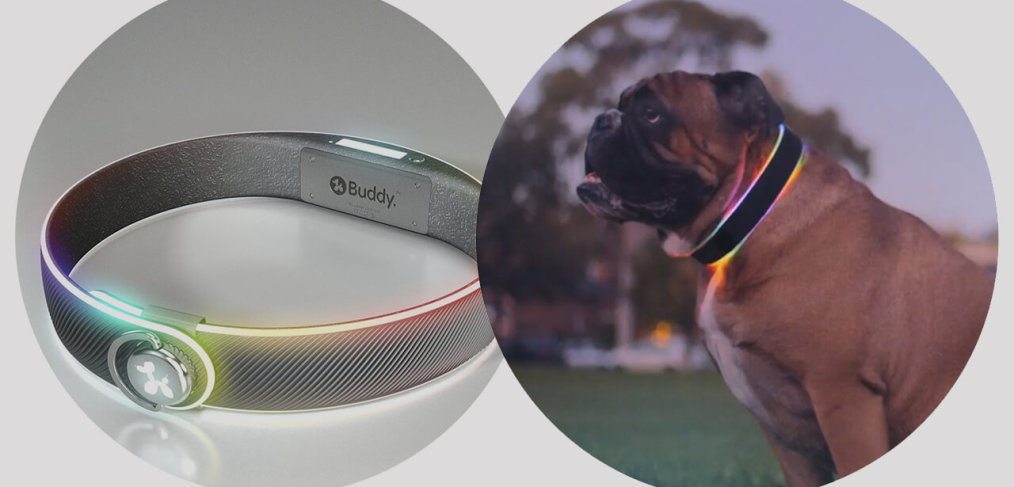 Tech News: #10 Issue
Hey, guys! This week is full of new, crazy and absolutely awesome gadgets as usual and we gathered the coolest items in our Tech News column. As usual too! Healthy eating, GPS pet tracker, finder, eco deodorant - you can read about these latest trends and many others in our post. My favourite one is "Buddy collar" - stylish and cute pet tracker. And what about you? Share your opinion in comments below.
1. A Stroller That Automatically Follows You
How incredibly cool would it be if a stroller could automatically follow you and brake when needed? That was the question posed by Dutch man Timo Ross back in April on his regional Volkswagen Facebook page, and the car company answered. Though it is most certainly an ad, and therefore potentially just a concept, the company designed and built a stroller that automatically follows someone around and brakes when needed. It accomplishes this with the help of a cruise control sensor from a Volkswagen Golf. Again, there's no real mechanical breakdown of how the stroller accomplishes this, so it's possible the whole thing is, well, fake as hell. But even if it's one big spoof, there's definitely a segment of the population that'd pay good money for it.

Photo by: Vimeo
2. Growbot
This one resembles a hobbyist project that's raged out of all control. You get a large tray, decked out in wood and peppered with plant-sized holes and loads of lovely gadgets. Solar cells power everything, and a 5MP camera combines with 'plant recognition technology' to best determine how to keep your plants healthy. Assuming you've connected a hose to the soilless system and actually planted some seeds, you should be good to go. If you're a hobbyist yourself, you can order just the brains and guts of GrowBot — perfect for creating a terrifying eco-android that will roam the streets offering people tasty organic greens while simultaneously wrenching evil fast food from their stupid human mouths.

Photo by: Organicgardenerpodcast
3. Lifedock
If there's one thing Lifedock creators always thought when faced with a dock for a smartphone, it's that they really don't have enough space for plants. OK, so they're lying, but having seen LifeDock, it's clearly something we should have been thinking. LifeDock, then, is a dock into which you plonk a device to charge, and a little place behind that for housing a tiny plant. This means the dock on its own actually looks nice, your techno-office has something potentially alive in it, and if you carefully position everything, you can make it look like a tree's growing out of your iPhone — all major plusses in our book.

Photo by: Indiegogo
4. Trakkies
There's a whiff of sexism in the trakkies video. (Women: rubbish at technology and organisation! Men: amazing at being relaxed and actual tech gods! Hrrmm.) However, the concept is smarter than whoever deals with the product's marketing. Individually, a trakkie is yet another location-aware tracker for ensuring anything it's attached to doesn't get lost. But multiple trakkies and your smartphone communicate, creating a geo-location web of sorts. You're then helpfully informed if you drop something important or are about to leave your house with your wallet, smartphone and bag, but your keys are deviously hiding underneath the sofa, intent on ruining your day.

Photo by: Metro
5. Saent
There are quite a few apps and bits of kit that aim to make you more productive through 'sprint' work sessions and website blocking. Saent combines both concepts, mostly by way of a minimalist orb on your desk. You give it a tap to start a session. User-defined websites are then blocked on your computer, a timer for the session is displayed, and Saent can help further by launching apps via gestures. Given that people like a pat on the head for actually doing their work, Saent graphs everything and awards points for not getting distracted by Facebook 50 times per day. You can then compare notes with friends and, presumably, boast about your score on Facebook before realising you've just lost your winning streak. OH NO!

Photo by: Brunchnews
6. Clickstick+
There comes a point when we have to wonder whether the entire tech industry is trolling us. A case in point: ClickStick+, which has such glowing quotes on its crowdfunding page as: "It's like owning an Apple product — perfectly engineered with perfected details" and "When you hold it, it's like a piece of jewellery". It turns out ClickStick+ is not, say, an Apple Watch rival, but "the first smart electric deodorant", which has wrested the most baffling use of 'smart' away from cookers, necklaces and toothbrushes. But to give the inventors their dues, there is actual smartness here: in making deodorant "more fun and effective", they've created a refillable unit that has a bundled light and even an app. Although the smartest aspect for them might be selling refills if enough people buy the thing.

Photo by: Crookedbrains
7. Minim
We can't resist a cute little music controller with loads of glowing lights, and Minim is very much that. The pocket-sized device has eight velocity-sensitive pads, a load of buttons, a touch-based fader, and will respond to 3D motion in order to apply weird effects to your music. At about the same size as an iPhone 6, it's pocketable, and it appears to work with a whole bunch of iPhone, iPad, and Mac software. Just don't get drunk and mix it up with your iPhone, or you'll look like an idiot repeatedly trying to launch the Phone app and only getting jaunty guitar riffs in return.

Photo by: Ask
8. Remix Mini
Remix Mini claims to be the "world's first true Android PC", which suggests all the others are somehow false. But it does look the business, augmenting Lollipop with PC-like productivity features such as multiple-window multitasking. We're also smitten with the idea of a capacitive power button on the top of the device, rather than having to fish about for a switch. In reality, the Remix Mini's no more likely to replace your actual PC than a VIC-20, but for a piddling 30 bucks, it seems like a fun punt if you've a spare screen, keyboard and mouse knocking around and gagging to become useful once again.

Photo by:
9. Buddy Сollar
The Buddy collar is essentially an activity and location tracker for dogs rather than humans. It looks like a regular collar, excepting the glow that makes the dog visible in darker settings. The makers promise the collar is easy to use — there's a single button paired with a small integrated display for scrolling through different data screens. There's location tracking in real-time via GPS for keeping track of where the dog is located. The collar also features Bluetooth connectivity, a variety of sensors for tracking activities, a water resistant design, social alerts, calendar alerts, durable construction, geo-fending, integration with home automation setups, health statistics, both a web service and an app, and a two-week battery life.

Photo by: Springwise