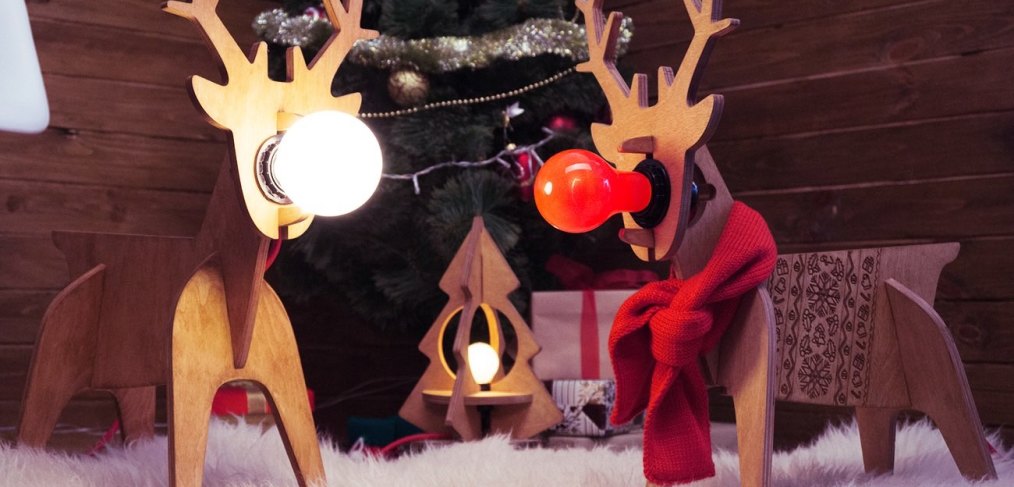 25 Perfect Gift Ideas For Christmas
Can you feel it? There's something in the air…Ah, got it! It's Christmas feeling because this wonderful holiday is just around the corner and it's hight time to think about gifts! But don't panic, because we already prepared for you 25 perfect gift ideas for Christmas. I'm sure that everybody will choose several gifts from this list as it was made considering all the tastes: gifts for tech geeks, for magic lovers, for romantics, for men, for kids, for future moms, for pets…and many many others! Go read this article, choose gift and be ready for the Christmas!
P.S. Don't forget to mention in comments items you going to buy for your closest people - Santa and I are extremely interested!

1. Rosle Kitchen Torch
You can now prepare amazing desserts like the crème brûlée at home by using the Rosle Kitchen Torch. The device is ideally designed for caramelizing creme brulee or for roasting peppers. It can go up to a temperature of 2372 degrees F. The torch comes with an adjustable gas dial which can be used to regulate flame size. There is also a child resistant safety switch to prevent your little ones from hurting themselves. The .04 Qt gas reservoir easily guarantees up to 60 minutes of operation with a continuous flame. Blow torches for cooking is a popular concept these days and having one in your kitchen will only help you experiment more with your cooking styles. It's safe, efficient and definitely a must have for the creative chefs in you.

Photo by: Gadgetflow
2. Black Diamond iPhone Charging Ambient Dock by Yantouch
From gently waking you up in the morning to playing your favorite tracks with light effects, this Black Diamond iPhone Charging Ambient Dock by Yantouch does a lot more than just work as a simple charger. The diamond design together with the inbuilt 3D lighting effects such as rainbow, plasma, flames, etc can help you create that romantic atmosphere indoors anytime during the day or night. It has a passive amplifier which automatically boosts music volume by 2.5 times once you plug your iPhones into it. The charger works with iPhone versions 3G/3GS/4/4S and also highlights an alarm clock system which can gently wake you up in the morning with sound and light effects. A charger that can simply blow you off with amazing features and terrific looks.

Photo by: Giznet
3. Cracked Log Lamp – Made From Salvaged Logs
Use the naturally occurring cracks from salvaged logs as a beautiful light source through these Cracked Log Lamps. They have been designed from logs which would have been burnt if not used this way. The idea is to add an artistic elegance to your indoors in the form of a lamp which is visually pleasing and elegant enough to give your room that romantic glow every night. The warm yellow light is indeed a beauty which will enable you to embrace those cracks in the logs. You may have considered those cracks to be of no use but this lamp will make you think otherwise. Because it has transformed a simple log of wood into something extraordinary. So get prepared to bring nature indoors.

Photo by: Gadgetflow
4. Eco Poka Feet Warmer Cushion
The best way you can keep your feet cozy and warm during a chilly weather is with this Eco Poka Feet Warmer Cushion. You just have to slip your chilly toes inside them and pull the leg warmer section as tight as you want. The comfy and furry cushion will work as a pair of slippers and help in keeping your feet nice and warm. There's a special polyurethane layer which has been designed to keep the cold from the floor away from your feet. The bead materials will make sure your body heat stays inside and you don't get to feel the cold any longer. An eco-friendly sustainable approach to warming your feet and body heat during winters and staying snug and warm all the time.

Photo by: Gadgetflow
5. Children's Cotton Canvas Teepee
That backyard campaign experience can now come indoors for your kids. Thanks to the Children's Cotton Canvas Teepee, this dream has finally got its shape in reality. It has been crafted out of heavy-duty cotton canvas and is both flame retardant and mildew resistant. The wooden poles will insert into plastic sleeves in order to flaunt an easy assembly. You can add your own design to the teepee in order to create a beauty of your own. It could work as a cozy hangout place for 2 to 3 kids at a time. Wow, your kid's playroom just got a cool makeover!

Photo by: Gadgetflow
6. Kymera Magic Wand Remote Control
The Kymera Magic Wand Remote Control gives you the opportunity to perform magic in your own home! Imagine walking into the room with your children and their Muggle friends watching TV, whipping out a magic wand from under your jacket and changing the channel in a flash. Why not add a magic spell into the equation to really impress them! An ideal birthday, housewarming or Christmas gift for any Harry Potter fan, the Kymera Magic Wand Remote Control will have friends and family spellbound as you zap to your favorite shows with a flick of the wrist. Why torture yourself during those terrible American Idol auditions? Mute your TV in one magical instant with the Kymera Magic Wand!

Photo by: Kymera wand
7. Lost Socks Rack
Matching pairs of socks everyday is quite a pain sometimes and it's in such moments when you'd want the Lost Socks Rack. It's definitely a trendy rack for your socks with even the words "Lost Socks" engraved on it. But the best part is that it makes the pair stick together instead of lying scattered in the cupboard. This not only looks good on the wall and shows how organized you are but also saves your time from searching for the right pair of socks everyday. For sock lovers, it's more than just a rack as it gives them an opportunity to flaunt their best collection. Whilst this goes for the daily routine, imagine the fun this rack would make on Christmas Eve!

Photo by: Dotandbo
8. Fika Snow Village
This design is based on the image of a small village covered in snow. The shape is simple. The size is cute. The design has been created to produce associations with snow and Christmas. We also hope that you love the subdued grain and cozy warmth of the maple.

Photo by: Pinterest
9. Treemas, Deermas and Rudolph
Start your preparation for Christmas now! Back and get your favorite lamp by the 15th of December! Treemas is a Christmas tree lamp designed with plywood sheets, red cord and a filament lamp. Deermas is a Christmas reindeer lamp designed with plywood sheets, red cord and a filament lamp. Rudolph is a Christmas lamp dedicated to the favorite Santa's red-nosed reindeer. It's designed with plywood sheets, Christmas ornament, red scarf, red cord and a red filament lamp.

Photo by: Gadgetflow
10. Ulo – The Interactive Surveillance Camera
Get 24-hour home security whether you're home or not with Ulo, the interactive surveillance camera. With an owl design, this clever device even has actual eyes to focus on the environment. Communicating and interacting with you through eye expressions, Ulo can get across a variety of messages. Although Ulo looks cute, inside are a whole host of surveillance technologies. The beak is actually a two-way mirror with a camera and a motion sensor. Below the beak is a microscopic microphone. Inside is a speaker, an orientation sensor, Wi-Fi connectivity, and is all topped with a capacitive button. The eyes, which you can customize for color, size, and shape, provide an elegant LCD screen. When you leave your home, Ulo automatically sends you GIF updates to your email inbox or you can tune into the app for a live view. The rechargeable battery gives Ulo life for up to a week.

Photo by: Vivien Muller
11. Spherovelo by Early Rider
Your little kids can now have an enjoyable ride on this Spherovelo by Early Rider. It is a special balance bike which has been designed for kids aged between 10 and 24 months. The bike uses two spheres in place of wheels that will allow your kid to be trained in motor/balancing skills while they ride on this bike around the house. The spheres can have supporting wheels if required. It's a safe and secure way your kids can get to bike around at home in the early years of their growing stage and learn specific motoring skills that way. The bike design is unique and kid-friendly which is why you should have one soon for your little one. Let them explore their riding skills at the earliest stage of their life for a fantastic future ahead.

Photo by: Edinburghbicycle
12. BATBAND
BATBAND™ is an elegant piece of sound technology allowing you to listen to your private soundscape as well as the world that surrounds you. Human-centered design meets technology delivering a high fidelity acoustic experience via an innovative bone conduction system. BATBAND™ works via bone conduction, consisting of transducers that emit sound waves perceived by your "private" inner ear, thus freeing your "social" outer ear. Sound waves are transmitted at a frequency that can be conducted through the bones of the skull. Your ears remain free, therefore you get to hear twice as much, without compromising on comfort, quality or style.

Photo by: Thecoolector
13. HandyCase – Makes iPhones and iPads Transparent
HandyCase is a revolutionary technology that allows users to tap and swipe their mobile device from behind without obscuring the screen with their hands. As soon as users attach the case to their phone or tablet and connect to Bluetooth, they can interact with their devices using all fingers from one or both hands, and can, in effect, see through the device.

Photo by: 15minutenews
14. Waring Pro Wine Center – With an Electric Wine Opener and Wine Preserver
If there is a wine party coming up at home, try using the Waring Pro Wine Center as your next best wine accessory. The set includes an electric wine opener and wine preserver which sits on a handsome charging base. The features of this wine center have been finished with brushed stainless accents which make an adorable view altogether. There are two wine stoppers and a foil cutter as additional benefits. The electric wine opener is capable of removing up to 50 natural or synthetic corks with ease and keeps bottles well sealed so as to retain freshness for a longer span of time. But what sets it apart is the convenient charging base unit for storage. Your wine parties gets a fabulous accessory altogether.

Photo by: Gadgetflow
15. Karaoke Moment
A compact sound bar that lets you enjoy karaoke, enhances your gaming, and home movie experience. Moment is a high-fidelity sound bar, only more versatile. This world's first compact sound bar comes with a built-in mixer, complete with a wireless microphone & subwoofer to serve your entertainment needs. Whether it's singing karaoke, listening to music, enjoying a movie at home or even gaming – Moment does it all minus the cable mess. Isn't that awesome? Conventional karaoke machines are always plagued by limited song availability, restricted by CDs, DVDs, or a subscription model. More often than not, even as we are willing to put up with the extra costs and hassle, songs we want frequently aren't available. Overly complex technical components, coupled with difficulty in setting up usually is enough to put us off having a karaoke system at home.

Photo by: Gadgetflow
16. Smart Portable Fish Finder by Deeper
Take your fishing experience to better heights of precision and accuracy with the Smart Portable Fish Finder by Deeper. This versatile wireless sonar is a perfect accessory for those who are often out for ice fishing, kayak, boat and shore fishing. The device supports more than 7000+ smartphones and tablet models and can transfer data from up to 150 feet (45 meters). Since it doesn't require cellular data to operate, you can use it anywhere. The dual frequency sonar will allow you to cover wide areas for ample search as well as narrow areas for high accuracy returns. It is perfect for both fresh and salt waters and is pretty smaller in size as compared to other traditional sonar or flasher. Catching fish will be super fun with this!

Photo by: Sportfishingmag
17. Gnarbox – Real time Photo or Video Editing of Up To 4K Footage
Gnarbox is here to eliminate one of the biggest problems of photographers and videographers: time wasted going through the captured content. Gnarbox is a rugged and powerful device that lets you download all of your content and edit it on the go, no matter where you are. By using its own hotspot, Gnarbox transfers all the content from your memory card to the dedicated app. Once there, you can view, cull, and edit in full resolution. The app is equipped with professional quality editing tools for color, brightness, and contrast adjustments as well as slow motion and cropping. With a backing speed of four gigabytes per second, this device can certainly keep up with you. Dust, sand, and waterproof up to one meter, Gnarbox is designed to be taken anywhere.

Photo by: Gadgetflow
18. Reversion – The Watch
The first 2 sapphire crystals watch with transparent case/anti-clockwise/super slim construction. The revolutionary design with whole transparent construction. 3 colors in classic style: Shining silver/Elegant black/Gorgeous gold. Anti-clockwise, It means: Back To Tomorrow, and what a cool thing that nobody can read the time except you! Scratch-resistant sapphire crystals with anti-reflective coating, abrasive hardness is 100 times harder than normal glass. We believe that a watch is defined by the strap or bracelet that it's paired with. Because of this, the REVERSION is available with a curated selection of colorful strap and mesh bracelet.

Photo by: Gadgetflow
19. LightBug – World's Smallest GPS Tracker
Introducing the world's smallest GPS tracker, the app-enabled LightBug. At less than the size of a standard house key, this GPS tracker can track anything, anywhere. LightBug is small enough to be put on anything from your luggage to your pets without adding distracting weight. Communicating with the phone network and charging itself with built-in solar panels, LightBug is also the lowest maintenance GPS tracker. It can be placed on your sneakers to act as a fitness tracker during your run (tracking distance and speed), put on your young children in busy areas, and even on your runaway-prone pets. Using the app, you can request location updates, trigger a sound to locate your item (which also works as a panic button), and also configure how often you get updates. The dynamic LightBug GPS tracker is great for anyone.

Photo by: Pinterest
20. Compact Fishing Systems
No less than the Swiss Army knife of fishing rods. Multifunctional, small, durable, moreover unbreakable. Design award winner concept. Our product is a compact, modular fishing rod (Pat.Pend). Imagine being able to travel anywhere in the world with it, and you don't have to worry about damaging or breaking it. You can swap parts according to what method are you using and what fish are you trying to catch. The minimum size of the smallest version for transportation has only 25cm (10in), you can put it even in your pocket. Thanks to the removable trigger, you can equip it with all the existing reel types. It weights only 220-240g – depending on the type of spring pole and the handle. Stainless steel spring poles, CNC machined – sea water-resistant 6061 T6 – aluminum reel seat, hardwood handles. The result is a truly unbreakable fishing rod, which is made for several decades.

Photo by: Gadgetflow
21. Modoo – The World's Smallest Fetus Monitoring Patch
Track every important moment of your pregnancy with Modoo, the world's smallest fetus monitoring patch. Made with stainless steel, a soft silicone casing, and medical grade silicone paste, Modoo is meant to be worn directly on the mother's stomach to catch every movement. You're able to record your baby's heart rate, heartbeat, and be made aware of any movement. Using a set of intelligent sensors and passive, safe monitoring, you can have peace of mind during one of the happiest times in your life. In addition, Modoo also monitors the mother-to-be, ensuring everyone is healthy during the pregnancy. You can set tasks for exercise and also contact medical professionals with online consulting through the Modoo services. Enjoy your moments with your baby with Modoo, the world's smallest fetus monitoring patch.

Photo by: Gadgetflow
22. Equil Smartpen 2 – Transfer Handwritten Notes to the Cloud
Don't compromise on the tactile aspect of taking notes in this digital world with Equil Smartpen 2. It features a Bluetooth interface by using which you'll be able to connect with most Bluetooth enabled devices. So you'll get to capture handwritten notes and sketches directly to the cloud in a more traditional way. The setup includes a receiver with memory, charging case, Micro USB charging cable and an extra ink cartridge. It's your very own pen but with a technological makeover so as to give you the benefits of digital storage in the physical world.

Photo by: Igitsmart
23. MYO Gesture Control Armband
Control technology with the use of simple gestures. With the help of the MYO Gesture Control Armband, you'll be able to perform hand gestures and control your digital activity that way. The band reads the electrical activity of your muscles and performs accordingly. Delivering presentations with this will be super easy. It will let you move through slides and use natural gestures and motion in order to deliver your presentations in the most memorable way. The armband is compatible with Windows, Mac, iOS and Android which can easily enable you to use simple gestures for controlling your digital activities. Ready to give it a try?

Photo by: Techcrunch
24. The Sound Torch – Set your Music on Fire!
Like fire? LOVE music? Now you can combine the two! Introducing: The Sound Torch – world's FIRST affordable PyroBoard. The Sound Torch is a portable speaker that visualizes your music, connects to your phone, and it's awesome! Also, tell your fav Dj or band about us, we might Sound Torch their music! The new and never seen before design of the Pyro board, which you may have seen on Youtube. If you were a fan of the Pyro board you're guaranteed to like the Sound Torch. The Sound Torch takes the amazing effect of the Pyro board and turns it into a portable and affordable Bluetooth speaker. Use it for your special occasion, your party or as live fire decoration. With our upcoming app you'll even be able to control the fire!

Photo by: Kickstarter
25. SmartChutes – Drone Parachute Recovery System
SmartChutes is an autonomous parachute recovery system for your quadcopter or drone. The SmartChutes system comes with everything that you need to protect your multicopter. The final product that you will receive will resemble the prototypes you see to the left and below, but the final product will be smaller, lighter, and more compact.

Photo by: Popsci