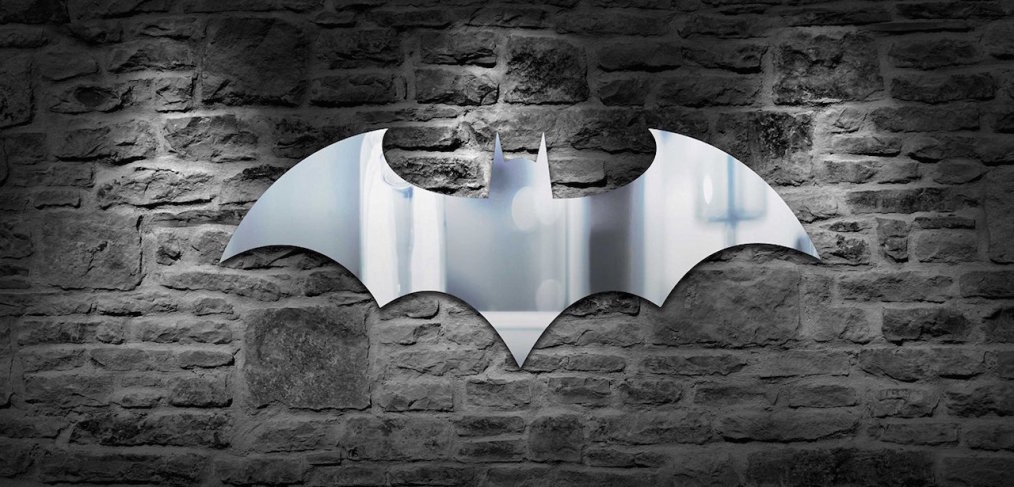 TOP-20 Items for Tech-Geeks
To tell the truth, it doesn't really matter whether you are tech-geek or not because these cool items will dazzle you at once. So you need to be very careful reading the article or having unbelievably strong will power as it exists a possibility to wish to buy them all! Don't forget to write down in comments about your favorite item from this list (if you'll succeed to choose just one of them)!
1. Batman Logo Mirror
Batman fans can now be a bit more happy because of this cool and trendy Batman Logo Mirror. This super stylish mirror can truly be the centerpiece of your room. Like the superhero does, it will leave everything else behind a shadow for sure. It is an acrylic mirror which comes well packaged and with proper instructions for installation. There are wall mount fixtures included with the set but you still need to use a pencil, tape measure, electric drill, 2 wall mounting screws and wall fixings and a spirit level to make sure it attaches to your wall like a true superhero. The rest of the story continues as you adore yourself in front of it every day. Don't forget to feel confident while you do so.

Photo by: Thegadgetflow
2. Exploride – Turn Your Car into a Smart Car
A safer & smarter way to use maps, listen to music, call, text or access infotainment in your car. Exploride is a futuristic Head-Up Display that sits on your dash board and helps to guard away the distraction. It transfers all the info from your smartphone via Bluetooth also gives info about tire pressure, fuel, temp, weather etc.

Photo by: Thegadgetflow
3. SpaceVR – Your Ticket to Space
SpaceVR team is a small group with a big mission: making it possible for everyone to explore space using the power of virtual reality. Here at SpaceVR they're a collective of astronauts, NASA scientists, space engineers and hackers who believe that everyone should be able to explore the universe. They've all dreamed of the stars, imagined being able to float through the space station, wanted to experience a space walk and explore the Moon and Mars. They're sending a virtual reality camera to the Cupola module, the observation deck of the International Space Station (ISS) to capture immersive 3D video – giving you the chance to have the same experience the astronauts get in real life. The camera, the Overview One, will be assembled on the ISS. They're developing space-ready cameras, fans and the PCB boards to send up and are using a 3D printer on board to make the camera chassis and stand, ensuring we can get the VR camera running as quickly, cheaply and efficiently as possible.

Photo by: Spacevr
4. AllBe1: Your All-In-One Personal Security Guardian
AllBe1 is an all-in-one personal security guardian that combines a wide variety of costly devices, into one small & smart device, that does many things. AllBe1 contains many features such as a burglar alarm, tracker, Alarm button, temp. sensor, smartphone smart lock, motion detection, fitness tracker, UV monitor, find my phone button and more.

Photo by: Backerscommunity
5. Spherificator – Turning food into pearls
The world's only automatic caviar & pearl making device for the chef and foodie in you. You are limited only by your imagination! Once we downsized our technology into a household handheld device for everyone to enjoy at home, we built a prototype to show the world how it works and what can be produced with it. Simply put, the Spherificator can be used to make everything from breakfast to dinner, and even dessert and drinks, more exciting.

Photo by: Digitaltrends
6. vapRwear Vaporizer Apparel
Your closet must be so full of apparels but do you have one which is smokable? Apparently not which is why the vapRwear must be the next cool collection for your wardrobe. This trendsetting apparel revolutionizes the art of blowing vapor smoke. Look fly while you discreetly smoke from this vaporizer hoodie. Every hoodie is engineered with an inconspicuous hood lace for concealing the dlo e-cig vape system. You can consider vapRwear as a fabulous union of fashion and functionality. It's a comfortable design which has beautifully integrated the smokable e-cig vape system into it.

Photo by: Vaprwear
7. Scrooser Scooter
Do your part in saving the environment by giving away your old scooter with this eco-friendly Scrooser Scooter. It's a beautifully designed urban mobility solution for everyday commuters. The idea behind this design was to help moving riders glide through urban areas with ease and save time when covering short distances. The scooter's prime version impulse drive will accelerate up to 25 km/hr by a performance update and is programmed to operate with a throttle too. This urban transportation system comes with a battery solution which can run on one single charge for 25 days. The design is pretty sleek and minimal which weighs around 61 pounds only. The silent 100w engine inside the rear wheel will help you cruise at speeds of up to 15 mph. Now that makes an amazing transportation system of the 21st Century.

Photo by: Esquire
8. ACTON R10 RocketSkates – The World's First Smart Electric Skates
You may have explored tons of roller skates till date, but the ACTON R10 RocketSkates are indeed different. This is because these motorized roller skates are smart and can propel the wearer at a speed up to 12 mph. There are two sets of step-in footplates which are capable of securing most types of footwear having strap bindings. These would be similar to the ones you generally find on snowboard boots that can accommodate both small and large feet. The skates can support up to 250 lbs and have a twin 6" diam with a 55-watt motor integrated into their fiber reinforced nylon frame. When you tilt forward on the toes, the skate speed will accelerate while if you tilt back, the skate speed will decelerate. You can also have the footplates pivoted down whenever you want your foot to be in contact with the ground for walking or going up or down the stairs. It's everything you would want your roller skates to be like – Smart and fashionable.

Photo by: Kickstarterstuff
9. Garbage Can Fly Trap
The Garbage Can Fly Trap allows users to discretely catch and eliminate flies from kitchens, homes and outdoor areas. The trap can be installed in the lid of a garbage can. Flies, already attracted to your garbage, walk into the trap, and are caught in the disposable paper cartridge under the garbage can lid. The disposable cartridge is lined with a fly paper which prevents the fly's escape. The trap doesn't require chemical attractants, the use of unsightly fly paper strips, or chasing flies with a swatter. The Garbage Can Fly Trap also works for fruit flies too!

Photo by: Thegadgetflow
10. Hubsan Q4 Nano Mini – World's Smallest Quad Copter
Those of you who enjoy flying quadcopters will definitely like the Hubsan Q4 Nano Mini. This mini-drone comes with a 2.4Ghz radio system and can be considered as one of the smallest radio controlled full function quad available on the market today. The drone is lightweight and has been designed in a ready-to-fly mode straight from the box. You won't need to undergo any separate assembling procedure whatsoever. All that you need to do is add 2 AAA batteries to the transmitter and your drone will be ready to fly within seconds. There are LED lights in the front and the back which guides the drone for better flying. The integrated gyro entertains stable flying with the help of coreless micro motors. The additional accessories included in the kit are a USB charge cord and spare blades. Are you ready to see your drone taking up the sky sometime soon?

Photo by: Amazon
11. HAIKU – The Bike Assistant For Smart Urban Cyclists
We created HAïKU the next generation of bike assistant designed for urban cyclists. Simply and safely get all the information you need on your handlebar, and keep your smartphone in your pocket. Clear GPS navigation from your smartphone, connected bike computer with automatic tracking, gentle notifications of call and messages (sms and apps). HAïKU is powered by the GPS of your smartphone. It has a touchless sensor that provides you access to information just by waving your hand or finger over the device, and it works with winter gloves or under the rain. The set up on the handlebar is effortless thanks to a powerful magnetic dock, ignition and the connection with the smartphone are automatic. Ride your way in the city with HAïKU.

Photo by: Kickstarter
12. Qball – Throwable Wireless Microphone
Why a throwable microphone, you ask? The Qball is a fun and dynamic way to engage and interact with your audience, whether that audience is a bunch of fans at a comic book expo, a room full of third graders, or your boss on the other end of that video conference. The fun doesn't stop there, think Corporate Training, Youth Groups, Concerts, Churches, Video Production, and even Karaoke. And our materials are 100% dodgeball approved, making it super light and easy to toss around, and won't get damaged if you accidentally drop it. With the Qball everyone can Be A Part Of It.

Photo by: Crowdsupply
13. Sphero BB-8 – Ultimate Star Wars Droid
Over the years, the magic of Star Wars has always lived on screen and in our imaginations. Thanks to our advancements in technology, we've made it possible to bring a new part of Star Wars: The Force Awakens into your home. Meet BB-8 – the app-enabled Droid that's as authentic as it is advanced. BB-8 has something unlike any other robot an adaptive personality that changes as you play. Based on your interactions, BB-8 will show a range of expressions and even perk up when you give voice commands. Set it to patrol and watch your Droid explore autonomously, make up your own adventure and guide BB-8 yourself, or create and view holographic recordings. It's now possible to explore the galaxy with your own trusty Astromech Droid by your side. BB-8 is more than a toy – it's your companion.

Photo by: Forbes
14. OURA – Ring-Sized Wellness Computer That Helps You Sleep And Perform Better
ŌURA is a revolutionary wellness ring and app, designed to help you get more restful sleep and perform better. It enables you to learn how your lifestyle choices affect your sleep, and how the quality of your sleep affects your ability to perform. The ŌURA was designed to be stunning, comfortable, and simple ring. The main goal was to create a wellness device that matches seamlessly with your style and daily life. The sophisticated and minimal design will look great anywhere, from the beach to the office, from the yoga studio to the opera and cocktail party. The ŌURA ring can automatically tell when you are sleeping. When you go to sleep, the ŌURA ring analyzes the quality of your rest and recovery by measuring your heart rate (optically), respiration rate, body temperature, and movement. While you are awake, it monitors the duration, intensity and other parameters of your activities, and the time you are inactive. The ŌURA app integrates and visualizes this data to identify patterns between your sleep quality and daily activities. By understanding how well you slept and recharged, it can determine your readiness to perform and help you adjust your lifestyle choices as well as the intensity and duration of your day's activities. It also uncovers actionable insights for changes to your daily activities that can help you sleep better.

Photo by: Kickstarter
15. PETLY – Automatic Pet Feeder
Don't miss out on the correct timings when your pets have their food by using PETLY. It is an automatic pet feeder which will provide dry food feedings to cats and dogs at set times. By making them have a selected amount of food at set times, you'll be able to prevent your pets from catching obesity and thus maintain their health in the long run. These units are made in Japan and have been designed by experienced engineers in order to maintain the effective functioning. The feeder is super easy to operate. You just have to turn it on and press the dial. At a time, it is capable of holding 1 kg of dry pet food. Select for 1 to 4 daily feedings and let your pet lead a healthy lifestyle that way.

Photo by: Indiegogo
16. Biometric Fingerprint Lock by uGuardian
You can now control the access of who enters your home or office in a smart and efficient way with the Biometric Fingerprint Lock by uGuardian. It's a perfect home security system for modern families which will help you protect your home from unauthorized access. This lock will allow you to assign permanent or temporary access to the babysitter, the office cleaning crew, neighbors, employees and anyone and everyone who stops by your home or office from time to time. The lock can be set up in a simple three-step process and bears a reversible hand design fitting all open door directions. It's sleek, compact and a stylish which makes it a perfect accessory that can easily blend with your contemporary home or office decor. Keeping up with home security becomes much easy now.

Photo by: Thegadgetflow
17. Nebia Shower – Better Experience, 70% Less Water
A showerhead that is better in every way. A superior experience, iconic design, and 70% water savings. You've taken thousands of showers. You've never experienced Nebia. Nebia's design and engineering provides a significantly superior shower experience in each and every sense. Nebia is a fully self-installed shower system with an adjustable bracket and a portable wand that showers you with water like you've never experienced before. Nebia atomizes water into millions of tiny droplets with 10 times more surface area than your regular shower. With Nebia, more water comes into contact with your body, leaving your skin clean and hydrated all while using less water than a typical household showerhead. In fact, Nebia uses 70% less water than a typical household showerhead. For the average U.S. home, Nebia pays for itself in less than two years.

Photo by: Kickstarter
18. Gesture Control Bluetooth Speaker by Bastron
Why should you go for the Gesture Control Bluetooth Speaker by Bastron at all? Because this isn't an excellent speaker but one which supports gesture control too. The speaker is a real no key design which has a Magic Cube design and is made of full aluminum + tempered glass. There's a built-in 2000mAh rechargeable lithium battery which comes with a hands-free speakerphone as well as a built-in microphone. The cube looks perfect in shape and won't disappoint you by delivering an impressive sound quality. It's highly portable and can be carried around wherever you go. So how about trying out some magical gestures at your next party and playing your music in a whole new way! Sounds like magic is about to unfold itself.

Photo by: Thegadgetflow
19. Mini-Clutch Speaker by Stellé Audio – Bluetooth Speaker and Clutch in One
Not only will the Mini-Clutch Speaker by Stellé Audio offer the best sound quality on the go, it will also be a fancy clutch for the modern fashionistas. This speaker can pair with any Bluetooth-enabled device and includes a built-in speakerphone that will help you to attend those hands-free calls. As for the ladies, there's a mirror and a pocket for all your daily clutch essentials. Even if your phone is running out of battery, this clutch will make sure it stays charged up with the help of the built-in 15 hours rechargeable lithium-ion battery. The device includes a powerful six-watt digital amplifier that is capable of delivering optimal audio performance. The additional stereo speaker system with two 1-inch full range drivers and a bass radiator will ensure best sound quality too. Together with these amazing qualities and the metallic purple design, it makes a perfect accessory for the tech-savvy women of this generation.

Photo by: Temporary-secretary
20. Ocean Waves Projector Lamp & Speaker
Use it in your living room, bedroom, bathroom or any space you feel like and enjoy the pleasance of ocean waves indoors. The Ocean Waves Projector Lamp & Speaker is a simple design but the way it projects natural beauty on the ceiling makes it one of its kind. This is because it is a projector lamp which reproduces the charming effect of the sparkling sea at home. You'll be able to feel the calm essence of the ocean waves and enjoy peace and natural beauty as and when you wish to. The fact that it's also a small stereo speaker makes the whole thing even more adorable. The device will use 4 AA batteries but can also support external USB and 4.5V DC plug. Not only this, you'll also get to conserve energy with the automatic sleep function that will close the projector by itself after one hour of constant use.

Photo by: Amazon