Are you having a problem choosing between Semrush and Spyfu? If so, you've landed on the right page!
SEMrush and Spyfu being two of the most popular tools, they do have cut-throat similarities. Due to their similar functionalities, it can be challenging to pick the best one.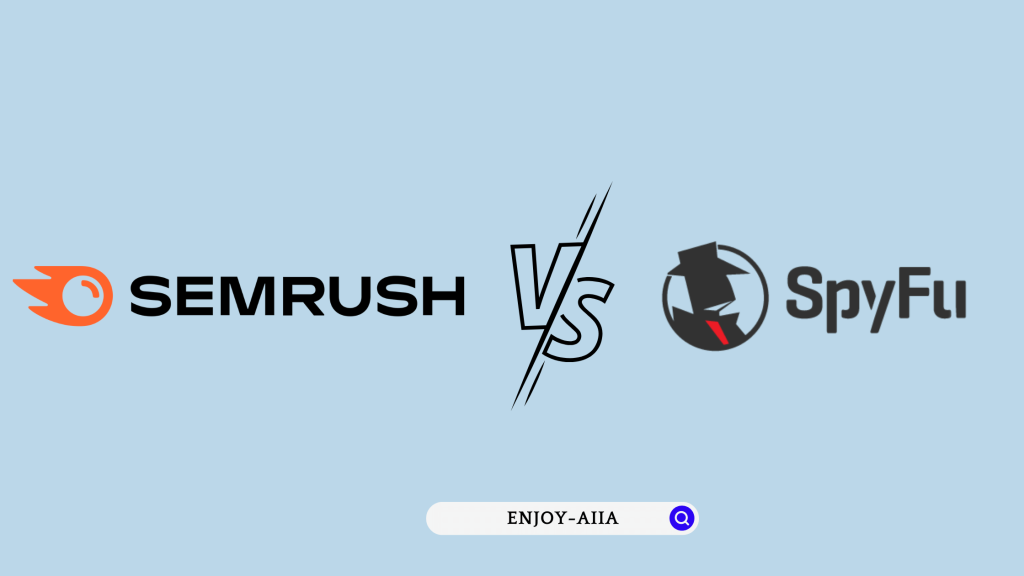 Over the years, we are using both tools and we have come across various differences that distinguish Spyfu from SEMrush.
In this article, we will compare the SEO tools to help you better comprehend the details. Based on the tool's features, pricing, and requirements, you can finalize which one suits you best. This might sound challenging right now, but once you read this, you will know precisely what you prefer.
So, let's get started!
Semrush vs Spyfu: Overview
Before stepping into the primary features of Semrush and Spyfu, let's first go through an overview of the tools.
Semrush Overview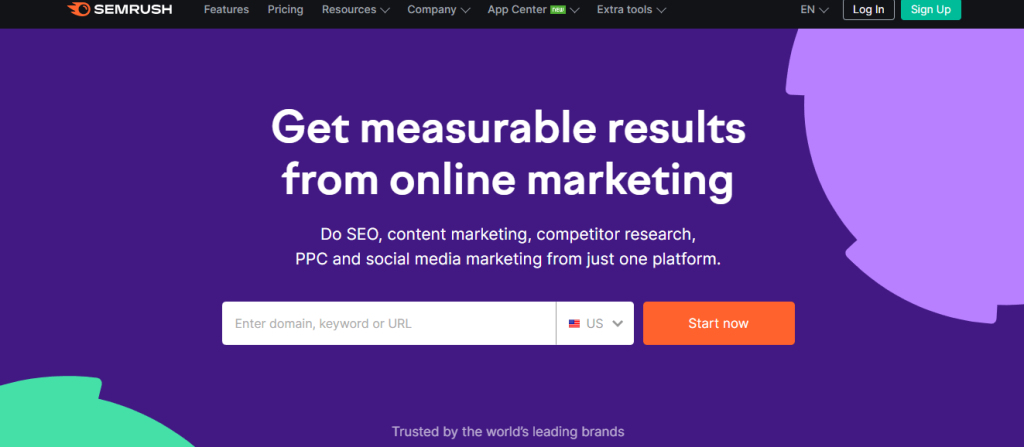 A digital marketing research tool, Semrush aids users in comprehending where and how their rivals have succeeded. This gives users a path they can follow to attain success. The tool's features are a sweeping set of tools for backlink analytics, on-page SEO tracker, PPC and SEO competitor analysis, position tracking, keyword research, and site audit.
Spyfu Overview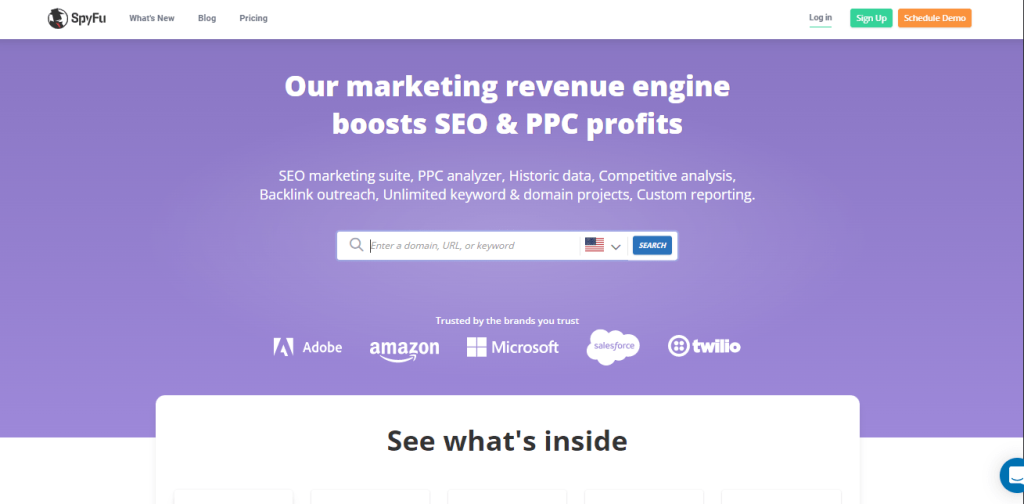 Spyfu is focused entirely on aiding companies to form PPC and SEO strategies and is based on the founder's philosophy of turning competitors into the most profitable advisors. In fact, the name Spyfu clearly explains what the tool does – it allows users to spy on their rivals' analytics and online strategies. The users can then utilize these insights to boost their business.
Semrush vs Spyfu: Key Features
Both Spyfu and Semrush provide excellent features. So let's have a look at these for each of the tools.
Semrush Key Features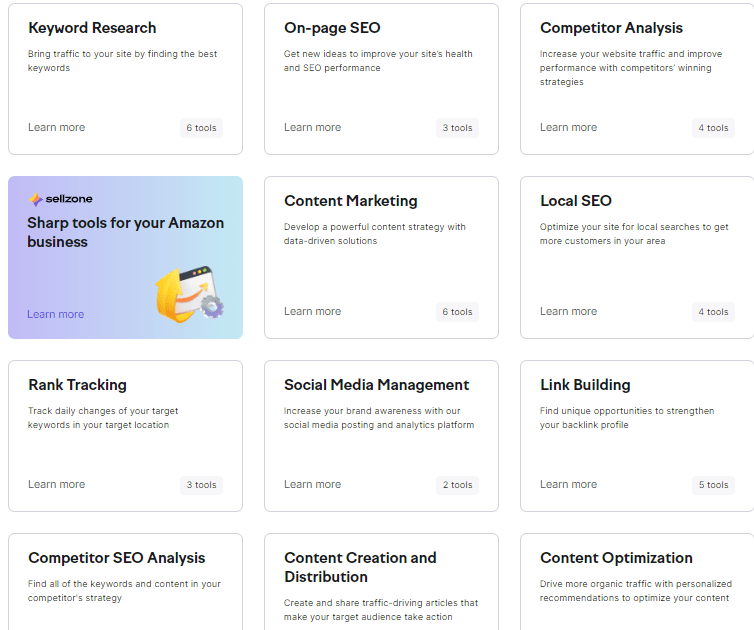 Monetize the audience using practical tools specialized for affiliate managers, ad publishers, and bloggers
Use keyword research tools to craft an ideal paid search campaign
Develop your brand's reputation by tracking your competitors' social media presence
Have a look at the ad copy and paid keywords from your rivals' PPC ads
Analyze your position in the market
Estimate your content performance through content marketing analytics
Optimize your content based on custom recommendations
Get novel ideas for boosting SEO performance
Spyfu Key Features  
Insights into data – subdomains, web traffic, and data access
Obtain SEO reports – white label, custom reports, data visualization, and competitor analysis
Perform SEO audits and monitoring (offers recommendations to enhance content)
Allows SERP rank tracking, localization, keyword research, and link building
Data is gathered from the US and UK Google search results
Enables users to add their brands to SEO reports
Offers metrics like CPC, CTR, clicks, ad spend, rank, and market share
Track the amount of traffic driven to rivals' sites by PPC
Semrush vs Spyfu: Keyword Research
The essence of all PPC and SEO campaigns, keyword research, has been one of the few constants despite regular changes in Google's algorithm. It aids in obtaining a better comprehension of the target audience and understanding what their searches look like. Thus, considering the extent of its importance, let's see which tool offers better features.
Semrush Keyword Research 
Semrush is a package of several solutions. Talking about keyword research, the Keyword Analytics tab is not the only one that offers information about keywords – you will find the Organic Research tab extremely helpful as well. Overall, Semrush shows the list of all the specific keywords that make the website rank. Since this can be overly confusing and lengthy, you can filter the list based on your necessities. Finally, the Keyword Magic Tool allows accurate determination of specific keywords that can help increase the organic traffic to your website.
Spyfu Keyword Research
When it comes to Spyfu's keyword research, it's all about business – the tool is incredible for competitor-based keyword research. The Overview tab offers general information about a website's SEO stance, concentrating on click value and organic keywords. Further, by performing conventional keyword research, you'll get information about all critical keyword metrics like estimated clicks and monthly volume, as well as a list of question-based keywords and similar keywords.
Not to mention, all the metrics are displayed in the form of Venn diagrams to make understanding better and more exciting. And lastly, the best feature of Spyfu is its ability to allow users to see the previous keyword trends of websites and how they've changed over time.
Semrush vs Spyfu: User Interface
An effectual user interface contributes significantly to regularly engaging users with a particular tool. In a similar fashion, a user may prefer utilizing a specific tool due to the extent to which they're comfortable using it. In case the UI is effective, the users are more likely to spend time on the platform. So let's see which tool is more compelling in terms of UI.
Semrush
For a beginner, the navigation may be a bit complex, but once you grasp it and use it regularly, Semrush could be the tool you like immensely. Considering the variety of features the tool offers, it can be helpful in the long run. However, it would be best to spend a lot of time initially learning to navigate.
Spyfu
Compared to Semrush, Spyfu is easier to use, which makes it beginner-friendly. However, the UI is outdated and tedious. So even though the tool's features may seem compelling and the ease of use may make you use it for more extended periods initially, you are likely to get bored with the tool in the long run.
Semrush vs Spyfu: Competitor Analysis
The best way to run a marketing strategy with no flaws is by analyzing the weaknesses and strengths of competitor strategies. By evaluating their marketing efforts, you can identify potential opportunities and gaps in the market. Overall, Semrush and Spyfu both offer choices to perform competitor analysis but let's find out who does it better.
Semrush
Using the Competitive Research Toolkit, you can determine your paid and organic competitors and utilize their most victorious PPC and SEO strategies. Essentially, the kit can be categorized into five types:
Master Plan (consists of two add-on tools: Market Explorer and Traffic Analysis)
Social Media (comprises Social Media Tracker)
PR and Content (consists of Post Tracking, Topic Research, and Brand Monitoring)
Advertising (contains PLA Research, Display Advertising, and Advertising Research)
SEO (consists of Backlink Gap, Backlink Analytics, Keyword Gap, and Organic Research)
Overall, you can add a maximum of 20 competitors and analyze the performance of 100 social media pages, which we believe is enough to evaluate strategies.
Spyfu
Since Spyfu is essentially designed for keeping track of competitors, it has numerous features centered around analyzing them. Our personal favorite is SEO competitor analysis, which allows users to see SEO keywords, monthly clicks, and monthly value of competitor sites. Another feature is ad competitors, through which you can track any site's ad budgets, paid clicks, and PPC keywords.
Finally, something that separates Spyfu from Semrush is its shared organic keywords feature. Using this 3-way competitor research tool, you can search for two competing domains to find impactful keywords. Overall, the tool places emphasis on keywords that your site ranks for, and your rivals do not.
Semrush vs Spyfu: Pricing
While Semrush offers a free plan with limited access, Spyfu doesn't have a free plan. Nonetheless, according to Spyfu's support team, the tool will be accessible for free to all the users who require it. To get a free plan, the individual needs to write to the Support team, and they'll decide based on your need.
Furthermore, unlike Spyfu, Semrush offers a free 30-day trial to all the users for Pro plan. For the Business plan, you can try a customized plan on request. This lets users get familiar with Semrush's functionality and pick the appropriate subscription level. 
Both Semrush and Spyfu have money-back guarantees. While Semrush offers a 7-day guarantee for returning money to its users, the latter has a 30-day money-back guarantee. What's more, you will only be required to cancel your subscription with Spyfu through phone, live chat, or e-mail. This means there's no hassle of answering questions or filling out forms.
Now let's see the pricing plans for each of these tools.
Semrush
Semrush offers three premium plans, which are: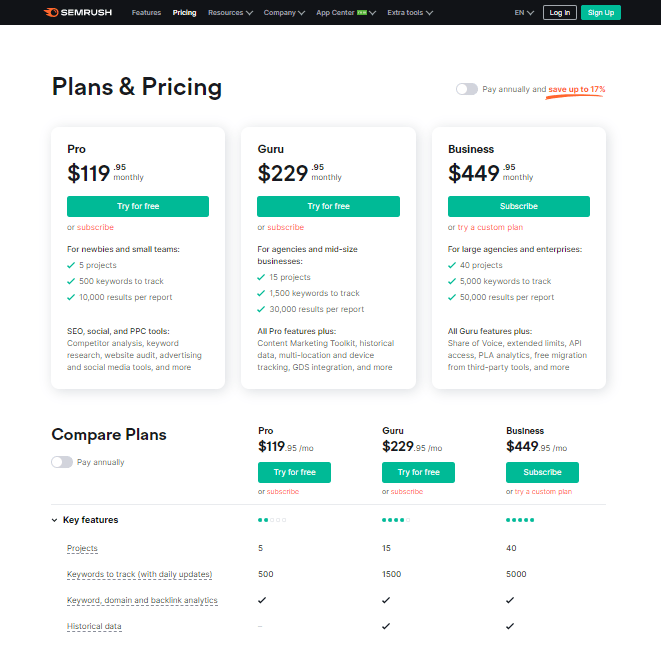 Pro: $119.95 per month
Guru: $229.95 per month
Business: $449.95 per month
All the plans offer different limits in regard to their features. For instance, you get a limit of 5 projects with the Pro plan, 15 with the Guru plan, and 40 with the Business plan. So do not only consider the features while picking a plan but also keep the limits in mind.
Spyfu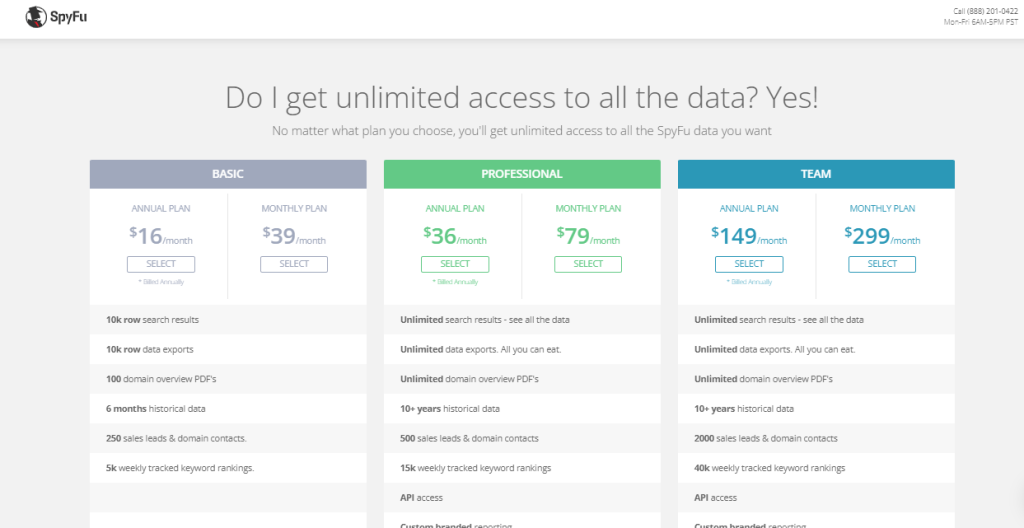 Spyfu offers two plans:
Basic: $39 per month
Professional: $79 per month
However, there's currently an offer: if you claim your lifetime discount by signing up with Spyfu and starting your free trial with ClickCease, you will have to pay $9 per month for the Basic plan and $49 per month for the Professional plan.
You get unlimited access to all the data of Spyfu, irrespective of the plan you opt for. Nonetheless, each of these plans has varying features so you can choose yours based on the required features.
Final Thoughts: Semrush vs Spyfu
Semrush and Spyfu are among the most incredible SEO tools used by individuals and businesses. Now that you have understood the critical differences between the two based on features, pricing, user interface, competitor analysis, keyword research, and overall grounds, we believe you might have made your decision already.
If you're still unsure which tool would work better for you, consider opting for free trials of both of them. Once you gain experience with these tools, you'll know which one to pick – Semrush or Spyfu.
FAQs
Is Spyfu better than Semrush?
While SPyfu concentrates more on competitor analysis, Semrush is a comprehensive SEO tool. So which of these is better depends on your expectations from the tool.
What is Spyfu good for?
Spyfu is a competitive intelligence and keyword research tool utilized by digital marketers to enhance their online search performance. 
How can I get Spyfu for free?
If you believe you need the tool and want it for free, you need to write to Spyfu's support team. Based on your e-mail, they'll decide if you will get a free subscription. 
Is there a free version of Semrush?
You can use a free account on Semrush for as long as you want. Neither will you be required to share your bank details, nor will you have to pay for the tools.