In today's digital world, the Amazon FBA storefront is the most profitable business for anyone. However, not everyone knows the insights and strategies to build a successful amazon storefront. So here is a list of the best Amazon FBA podcasts of 2022 that will make you a pro-Amazon seller.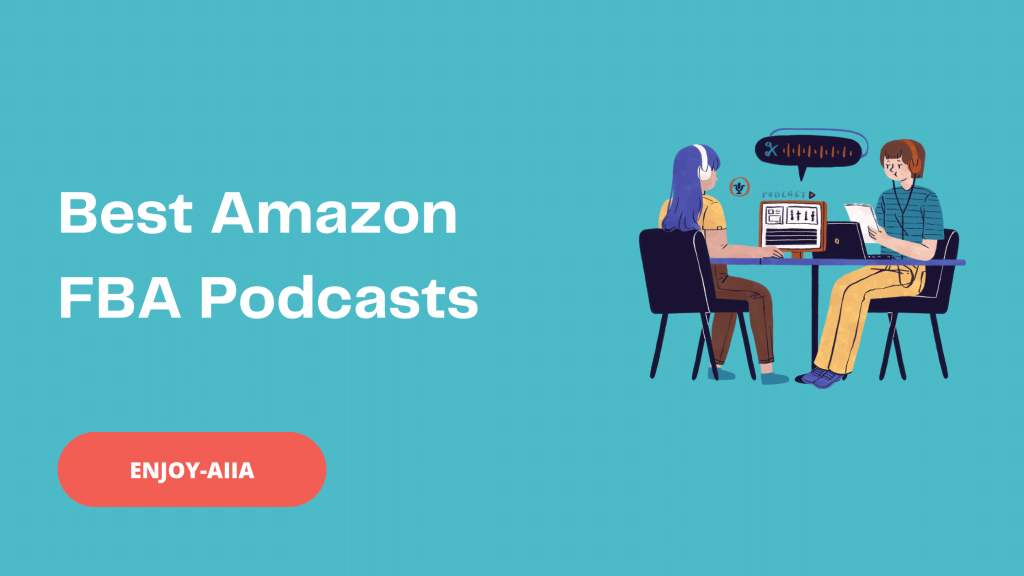 Amazon is one of the top e-commerce platforms for online and traditional sellers and business owners. The best way to learn how to sell on Amazon is by Podcast, as they are time-saving and pocket friendly.
So, in this article, we will discuss the best Amazon FBA podcasts of 2022. To know which podcast cast is the best for you, read the post until the end!
With that, let us quickly dive into the article!
Our Top 5 Amazon FBA Podcasts Picks!
We understand that you might not have the time to review the entire article. So, here is a list of our top 5 favorite Amazon FBA podcast which caters to everyone's requirement.
| | |
| --- | --- |
| Podcast | Best for |
| The Full-Time FBA Show Podcast | Best overall podcast |
| The Wholesale Made Easy Podcast | Best for Amazon |
| The Amazon Seller Podcast | Best for beginners and intermediate sellers |
| The AM/PM Podcast | Best for professional sellers |
| The Woman on Amazon Podcast | Best Amazon strategies and inspiring real-life stories |
List of 7 Best Amazon FBA Podcasts For Free
For everyone looking for the best Amazon FBA podcast to start and grow their Amazon business, here are seven excellent podcasts to start building a successful Amazon brand!
1. The Amazon Seller Podcast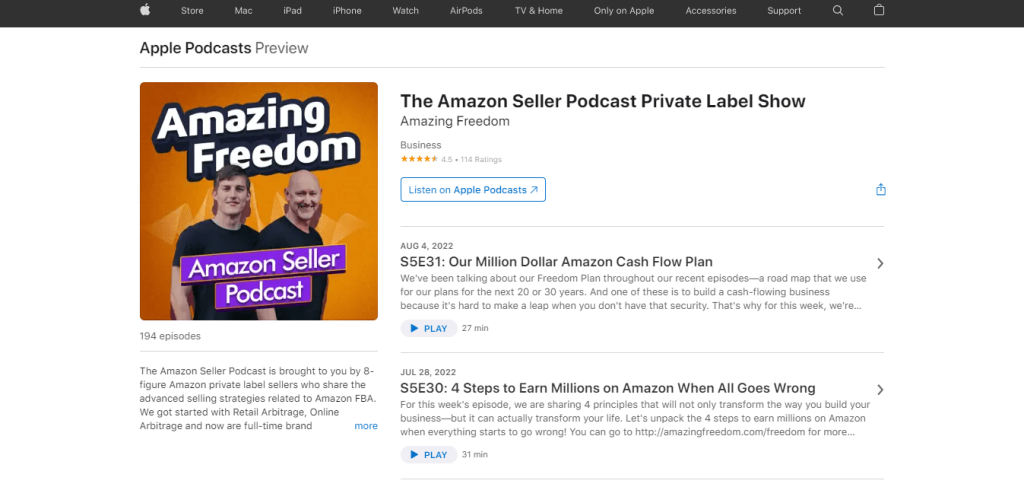 | | |
| --- | --- |
| Episodes | 194 |
| Rating | 4.5/5 |
The Amazon Seller Podcast is an elaborated guide on Amazon selling. From Amazon selling strategies to wholesalers to building a successful brand, this podcast covers every essential aspect of an Amazon business.
Amazon Seller Podcast is led by Andy Slaman and Liran Hirschkorn, who also dominate the private selling label market on Amazon. The podcast also has many unique and exclusive guests who own multi-million dollar private companies selling on Amazon.
Whether you are a newbie seller with no prior experience or an intermediate Amazon seller, this podcast is a must-have for everyone who wants to establish a highly profitable Amazon business.
2. The Woman on Amazon Podcast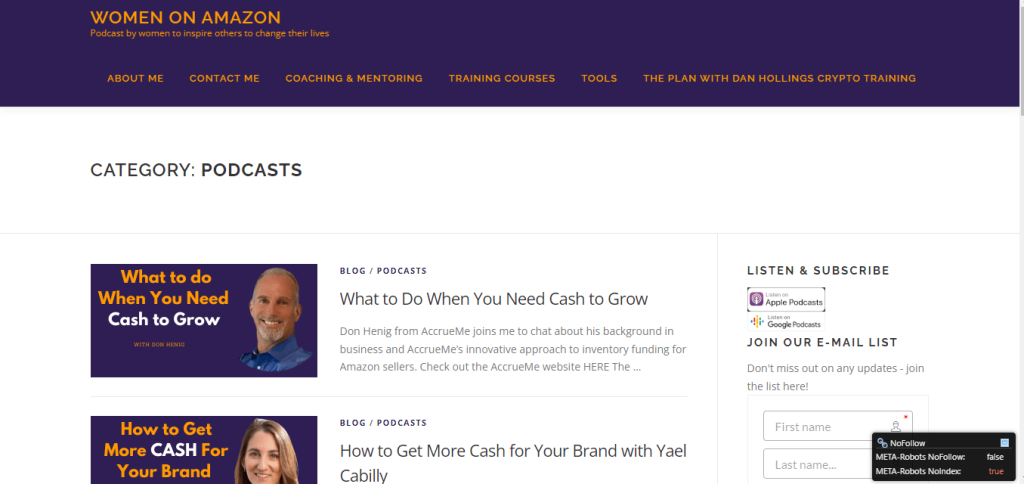 Women on Amazon is a unique podcast exclusively run by women. You can find some of the most incredible women Amazon sellers and business owners of all time like Ashley Armstrong, Dr. Amanda Barrientez, Dana Midkiff, and the list.
The versatile podcast deals with Amazon selling strategies, wholesale tricks, and success stories of entrepreneurs and business owners. The very talented Regina Perterburgsky hosts this popular podcast.
With her work and many women like her, she aims to inspire several women to aspire and find their purpose in life. Regina wants to motivate women globally to join the e-commerce platform and become financially independent.
3. The Wholesale Made Easy Podcast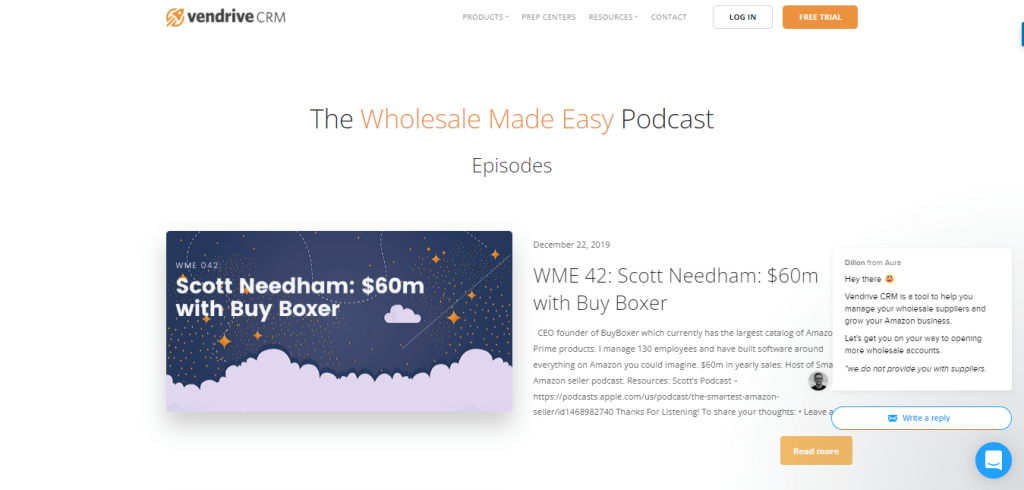 The Wholesale Made Easy Podcast has 42 episodes and is presented by Pendrive. The podcast is hosted by Dillon Carter, a successful Amazon seller who now ranks on the list of top entrepreneurs in technology.
The best about this podcast is that it starts with the basics of wholesales and reaches up to the higher level of selling to create a successful Amazon Brand. It is perfect for beginners, entrepreneurs, and even professional business owners.
Dillon has featured proficient Amazon wizards in several podcast episodes with expert insights based on their years of experience. Along with that, the podcast revolves around the sourcing of wholesale products and how to crack the best deals.
Comparing all the parameters of Amazon FBA, Wholesale Podcast prepares an individual for all the challenges and has full-proof strategies to succeed as an Amazon seller. Overall, this podcast is the best way to start your journey.
4. The Series Seller Podcast by Helium 10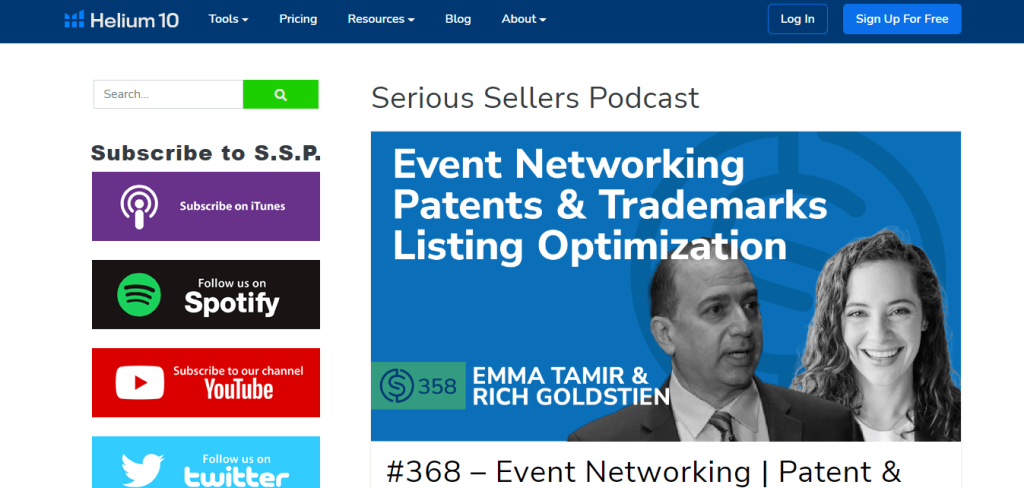 The Series Seller Podcast is what its name precisely suggests. Brought you by Helium 10, this podcast is a back-to-back series of episodes that deals with several aspects of Amazon selling. Many episodes even feature some of the top successful entrepreneurs and business owners of Amazon.
This podcast mainly focuses on part-time sellers and how they can convert their Amazon business into a full-time success. In this podcast, you will first learn the potential and extent of Amazon selling and how you can turn it into an ever-green income source.
5. The Ask Jordan Podcast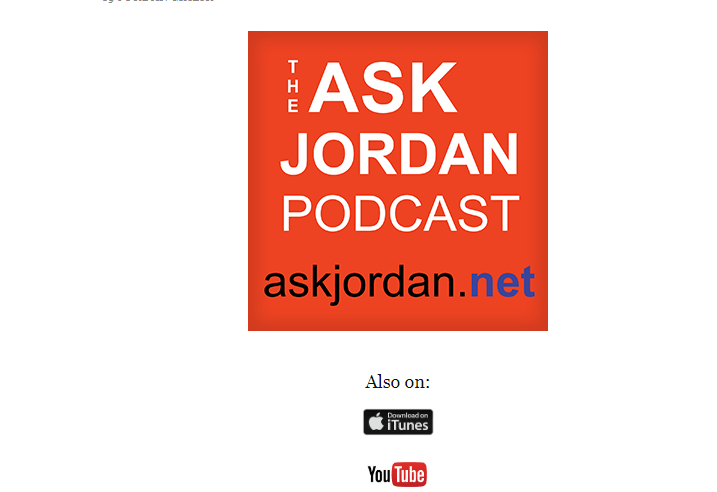 The Ask Jordan Podcast is led by Jordan Malik, a best-selling author, and an award-winning Amazon merchant. You can get this podcast at the official website or even tune into it on iTunes, Youtube, and Google Play.
As the name suggests, Jordan himself guides you through the Amazon market. This podcast explicitly comprises the dos and don'ts of amazon selling. Moreover, Jordan also brings light to the common doubts and queries of beginners without prior experience with the Amazon business.
In addition, you will also find beneficial insights on the ups and downs of Amazon selling and how to overcome an obstacle in your journey. This is the best podcast if you are nervous about starting a business on Amazon.
6. The AM/PM Podcast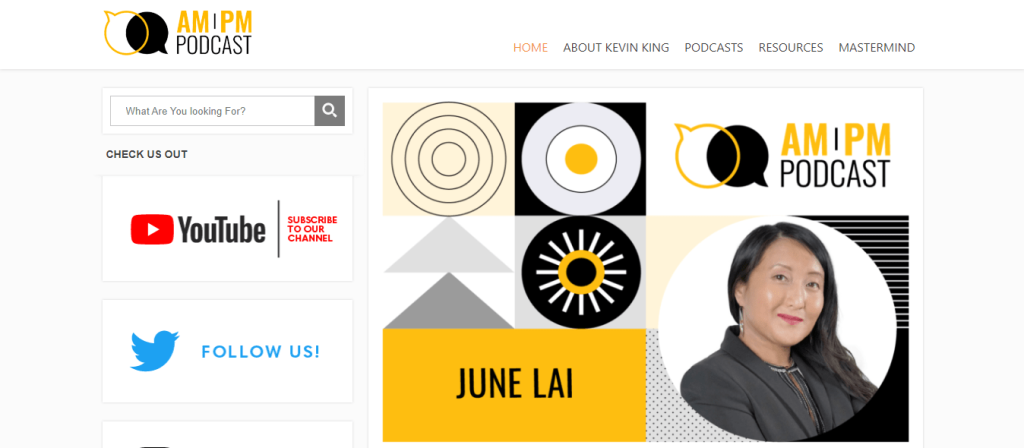 The AM/PM Podcast has some award-winning Amazon merchants like Tomer Rabinovich, June Lai, Steven Black, etc. This podcast covers the strategies and methods of running a successful Amazon Business and also sheds light on the mistakes you should avoid as an Amazon merchant.
The podcast consists of about 300 episodes that initiate the basics of the podcast and gradually move to the advanced selling techniques. Currently, the AM/PM podcast is hosted by Kevin King, an insanely successful entrepreneur who shares an interest in traveling.
Through his podcast, Kevin tries to inspire several individuals and gives them the guidance they lack to establish a successful Amazon business.
7. The Full-Time FBA Show Podcast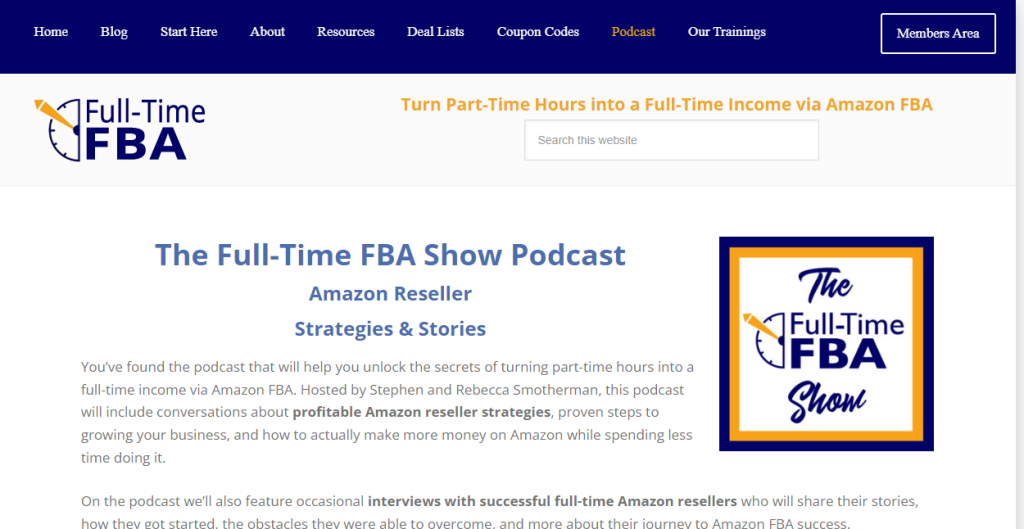 | | |
| --- | --- |
| Episodes | 147 and continuing |
| Rating | 4.7/5 |
The Full-Time FBA Show Podcast is one of the most creative and strategical podcasts on Amazon FBA. Hosted by Stephen and Rebecca Smotherman, this podcast offers its listeners the best insights and inner secrets of turning your part-time Amazon business into an online store that brings you steady income.
The podcast is specially dedicated to Amazon resellers. Every once in a while, the host feature full-time successful Amazon sellers or resellers. Moreover, this podcast provides several strategies and methods to increase your search appearances and create a handful of revenue.
It has 147 episodes in total that are not extensive, which makes them completely manageable. This podcast is best for people who do not have much time to invest in learning but want a practical approach to their Amazon Business.
Wrapping Up! Best Amazon FBA Podcasts
Whether a part-time seller or a full-time Amazon business owner, the above podcasts are an excellent choice for everyone. Some of these podcasts are a must-have; every Amazon merchant, small or big, should listen to them at least once.
Amazon FBA podcasts are a great way to learn e-commerce as they are cost-effective and time-friendly. They are an excellent option for beginners and part-time sellers on a budget.
All these podcasts have some common topics yet are unique in their way. To select one of them, you must consider which podcast fits your checklist the best. Once you evaluate all the parameters, you will choose the best Amazon FBA podcast.
Over to you, which is the best Amazon FBA podcast you? Let us know in the comment section below!
FAQs On Best Amazon FBA Podcasts
Which is the best Amazon FBA podcast for beginners?
Amazon Seller Podcast and Wholesale Made Easy Podcast are the top-rated podcast for beginners and contain many fundamental concepts and misconceptions related to Amazon selling.
What are the alternatives for podcasts to learn Amazon FBA?
You can learn Amazon FBA selling from various platforms that provide courses and short lessons that have the training to build a successful Amazon business. 
Where can I find free Amazon FBA podcasts?
Several platforms provide free and paid Amazon FBA podcasts. For example, Youtube, Google Play, etc. 
Is starting an Amazon FBA from scratch worth it?
Although there is a lot of effort and learning, starting an Amazon FBA is generally worth it. Plus, there is plenty of guidance you can seek online like podcasts, Youtube videos, and courses. 
Which is the most preferred Amazon FBA podcast in 2022?
According to research and statistics, the most loved podcast by people is The Full-Time FBA Show in 2022. People's reviews and ratings suggest that the podcast is best for beginners and professional Amazon merchants.